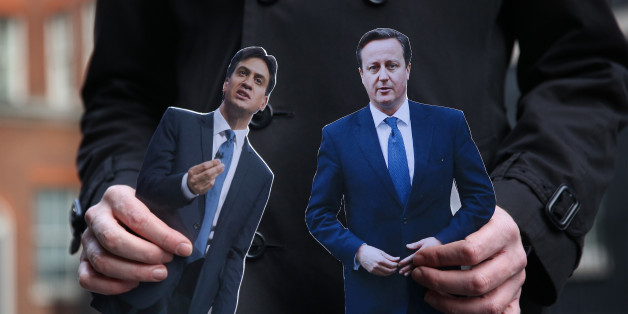 We're teaming up with four academics to forecast the U.K. elections. Americans want an overhaul of the tax system. And sometimes a what-if map makes everyone crazy. This is HuffPollster for Friday, March 20, 2015.
U.K. ELECTION FORECASTS - The Huffington Post has joined forces with a team of academics to bring you their Polling Observatory forecasting model for the United Kingdom elections to be held on May 7. The polling model, the work of professors Robert Ford, Will Jennings, Mark Pickup and Christopher Wlezien, builds on their previous effort that successfully forecast the 2010 elections. Their regular forecasts will appear both in the Huffington Post and the British magazine New Statesman as part of their May 2015 election site.
The model's most recent update shows a "neck and neck" contest between the Conservative and Labour parties. Their current polling average gives a slight but largely meaningless advantage (32.2 to 31.5 percent) to the Labour Party, led by Ed Milliband, over the ruling Conservative Party of Prime Minister David Cameron, trailed by smaller parties including UK Independence (14.8 percent), the Liberal Democrats (8.4 percent) and the Green Party (6.4 percent). However, when the model current trends forward, it forecasts a "dead heat" of 33.7 percent support for both Conservative and Labour on May 5.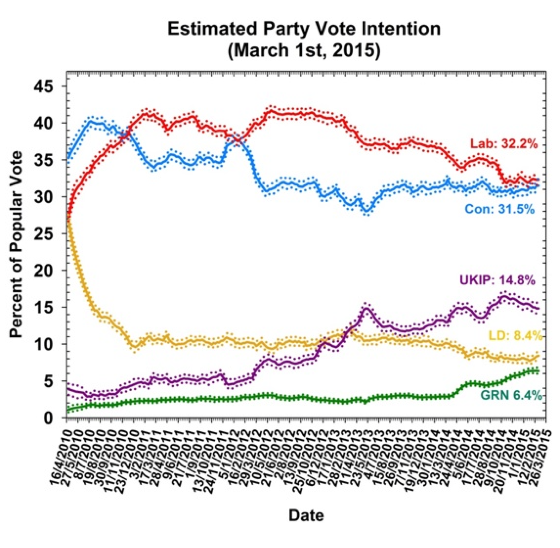 The third and most important part of their forecast is the translation of estimated vote shares into probabilities of victory for each party in each of Britain's 650 constituencies and, from that, a projection of the total number of seats each party will receive. The Polling Observatory team explains: "We produce these seat forecasts through many simulations of the constituency level electoral outcomes. In each simulation, we calculate the forecasted vote for each of the Conservatives, Labour and the Liberal Democrats as equal to the constituency vote in 2010 plus a uniform Scottish swing (for constituencies in Scotland) or a uniform England & Wales swing (for constituencies in E&W), in addition to constituency-specific deviations from uniform swing. The swing in each constituency thus reflects how the parties are faring in the national and Scottish polls, but incorporates more local information as well."
Their current projection gives Labor a twenty seat advantage (285 to 265) with the following break-down (along with a potential range of outcomes in parentheses:
265 Conservative (235-293)
295 Labour (260-313)
49 Scottish National Party (34-56)
24 Liberal Democrats (17-33)
3 UKIP (1-5)
6 Other (4-9)
18 seats in Northern Ireland (not forecast)
More from Ford, Jennings, Pickup and Wlezien: "While our seat forecast suggests that, as the polls stood on March 1st, there is a greater probability that Labour will be the largest party (77%), the implied probabilities suggest that the likelihood of a Labour majority is tiny (less than 0.5%), and the likelihood of Labour and the Liberal Democrats being able to form a parliamentary majority is also quite small (put at 19%). The possibility of Labour and the SNP holding a majority of seats is much higher (78%)."
Via email, Ford adds more: "The current pattern of public opinion will make forming a government very difficult. Neither of the major parties will have enough seats to govern effectively alone, as both would be well short of a majority, and there is no combination of two parties which would have the majority needed to govern either (so the current Conservative-Lib Dem coalition would not be able to continue). This would mean protracted coalition negotiations as each party would need to gather some sort of co-operation and support from at least two other parties. Labour would, on these numbers, have some advantage in this process as the largest of the minor parties looks set to be the Scottish National Party, who are quite left wing on most economic and social issues, and have a strong tribal hostility to the Conservatives (they have repeatedly stated they will not assist a Conservative lead government."
AMERICANS WANT TO SEE A TAX OVERHAUL - Pew Research: "The public sees the nation's tax system as deeply flawed: 59% say 'there is so much wrong with the federal tax system that Congress should completely change it.' Just 38% think the system 'works pretty well' and requires 'only minor changes.' These opinions have changed little since 2011... Just 27% are bothered 'a lot' by the amount they pay in taxes. By contrast, 64% say they are bothered a lot by the feeling that some corporations do not pay their fair share of taxes, and 61% say the same about some wealthy people failing to pay their fair share. In views of other aspects of the tax system, 44% say they are bothered a lot by the complexity of the system, while just 20% are bothered a great deal by the feeling that some poor people are not paying their fair share of taxes...In that survey, 63% of independents, 60% of Republicans and 55% of Democrats said there is so much wrong with the system Congress needed to completely change it…[T]those with higher family incomes are more likely than those with low incomes to be bothered by the complexity of the tax system and the amount they pay in taxes." [Pew]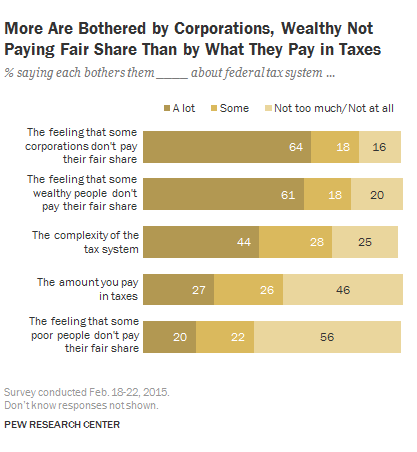 DEMOCRATS WANT AN INDEPENDENT REVIEW OF ALL CLINTON EMAILS - Amanda Becker: "Support for Clinton's candidacy has dropped about 15 percentage points since mid-February among Democrats, with as few as 45 percent saying they would support her in the last week, according to a Reuters/Ipsos tracking poll. Support from Democrats likely to vote in the party nominating contests has dropped only slightly less, to a low in the mid-50s over the same period… The polling showed that nearly half of Democratic respondents - 46 percent - agreed there should be an independent review of all of Clinton's emails to ensure she turned over everything that is work-related. There was also sizable support among Democrats for the Republican-controlled congressional committee's effort to require Clinton to testify about the emails. Forty-one percent said they backed its efforts to force Clinton's testimony." [Reuters]
HOW WOULD MANDATORY VOTING CHANGE THE MAP? - In a speech on Wednesday, President Obama noted that countries like Australia have "mandatory voting" and speculated that it "would be transformative if everybody voted" in the United States. Such a system, he said, "would completely change the political map in this country, because the people who tend not to vote are young; they're lower income; they're skewed more heavily towards immigrant groups and minority groups." The Washington Post's Philip Bump attempted to estimate what such a map would look like: "If every citizen of voting age had come out to vote during Obama's reelection race, the results would have been the same (that is, he would have won), but the electoral map would have looked much different. The Census Bureau has historic data broken down by state, race and gender, which we can compare to exit poll data. We don't have access to every state's data, which is a very big caveat, but we can still see what the election might have looked like....Here's how the electoral map would have looked if every voting-age person voted and we apply exit poll data by race." [Whitehouse.gov, WashPost]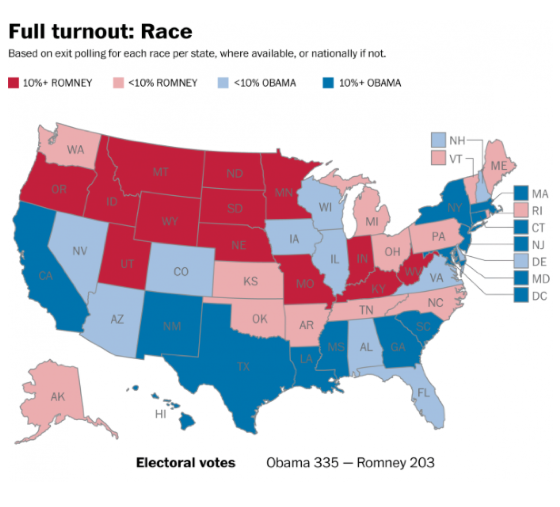 The map produced a wave of skepticism (and sarcasm) on Twitter...
-Dave Weigel: "Love @pbump, but extrapolating national #s with whites to assume R wins in OR, VT, etc is a parody of #datajournalism." [@daveweigel]
-Josh Barro: "WaPo: Vermont has lots of white people, so if you had mandatory voting, Romney would have won Vermont. Or something....The number of credulous tweets of that WaPo post demonstrates people will believe anything if you put it on a map." [@jbarro here and here]
-Logan Dobson(R): "this is the type of nonsense that believing that demographics explain everything about elections can produce" [@LoganDobson]
-Nate Cohn: "Where to begin? I can't. I just can't...This piece appears to be an unintentional reminder that we don't have racial voting blocs in America" [@Nate_Cohn here and here]
-Derek Willis: "What the 2012 election could have looked like with 0 percent turnout: [link to map below]" [@derekwillis]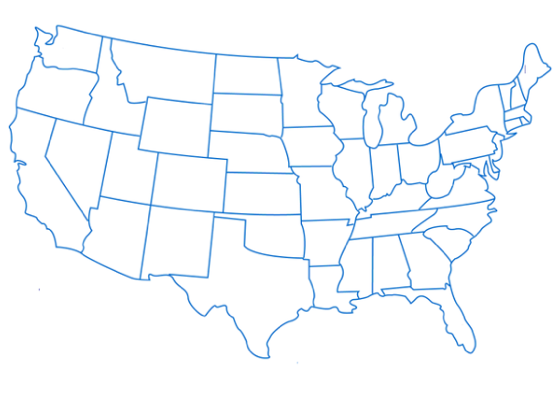 HUFFPOLLSTER VIA EMAIL! - You can receive this daily update every weekday morning via email! Just click here, enter your email address, and click "sign up." That's all there is to it (and you can unsubscribe anytime).
FRIDAY'S 'OUTLIERS' - Links to the best of news at the intersection of polling, politics and political data:
-Fifty percent of Americans say President Obama has been a success. [CNN]
-About half of Americans (52 percent) say President Obama is doing a good job on the environment. [Gallup]
-Concern about ISIS as a "serious threat to the U.S." increases to 80 percent. [CNN]
-Focus groups highlight possible problems for Bush and Clinton. [Bloomberg]
-Amy Walter explains why Marco Rubio's supporters aren't worried about his low standing in the polls. [Cook Political]
-Stuart Rothenberg remembers Curtis Gans. [Roll Call]
-The shrinking middle class mapped state by state. [Pew]
-Support for marijuana legalization is greater in the U.S. than in Britain and Germany. [YouGov]
-Support for hosting the 2024 Olympics falls to 36 percent in Boston. [WBUR]
-Pew Research explores how Millennials compare with their grandparents 50 years ago. [Pew]