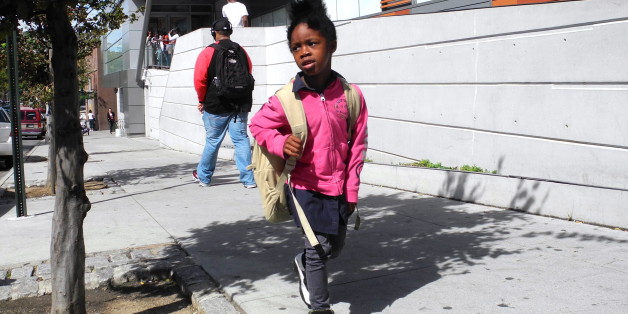 A record number of kids in New York City are homeless and they won't see any relief until they get access to more affordable housing, a new report concluded.
According to the Coalition for the Homeless, 25,000 children in the Big Apple didn't have a place to call home last year, and the situation has had a particularly dire effect on African American kids, the group said in a report released on Thursday. However, the group said the city could see "unprecedented" drops in child and family homelessness rates if it creates more reasonably priced housing options -- a cost-efficient system that has already proven to work.
Nearly one-third of adults in homeless families in New York City are employed, yet they are the fastest growing segment of the homeless population. The issue remains that low-cost housing is on the decline and their paychecks can't cover market-rate apartments.
While the Coalition applauded Mayor Bill de Blasio's recent efforts to provide more permanent housing, which have helped lift more than 300 families out of homelessness since December, it said the issue requires an even more aggressive approach.
Among its recommendations, the Coalition tasked de Blasio with allocating at least 2,500 apartments every year to homeless families. It urged Governor Andrew Cuomo to beef up the city's rental assistance program, which prevents homelessness and helps families transition from shelters.
Ending child homelessness requires an even greater sense of urgency, experts say, because the trauma occurs when the kids' brains are still developing, which puts them at risk for developmental delays and struggling in school. They are more susceptible to human trafficking, abuse and hunger, Bruce Lesley, president of First Focus, told The Huffington Post last year.
The mayor recently demonstrated his resolve to expedite the housing process.
De Blasio has been making robocalls to landlords around the city to offer them a $1,000 bonus for opening up an apartment to a "responsible" homeless family. The incentive is part of a city program that also offers rent subsidies, but requires tenants to put 30 percent of their salaries toward rent, according to WCBS 880.
But experts say a systemic shift has to take hold before the issue can be addressed effectively on a national level.
U.S. child homelessness rates have reached all-time highs, according to recent estimates, prompting experts to call the situation an "epidemic." Yet, the issue remains largely hidden due to a mere technicality.
Because of the Department of Housing and Urban Development's exclusionary definition of homelessness, more than a million homeless kids have been discounted from official estimates. That, in turn, precludes state and local policymakers from using federal money to help them.
"The nation hasn't really prioritized family and child homelessness," Carmela DeCandia, the National Center on Family Homelessness director told Stateline. "How are we going to target resources if we're not on the same page about the size of the problem?"
BEFORE YOU GO
PHOTO GALLERY
The Hungriest States In America