Ted Cruz starts with weaker poll numbers than any presidential nominee since the 90s. And 'fracking' divides Americans. The email controversy made for more coverage of Hillary Clinton, much of it negative, but perceptions of her remain mostly the same. This is HuffPollster for Monday, March 23, 2015.
TED CRUZ STARTS FROM WAY BEHIND - Philip Bump: "On Monday, Sen. Ted Cruz (R-Texas) is expected to become the first legitimate candidate to officially enter the Republican primary field for 2016. If he manages to gain his party's nomination, he'll have started with weaker prior-year poll numbers than anyone since 2000. With weaker numbers, in fact, than anyone since Bill Clinton. The only recent party nominee who saw numbers as low as Cruz's -- whose highest Real Clear Polling polling average so far in 2015 has been 5.5 percent -- is John Kerry, in 2003. Since Real Clear Politics doesn't have available averages for 2004, we're somewhat comparing apples and applesauce. But Kerry's percentage of support in NBC/Wall Street Journal polls is the only figure since 2000 to be near Cruz's." [WashPost]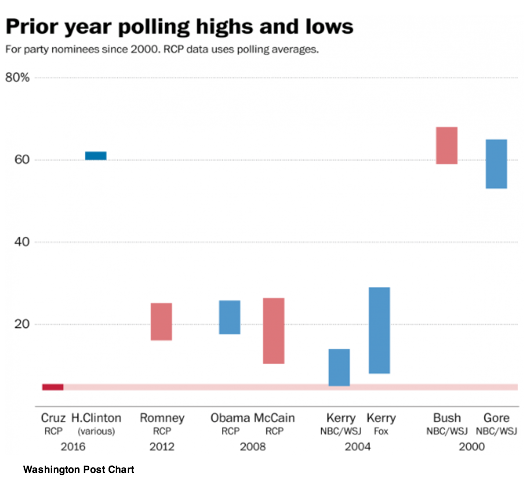 Ted Cruz favorability - HuffPost Pollster's chart, combining all publically available polling of adults nationwide, shows Ted Cruz has remained relatively unknown with a net unfavorable rating:
Where he stands in the GOP field - In 2013, Cruz's 21-hour Senate speech against the ACA gave him a boost among primary voters, with subsequent polls showing him taking 15 to 20 percent of the Republican field. That margin has been fading ever since. The nine surveys taken in 2015 show Cruz with between 3 and 9 percent of the vote, placing him behind Jeb Bush, Mike Huckabee, Scott Walker, Ben Carson, Rand Paul and Chris Christie. [Pollster]
EMAIL CONTROVERSY HAS LITTLE EFFECT ON CLINTON STANDING - Kathy Frankovic: "Hillary Clinton has been a public figure for more than two decades, and many opinions about her character and competence have changed little in the last few years. Questions about her emails while she was Secretary of State may also prove to have relatively little impact on her standing in the race for the Democratic nomination, according to the latest Economist/YouGov Poll. In fact, after her press conference last week, there may even have been a rally effect among Democrats. The biggest change post-press conference, in fact, was the increased perception that the media treats Clinton harder than they do other people in public life – with Democrats especially likely to respond this way. More people had an opinion on this question after the press conference, and there was a ten point rise in the percentage that believed Clinton had been more harshly treated by the media." [YouGov]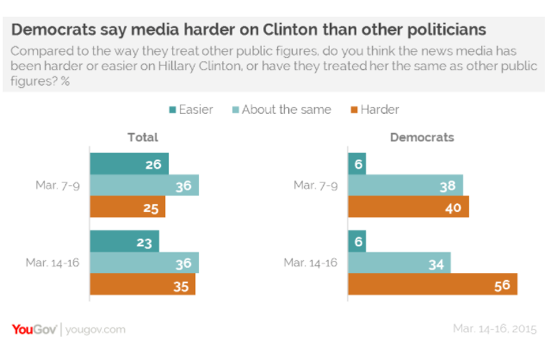 Strong appeal to women persists - Jeffrey Jones: "Women continue to have a much more positive opinion of Hillary Clinton than men do. Fifty-six percent of women have a favorable opinion of Clinton, while 32% view her unfavorably. Men are evenly divided in their opinions of Clinton. The results are based on a March 2-4 Gallup poll, conducted as revelations about her use of a private email account to conduct government business were emerging, but before she publicly addressed the issue. Clinton is expected to officially announce her presidential candidacy for the 2016 election next month. Her combination of high familiarity among the general public and more positive than negative favorable ratings puts her in a more advantageous early position regarding her image than any of her potential 2016 rivals." [Gallup]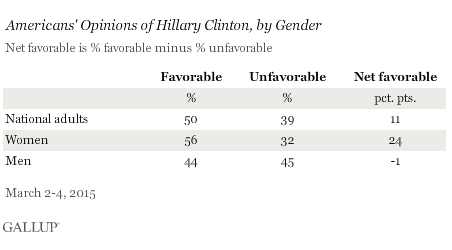 'Inconsequential' change in NY State - Quinnipiac University: "Former Secretary of State Hillary Clinton gets 51 percent in a possible 2016 Democratic presidential primary in New York State and tops Republican contenders by margins of 20 percentage points or more, with an inconsequential drop from matchups in December, according to a Quinnipiac University poll released today....The matchup of neighbors Clinton and Christie is the closest general election race, and the Democrat wins 54 - 34 percent, compared to 57 - 31 percent in a December 23 Quinnipiac University poll. Clinton tops other Republicans by larger margins." [Quinnipiac]
Clinton coverage negative before and after email story - Lynn Vavreck: "Using social analytics tools provided by Crimson Hexagon, I examined all of the news about Mrs. Clinton — and a few other hopefuls — beginning in February and running through last Thursday. The tools are devised to gather and reveal the volume and tone of media coverage on major news sites. The data for Mrs. Clinton in February, before the email story broke, show a clear pattern: 43 percent of her coverage was negative in tone and only 2 percent was positive (with the remainder neutral). As a result, Mrs. Clinton's net score was quite low: -41. Other 2016 hopefuls are in similar positions. All of them have negative news shares in the 40 percent range, but some have positive news shares that inch close to double digits...After the private email server story broke, coverage of Mrs. Clinton escalated....in March the pattern changed abruptly, as Mrs. Clinton's share of the total news volume soared to 54 percent, while the other candidates faded into the news background. Throughout these changing tides of news volume, however, the tone of the candidates' news coverage remained relatively constant. Mrs. Clinton's net sentiment rating increased in negativity by a point or two during March, but mainly the tone of the news articles about all the candidates held fast as the volume and topics changed. At this stage, the news about presidential hopefuls is more negative than positive in tone regardless of the events that drive the coverage — and about half of it is neutral." [NYT]
AMERICANS SPLIT ON FRACKING - Art Swift: "The practice of hydraulic fracturing, or 'fracking,' has emerged as a divisive issue across the U.S., reflected in Americans' opinions about it; 40% of Americans say they favor the procedure, while 40% oppose it, and a substantial 19% do not have an opinion. This is amid the Obama administration last week announcing the first nationwide safety rules for fracking… The survey asked Americans whether they favor or oppose 'hydraulic fracturing or 'fracking.'' The survey did not further define the process, list pros or cons or measure the degree to which the public has been following the issue. But eight in 10 Americans are willing to give an opinion, with the results split evenly, along with 19% who explicitly said they didn't have an opinion. Views of fracking are partisan, underscoring the degree to which the fracking debate has become part of today's highly divided political environment. A solid majority of Republicans (66%) support fracking, while 20% oppose it. On the Democratic side, opposition is twice as great as support, 54% to 26%. Independents are more likely to oppose (44%) than to favor (35%) the practice, with 21% having no opinion." [Gallup]
HUFFPOLLSTER VIA EMAIL! - You can receive this daily update every weekday morning via email! Just click here, enter your email address, and click "sign up." That's all there is to it (and you can unsubscribe anytime).
MONDAY'S 'OUTLIERS' - Links to the best of news at the intersection of polling, politics and political data:
-Americans define the perfect candidate as someone who will change the policies of the Obama administration. [CNN]
-A new poll shows Rahm Emanuel ahead 16 points in the Chicago mayoral race. [Chicago Sun Times]
-The Upshot dives deep into the demographics of gay America. [NYT]
-Netanyahu's U.S. pollster John McLaughlin claims Obama's role in Israel's election was larger than reported. [The Hill]
-Andrew Prokop and Anand Katakam explain the problems with extrapolating vote-by-race or vote-by-gender findings among voters to non-voters. [Vox]]
-Philip Bump responds and revisits his what-if map with complete exit poll data from 2004. [WashPost]
-John Sides says mandatory voting would change very little about the balance of power between the two parties. [WashPost]
-Sean McElwee explores what political science has to say about how progressives would benefit if everyone voted. [Al Jazeera]
-Dave Wilson (R) reviews the demographics of those consumed with March Madness. [POS]
-Gene Ulm and Brian O'Bannon (Rs) put the $9 billion wagered on March Madness into context. [POS]

BEFORE YOU GO