A plane carrying 150 people crashed in the French Alps on Tuesday en route to Düsseldorf, Germany, from Barcelona, Spain. No one is believed to have survived the crash.
The Airbus A320 plane, operated by Lufthansa's Germanwings budget airline, went into a rapid decline and lost radar contact with air traffic control about an hour after takeoff at 10 a.m. local time, the airline said.
Germanwings said the plane started losing altitude one minute after it reached cruising height, and continued to descend for eight minutes before the crash.
The plane crashed in a remote area of the French Alps, about 65 miles north of the riviera city of Nice.
A helicopter that was able to reach the crash site confirmed that there were no survivors, French Prime Minister Manuel Valls said.
"The violence of the shock leaves little hope," said French Interior Minister Bernard Cazeneuve.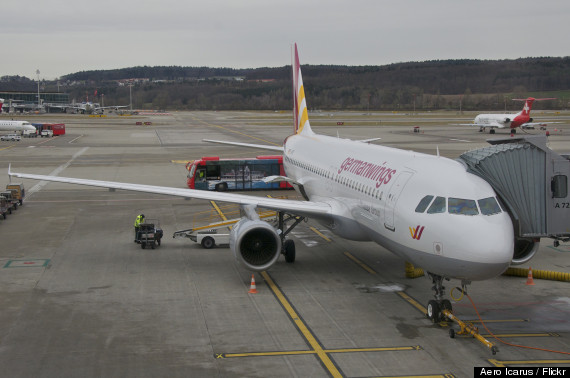 The Germanwings Airbus A320 with license D-AIPX is seen in Feb. 2014.
The airline said 144 passengers, two pilots and four flight attendants were on board flight 4U 9525.
Officials said the passengers are thought to include 67 Germans, one Belgian, one Dutch national, two Australians and more than 40 Spanish people. The passenger manifest also included two babies.
Among the passengers were 16 high school students and two teachers from the German town of Haltern am See, who were returning from an exchange in Spain. Their distraught classmates laid candles outside the Joseph-Koenig-Gymnasium secondary school on Tuesday. "It's the darkest day in this town's history," mayor Bodo Klimpel told Reuters. "It's the worst thing ever imaginable."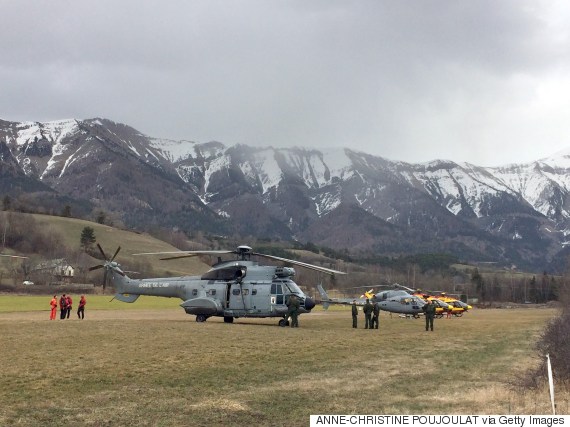 Helicopters of the French Air Force and civil security services are seen in Seyne, south-eastern France, on March 24, 2015. (ANNE-CHRISTINE POUJOULAT/AFP/Getty Images)
Search teams who reached the crash site in Méolans-Reve described utter devastation.
"Everything is pulverized. The largest pieces of debris are the size of a small car. No one can access the site from the ground," Gilbert Sauvan, president of the Alpes-de-Haute-Provence general council, told The Associated Press.
"There's nothing left but debris and corpses," the mayor of Folcalquier, Christophe Castaner, tweeted from the scene.
The mayor of the nearby French town of Barcelonette, Pierre Martin-Charpenel, told HuffPost France that all emergency staff has been mobilized for the search. A local weather official told Reuters that the search might be impeded by local storms and low cloud.
"It is going to take days to recover the victims, then the debris," warned French police official Jean-Paul Bloy.
Officials announced late on Tuesday that the search was suspended overnight, but would resume in the morning.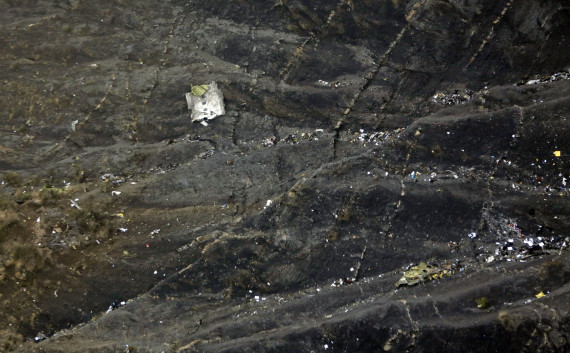 Aerial view of crash site of Germanwings Flight 4U9525 in Seyne Les Alpes on March 24, 2015 in Seyne Les Alpes, France. (Michael Gottschalk/Photothek via Getty Images)
One of the plane's black boxes has been located and is being examined for more information on the crash, the French interior minister said.
Aircraft manufacturer Airbus and the airline said they were working to confirm the details of the crash. "If our fears are confirmed, this is a dark day for Lufthansa," the airline said in a statement. "Our thoughts and prayers are with the families and friends of the passengers and crew members."
French police told the AP that there did not appear to be turbulence or low cloud ceiling in the area. The White House said the crash does not appear to be a terror-related incident.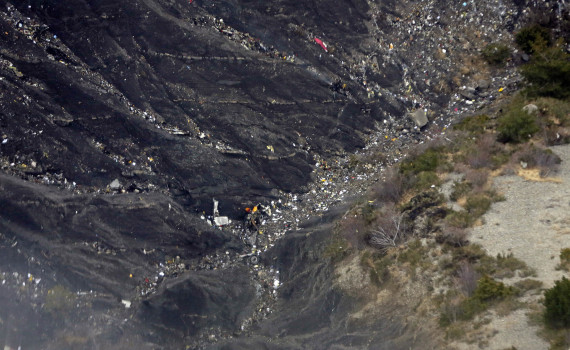 Aerial view of crash site of Germanwings Flight 4U9525 in Seyne Les Alpes on March 24, 2015 in Seyne Les Alpes, France. (Michael Gottschalk/Photothek via Getty Images)
While early reports indicated the plane had issued a distress call during its descent, French aviation authorities later denied that report. "The aircraft did not itself make a distress call, but it was the combination of the loss of radio contact and the aircraft's descent which led the controller to implement the distress phase," an authority spokesman said.
The aircraft was built in 1991 and operated by Lufthansa and Germanwings, which was established in 2002. The captain on flight 4U 9525 had 10 years of experience working for Lufthansa, the airline said.
The A320 is Airbus' best-selling jet family, with more than 6,000 planes in operation. Airbus said last year that 3,606 A320 jetliners were in use around the world. In December, another A320, Indonesia AirAsia Flight 8501, crashed into the Java Sea, killing all 162 passengers and crew.
Read HuffPost's coverage in French... read HuffPost's coverage in German...
Image from aviation tracking site FlightAware shows flight 4U 9525 origin and destination (red), and known flight path before the crash (blue).
BEFORE YOU GO
26/03/2015 17:46 GMT
Third American Passenger Identified
The U.S. State Department has said the third passenger on board the doomed Germanwings plane was Robert Oliver.
Read more here.
26/03/2015 17:11 GMT
How A Cockpit Door Lock Works
The New York Times provides a visual explainer on how the lock on the Germanwings plane functions. Read it here.
26/03/2015 15:42 GMT
Merkel: Crash Findings 'Beyond Power Of Imagination'
German officials will do all possible to help after #Germanwings crash; "we owe this" to victims, says Angela Merkel http://t.co/sGzReaUUMI

— BBC Breaking News (@BBCBreaking) March 26, 2015
26/03/2015 15:24 GMT
Nancy Pelosi Addresses Germanwings Crash
U.S. House Minority Leader Nancy Pelosi (D-Calif.) spoke about the plane crash on Thursday.
"For a long time many of us have questioned if there should be something more between passengers and the cockpit," Pelosi told reporters Thursday.
"But even if we had a bigger gate, it would not have prevented this as far as we know," she added. "It does bring up the subject again."
Pelosi said this incident is "highly unusual," but does expose potential "vulnerability" of the cock pit on an airplane.
-- Laura Barron-Lopez & Paige Lavender
26/03/2015 14:37 GMT
Airbus Issues Statement
Our thoughts are with everyone affected by this appalling tragedy; above all, of course, the victims & their family members and friends. 1/3

— Airbus (@Airbus) March 26, 2015
Our condolences also go to our colleagues at Germanwings and Lufthansa. 2/3

— Airbus (@Airbus) March 26, 2015
At this very difficult time, we will continue to provide all possible help and support. 3/3

— Airbus (@Airbus) March 26, 2015
26/03/2015 14:27 GMT
Families Told Co-Pilot Crashed Plane
NBC's Chief Global Correspondent Bill Neely reports:
Families of dead from #GermanWings plane have arrived @ final point before crash site. Won't see site. They've been told co-pilot crashed it

— Bill Neely (@BillNeelyNBC) March 26, 2015
26/03/2015 14:23 GMT
Co-Pilot Reportedly Underwent Training In Arizona
Co-pilot of crashed #Germanwings airliner underwent training in Arizona, a senior US official tells @ABC News - @JoshMargolin

— ABC News (@ABC) March 26, 2015
26/03/2015 14:17 GMT
Video: Crash Recovery Operation Continues
26/03/2015 14:14 GMT
Lufthansa CEO: Suicide Is Not The Right Description
In response to a question on whether the pilot's actions were suicide, Carsten Spohr told the press briefing: "I'm no lawyer and I don't want to settle on a specific word, but I would say if if you cause the death of 149 people along with you, it's something other than suicide."