Ted Cruz faces an uphill battle given resistance from party elites and an exceptionally extreme ideology. Americans are opposed to changes to Medicare and Medicaid that Republicans want to make. And a survey -- hopefully conducted in the evening -- confirms most Americans aren't morning people. This is HuffPollster for Tuesday, March 24, 2015.
INVISIBLE PRIMARY LOOKS BAD FOR CRUZ - Nate Cohn: "Political scientists argue that the single most important determinant of the outcome of the nomination is support from party elites: those operatives who can staff a winning campaign; the donors who fund it; the elected officials and interest group leaders who bestow the credibility necessary to persuade voters and affect media coverage. The candidate with the most support from party elites doesn't always win the nomination, but support from elites is probably a prerequisite for victory. 'A candidate without substantial party support has never won the nomination,' said John Zaller, a political-science professor at the University of California, Los Angeles, and one of four authors of 'The Party Decides,' an influential work on the role of parties in the nominating process. Mr. Cruz has done nothing to endear himself to the elites....In April 2013, he was identified as 'The Most Hated Man in the Senate' by Foreign Policy magazine'....If you did a web search for 'Senators Hate Ted Cruz' on Sunday, that Foreign Policy article wouldn't have even come up on the first Google page. It was supplanted by titles like 'Why Senate Republicans Hate Ted Cruz,' 'GOP Still Despises Ted Cruz,' [and] 'Everybody Hates Ted Cruz'...Mr. Cruz is not an outsider, grass-roots version of President Obama in 2008. [Cruz] is unacceptable to many conservative officials, operatives, interest group leaders and pundits. If they don't take him seriously, voters won't either." [NYT]
Too ideologically extreme? - Harry Enten: "Cruz is likely far too extreme ideologically to win the nomination. The Republican party has a habit of nominating relatively moderate candidates (see John McCain in 2008 and Mitt Romney in 2012)....A Cruz nomination wouldn't just break this streak; it would throw it off a 100-floor balcony and drop a piano on it. Cruz is more conservative than every recent nominee, every other candidate who mounted a serious bid in 2012 and every plausible candidate running or potentially running in 2016. Let's look at three ideological measures: DW-Nominate common-space scores (which are based on a candidate's voting record in Congress), fundraising ratings (based on who donates to a candidate), and OnTheIssues.org scores (based on public statements made by the candidate). As my colleague Nate Silver has previously noted, these measures aren't perfect, but together, they give you a fairly good idea of where a candidate stands. Cruz is the first or second most conservative candidate on all three scales for former nominees and all the candidates running in the 2016 campaign." [538]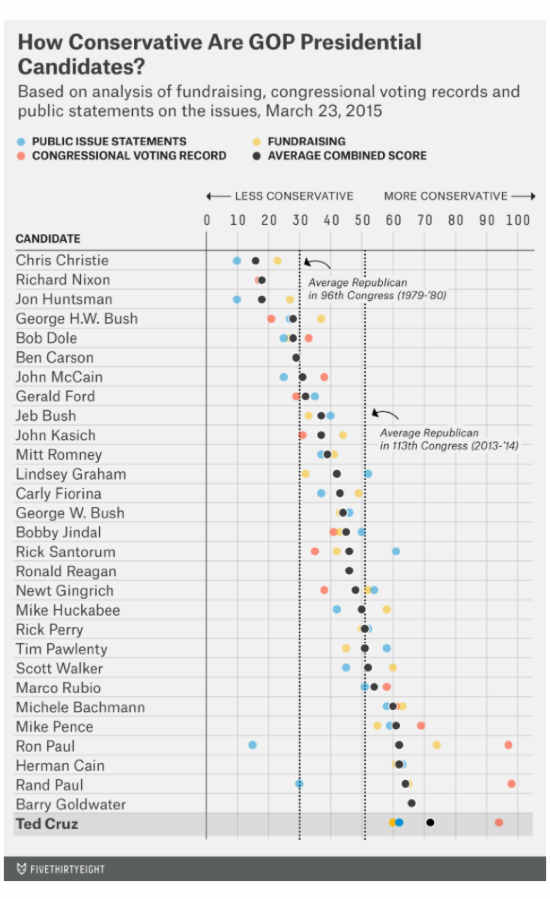 Still unknown to half of Americans... - Jim Geraghty: "Earlier this month, Gallup polled 1,522 adults about their opinions of various political figures. Asked their opinion about Ted Cruz, 22 percent answered favorable, 28 percent unfavorable, 37 percent said they had never heard of him, and 13 percent said they were undecided. In other words, half of all adults don't have an opinion on him yet." [NRO]
...But with Tea Party appeal - Anthony Salvanto: "In our Feb [CBS News] poll most Reps didn't know enough about Cruz to say whether they'd consider him or not. Those who did split: Yes 23% - No 21%... those who'd consider voting for Cruz were 3 times as likely to be Tea Party supporters as those who would not consider him." [@SalvantoCBS here and here]
AMERICANS OPPOSE CHANGES TO MEDICARE AND MEDICAID IN GOP BUDGET Peter Moore: "Americans tend to oppose proposed overhauling Medicare and Medicaid, but they also tend to think it's more important to balance the budget than to protect services. YouGov's latest research shows that Americans tend to oppose rather than support the Republican budget plan to significantly alter how the federal government provides health insurance for over-65s and the poor. Only 19% of Americans support replacing the current Medicare system of federal health insurance for over-65s with federal subsidies to buy private health insurance...Opposition to proposed changes to Medicare are largely the same regardless of political party...Despite widespread opposition to changes that could quickly cut federal spending, when asked in principle whether it is more important to balance the budget or protect government services, most Americans (56%) say that it's more important to balance the budget, while only 29% say that it's more important to maintain the same level of government services." [YouGov]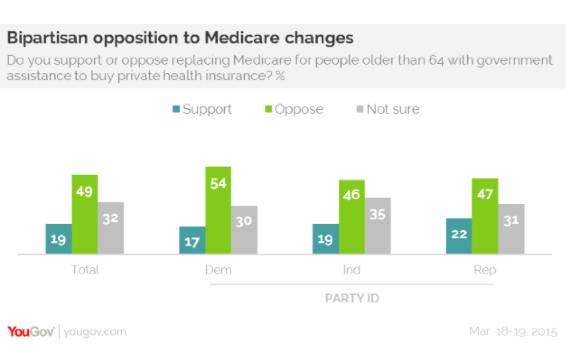 WE GET UP EARLY, SO YOU DON'T HAVE TO - Meg Lazovick: "Edison Research got a unique opportunity to study the morning routines of Americans recently. In a study commissioned by the Country Radio Seminar, entitled 'Wake Me Up,' we performed an exhaustive national survey of adults 18 to 54 – conducted entirely on weekdays – where our respondents told us all about their behaviors in the morning and attitudes about mornings....And here's our first finding in the 'Wake Me Up' series: A majority of people do not consider themselves 'a morning person.'" [Edison Research]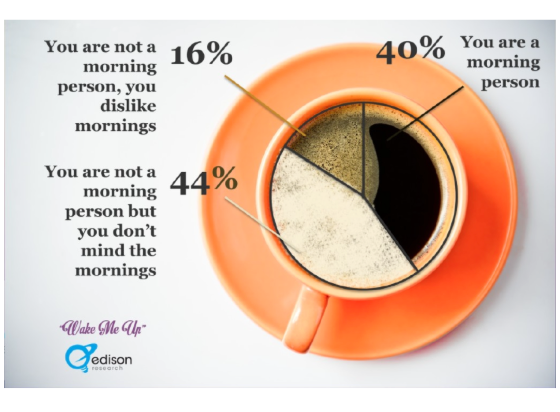 HUFFPOLLSTER VIA EMAIL! - You can receive this daily update every weekday morning via email! Just click here, enter your email address, and click "sign up." That's all there is to it (and you can unsubscribe anytime).
TUESDAY'S 'OUTLIERS' - Links to the best of news at the intersection of polling, politics and political data:
-Only 5 percent of Americans know that the government is spending less than was estimated. [Vox]
-Seventy-one percent of Americans support making "radical" or "significant" changes to the way we handle mental health conditions in the U.S. today. [POS (R)]
-Sixty-two percent of Boston residents say Dzhokhar Tsarnaev should get life in prison, not the death penalty. [WBUR]
-John Sides says the nerds haven't beaten the campaign pundits just yet. [WashPost]
-GOP pollsters Martin Shull and Bill McInturff find that Republicans are largely the same everywhere, even though 40 percent live in Blue states. [POS]
-Mona Chalabi reviews what the U.K. voters want and what their parties are promising. [538]
-Anthony Wells reviews the different methods used by prominent U.K. pollsters. [UK Polling Report]
-Local news is hard to find on Twitter. [Pew]
-The Census bureau is experimenting with online surveys. [NPR]

BEFORE YOU GO