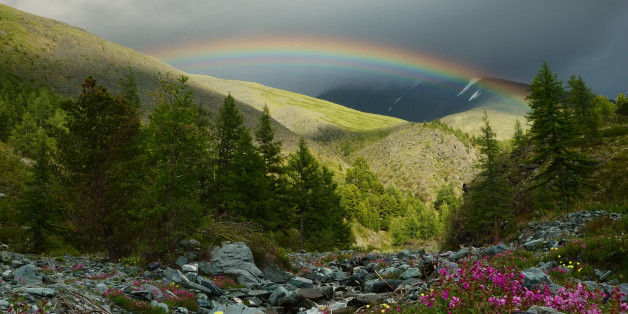 With the greater focus on climate change, Americans have grown more positive about the overall quality of the environment and less concerned about threats like air and water pollution. Another theory emerges for Israel's polling miss. And polls in the 2014 midterms were about as accurate as usual. This is HuffPollster for Wednesday, March 25, 2015.
AMERICANS GAIN MORE POSITIVE VIEW OF THE ENVIRONMENT - Rebecca Riffkin: "Half of Americans rate the overall quality of the environment as 'excellent' or 'good,' the most positive views of the environment since Gallup began asking this question in 2001. The uptick in positive evaluations of the environment is offset by a decline in those rating the environment as 'only fair.' Forty percent of Americans rate the environment as only fair, down from 44% in 2014 and the lowest percentage found since 2001. At the same time, the 9% rating the quality of the environment as 'poor' is similar to what Gallup has found over the past six years. Americans' ratings of the quality of the environment dropped in 2003 and didn't rise until 2010… All partisan groups are a bit more positive about the quality of the environment this year than they were in 2014... Unlike the improvement seen in Americans' ratings of the environment today, the percentage who say the quality of the environment is 'getting better' has been essentially unchanged since 2009… Americans during Obama's presidency have been more likely to say the quality of the environment is getting better than they were to say the same during George H.W. Bush's presidency… Republicans are slightly more likely than independents or Democrats to say the environment is getting better." [Gallup]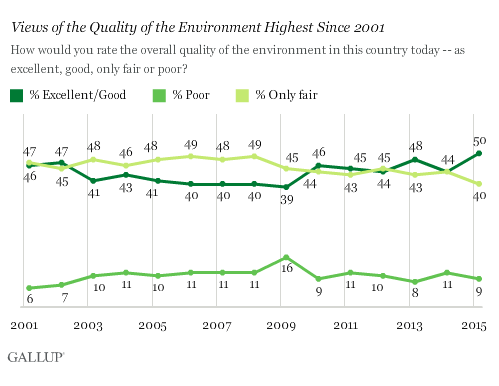 Specific worries decline - Jeffrey M. Jones: "Americans' concern about several major environmental threats has eased after increasing last year... Americans express greater concern over more proximate threats -- including pollution of drinking water, as well as pollution of rivers, lakes and reservoirs, and air pollution -- than they do about longer-term threats such as global warming, the loss of rain forests, and plant and animal extinction… The amount Americans worry about the various threats tends to rise and recede in unison, with concern higher in the late 1980s and early 1990s during the revival of environmentalism, and in the late 1990s and early 2000s amid the economic boom. Since then, Americans' worry has fallen, with concern dipping to record lows on most issues in 2010 or 2011. The current level of worry on each issue remains at or near those record lows… Americans tend to give environmental concerns higher priority when the economy is healthy than when it is ailing…The primary focus of the environmental movement has shifted toward long-term threats like global warming -- issues about which Americans tend to worry less than about more immediate threats like pollution.… And although concern about environmental issues is lower among both Republicans and Democrats since 2000, it is down more among Republicans." [Gallup]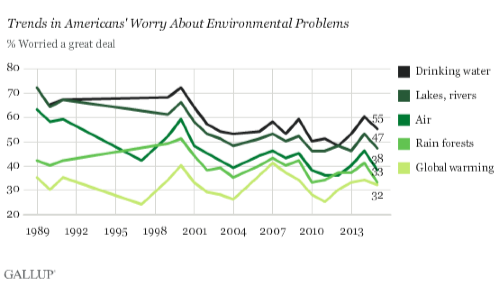 HOW WRONG WERE THE 2014 POLLS, REALLY? - HuffPollster contributed a chapter to the just released volume, The Surge: 2014's Big GOP Win and What It Means for the Next Presidential Election, published by Rowman and Littlefield. Our chapter reviews the current state of pre-election polling and examines how pollsters fared in 2014. Here's a brief excerpt: "At first glance, the final polling averages on 2014 Senate contests appeared to show more error than they had in recent midterm elections in estimating the margins separating the candidates....The analyses of the National Council on Public Polls provide another, broader benchmark, based on statewide contests for Senate and governor. Between 2002 and 2010, their computation of ''candidate error''—a measure of the average error for the top two candidates on individual polls conducted in the last week of the race—has ranged between 2.0 and 2.3 percentage points in the midterm elections. In 2014, our computation of the NCPP statistics finds a rate of error in final week polls (2.2 percentage points) slightly higher than in 2006 or 2010, but slightly lower than 2002....While polling averages in Senate races appeared to miss by more than usual, broader measures of polling error were roughly in line with previous midterm elections, and the 2014 Senate polls collectively predicted the correct winners in all but one race. However, these findings may not settle the nerves of a profession already roiling from changes in technology and communications habits that threaten to reshape it significantly in the future." [HuffPost]
A NEW THEORY FOR ISRAEL'S POLLING MISS - Democratic pollster Mark Mellman, who works for Center-Left party Yesh Atid, offers a theory for polls that showed Isaac Herzog's Zionist Union party leading just days before Benjamin Netanyahu's Likud party scored a surprise victory: "The explanation offered by the pollsters is that there was big movement toward Netanyahu in the final days. That might make sense if it weren't for our polls and those of one other firm that recorded consistent Likud leads....Israeli media provide little information about their polling methodology, but let me offer just one possible source of error among many. Most of the Israeli media polls are done in one night. That provides researchers not with a random sample of the electorate but with a random sample of easy-to-reach voters. Easy-to-reach folks can have different views than those who are more difficult to find. It's only by recalling numbers over and over, at different times on different days, that one can reach those who don't sit at home waiting for a pollster's call." [The Hill]
HUFFPOLLSTER VIA EMAIL! - You can receive this daily update every weekday morning via email! Just click here, enter your email address, and click "sign up." That's all there is to it (and you can unsubscribe anytime).
WEDNESDAY'S 'OUTLIERS' - Links to the best of news at the intersection of polling, politics and political data:
-A majority of Americans, and college sports fans, favor providing health insurance to injured, top college athletes after they graduate. [Marist]
-Ted Cruz is popular with evangelical Christians and conservative Republicans – but then so are some of his GOP rivals. [YouGov]
-Jim Henson examines Ted Cruz's polling numbers in his home state of Texas. [UTexas]
-Harry Enten thinks Evan Bayh could put the 2016 Indiana Senate contest in play. [538]
-John Sides has answers for Steve King on why so many Jews vote for for Democrats. [WashPost]
-A lengthy message testing poll in Iowa focuses on women's economic security and paid family medical leave. [Iowa Starging Line]
-Nathan Gonzales offers a theory for why John Kasich now says,"Leaders don't take polls." [@nathanlgonzales]
-Low voter turnout matters most in local elections. [WashPost]
-Exit pollster Joe Lenski was creating poll aggregation charts in 1988. [@JoeLenski]
-Margie Omero (D) and Kristen Soltis Anderson (R) launch a new podcast, "The Pollsters." [@MargieOmero]
-An interactive graphic provides an exploratory view of gender gaps around the world. [Ri Liu via Flowing Data]

BEFORE YOU GO
PHOTO GALLERY
Landmarks That Climate Change Could Ruin