Apple store employees, those people who magically lay on iPhone screen protectors for you, are getting tasked with doling out fashion advice now, too.
It's all thanks to the soon-to-debut Apple Watch. According to 9To5Mac, the company is pushing its staff to "build relationships with customers to understand their purchase plans, stylistic wants, and fashion needs," which means doling out tips according to customers' aesthetics when shopping.
As guides, employees will reportedly have sheets with examples of various personalities and looks that different Apple Watch options could possibly accommodate. Look at the guiding tool, below.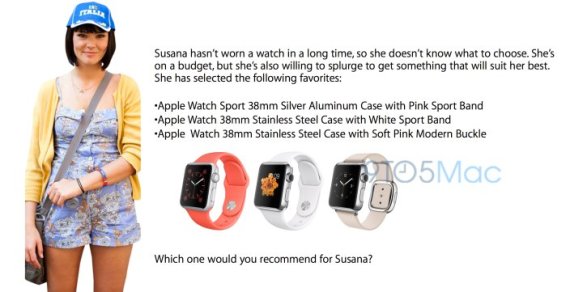 Photo courtesy of 9To5Mac.com; see more examples here
Apple's venture into sartorial choices isn't surprising. Last year, big names, such as Patrick Pruniaux, Tag Heuer's former vice president of sales, were tapped to likely consult on the Apple watch's overall look. Vogue China was the first glossy magazine to feature the high-tech accessory on its November 2014 cover.
The Apple Watch is available for sale on April 24th.
The Huffington Post reached out to Apple for comment and has yet to receive a response.
BEFORE YOU GO
PHOTO GALLERY
Watches At Every Budget