Britney Spears is all smiles on People magazine's latest cover -- and for good reason! The pop star, who shares the adorable cover with her two sons, told the magazine that she's "the happiest [she's] ever been."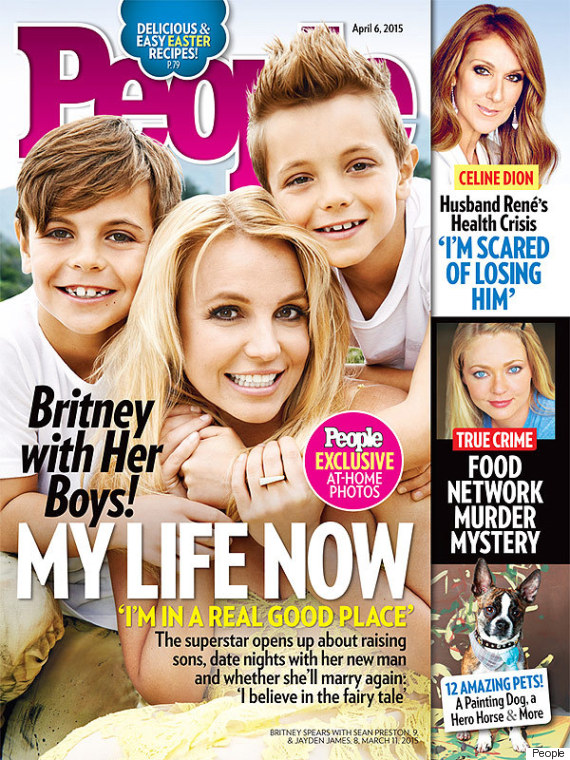 Spears told People her happiness stems from being around her sons, Sean Preston, 9, and Jayden James, 8, and watching their personalities develop as they grow up.
"Preston is very opinionated, very expressive, and if he doesn't like something, he's going to tell you, But he has a huge heart, he's a good kid and he has manners," she said. "Jayden is sweet, very soft-spoken, kinda funny. He's adorable -- a momma's boy," she added.
And just because the boys have a superstar mom doesn't mean they're super-spoiled. The 33-year-old said that homework and chores around the house are major priorities for them, and she's hesitant to give them an allowance:
"Preston just asked for a high allowance –- like $10 a week or $20 a week –- but we'll see!"
Spears, who co-parents the boys with ex-husband Kevin Federline, also has another man in her life that makes her happy: her new boyfriend, producer Charlie Ebersol. And apparently, Ebersol has her sons' seal of approval:
"They relate to him really well and they have fun together," she told People.
Back in February, the "Perfume" singer shared Instagram photos of the four of them hanging out while she took a break from her Las Vegas residency:
For more with Britney Spears,
head over to People
.
Find us on Pinterest!
Follow Huffington Post's board Hollywood on Pinterest.
BEFORE YOU GO
PHOTO GALLERY
Britney Spears Through The Years