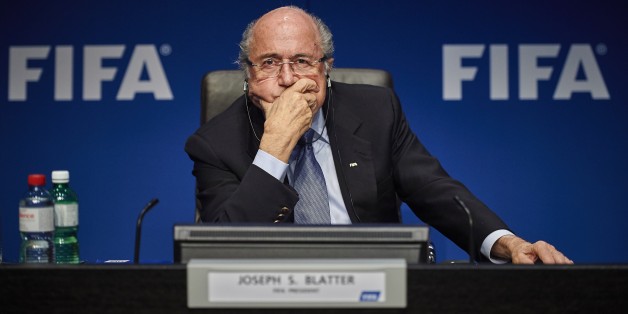 When FIFA, the famously opaque yet incredibly powerful international soccer governing body that puts on the World Cup, published its 156-page annual financial report on Friday, no mention was made of one basic facet of any organization: how much the employees make.
There is no mention of how much money its president, Sepp Blatter, or his oft-adversary and vice president, Michel Platini, or any of the members of the powerful executive committee are paid.
When The Huffington Post asked FIFA why it hadn't included information about employee pay in the report, the organization provided a statement saying it didn't see why anyone would need to know.
"[W]e do not believe that, from a reporting perspective, the publication of individual salaries would provide any value in addition to what we already publish in the Financial Report," a FIFA spokesman wrote in an email.
In recent years, there have been many claims of corruption and bribery among FIFA leadership, largely related to where the World Cup takes place and how other contracts and endorsements are awarded. These charges have started to hurt the organization's relationships with sponsors -- three major backers ended their support for FIFA in January.
The only information the FIFA report discloses about executive compensation is that in 2014 it paid what it calls "key management personnel" -- a group that includes Blatter, a 25-member executive committee he heads, a five-person finance committee and 13 top managers -- a total of $36.6 million.
FIFA's report also explains the process by which the organization set employees' salaries. A three-person compensation subcommittee is solely responsible for determining pay. One of the subcommittee members is a FIFA Senior Vice President Issa Hayatou, who has repeatedly been accused of taking bribes.
To establish a benchmark for FIFA salaries, the compensation subcommittee asked an outside human resources company to compare FIFA salaries to executive pay at other organizations. FIFA is a nonprofit association of national soccer organizations, yet it only looked at two sets of for-profit companies to help determine employee compensation. The first was the organization's sponsors and companies with similar global brand reach as FIFA, which is to say near-total worldwide recognition. The second group was companies with revenues similar to FIFA's -- $5.7 billion over the past four-year World Cup cycle.
Daniel Borochoff, the president of nonprofit watchdog organization CharityWatch, told HuffPost that it's not uncommon for nonprofits to benchmark pay to for-profit companies if they compete for talent. But that doesn't seem to be the case here: FIFA executives are -- nominally, at least -- soccer administrators. There simply isn't a line of global CEOs waiting to run for FIFA president, nor is Blatter being wooed by multinational corporations to join their management teams.
If FIFA looked to other athletic nonprofits to help determine its employees' pay, it would encounter a wide of pay range among these groups' leaders: The head of the Swiss-based International Olympic Committee, for example, is an unpaid volunteer. Meanwhile, NFL Commissioner Roger Goodell took home $35 million last year.
Borochoff also said he disapproved of the compensation committee having the sole and final say on pay. At the very least, he said, the executive committee should be able to review and have the final say on the president's pay.
FIFA said it followed the pay structure recommendations of Ethos, a Swiss corporate governance group. Ethos' recommendations on how to pay people relate to variable pay -- for example, bonuses. It suggests some ways to award this type of compensation and recommends that the maximum bonus pay should be made public.
FIFA paid variable compensation to some executives in 2013, but didn't disclose how much it awarded. FIFA said it did not give out any variable compensation last year.
By eliminating this type of pay, FIFA technically complied with Ethos' suggestion to limit and disclose variable pay. This is indicative of how FIFA complies with transparency suggestions: It seems the organization would rather stay within the rules by eliminating something that would require a little disclosure than disclose what it is doing.
That's how low, it seems, the bar has to be set for FIFA to achieve a semblance of transparency and good governance.