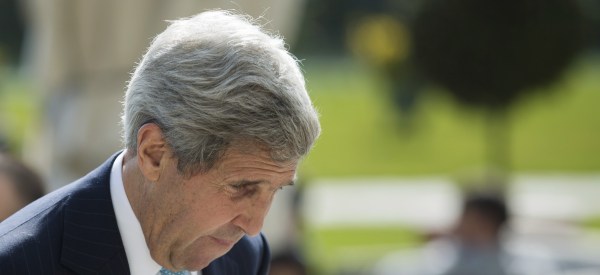 TOP STORIES
To get The Morning Email, HuffPost's daily roundup of the news, in your inbox, sign up here.
IRAN NUCLEAR DEAL TURMOIL AS DEADLINE NEARS "If an agreement to limit Iran's nuclear capability is reached by deadline in the next seven days, one thing may be missing: an actual written accord, signed by the Iranians. Over the past few weeks, Iran has increasingly resisted any kind of formal 'framework' agreement at this stage in the negotiations, preferring a more general statement of 'understanding' followed by a final accord in June, according to Western diplomats involved in the talks." [NYT]

NO SURVIVORS IN WORST FRENCH AIR DISASTER SINCE 1981 A Germanwings plane carrying 150 people crashed in the French Alps yesterday, killing all on board and littering the countryside with debris. Here's how the plane dropped 30,000 feet in eight minutes. The black box is reportedly severely damaged, and experts are baffled at what could have caused the plane to fall out of the sky. Details of the deceased passengers are beginning to emerge. [Charlotte Alfred, HuffPost]
KRAFT, HEINZ TO MERGE Creating the fifth largest food company in the world. [WSJ]
TOP HOMELAND SECURITY OFFICIAL ASSISTED VISA PROCESS FOR FOREIGN INVESTORS "The No. 2 official at the U.S. Homeland Security Department exerted improper influence while at another agency on behalf of politically connected Democrats seeking visas for foreign investors, the department's inspector general said in a report released on Tuesday." [Reuters]
YEMEN'S PRESIDENT FLEES As Shiite rebels near his home. [AP]
WHY BOKO HARAM KIDNAPS "Boko Haram, unlike the Islamic State, doesn't worry about attracting fresh recruits. They simply take them. It's an effective method of swelling their ranks to match the international coalition assembled to fight them." [WaPo]
THE AMANDA KNOX VERDICT IS EXPECTED TODAY Everything you need to know about the case as the highest Italian appeals court prepares to issue its ruling. [AP]
JESSE JACKSON JR. TO BE RELEASED FROM FEDERAL PRISON TOMORROW The former Illinois representative will serve out the remaining months of his corruption conviction in a halfway house in D.C. [USA Today]
DRUG-RESISTANT TUBERCULOSIS ON THE RISE "Over the next 35 years, multidrug-resistant tuberculosis will kill 75 million people and could cost the global economy a cumulative $16.7 trillion -- the equivalent of the European Union's annual output, a UK parliamentary group said on Tuesday." [Reuters]
WHAT'S BREWING
THE DANGERS OF A POWER GRID ATTACK "About once every four days, part of the nation's power grid -- a system whose failure could leave millions in the dark -- is struck by a cyber or physical attack, a USA TODAY analysis of federal energy records finds." [USA Today]
MULDER AND SCULLY WILL RETURN! For a six-episode "X-Files" arc. [HuffPost]
HOW TO EAT AT A FANCY RESTAURANT Without making a total fool of yourself. [Deadspin]
AMAZON: FAA TOO SLOW So slow that the delivery drone Amazon asked the Federal Aviation Administration's approval for is already obsolete. [The Verge]
BRADLEY COOPER SET TO MAKE DIRECTORIAL DEBUT WITH 'A STAR IS BORN' REMAKE The real question: will Beyonce get back on board? [Variety]
ULTRASOUNDS SHOW TERRIBLE EFFECTS OF SMOKING ON BABIES "Some alarming new images might make expectant mothers think twice about continuing a smoking habit during pregnancy. Using high-definition ultrasound scans, scientists have shown that maternal smoking can alter the mouth and hand movements of the fetus, a finding that suggests some impairment of the fetus' central nervous system development." [HuffPost]
THE EIGHT YOGA POSES YOU CAN DO EVERY DAY Take it from someone with zero flexibility -- it's possible. [HuffPost]
WHAT'S WORKING
MINDFUL WORK "Huge companies like Google, General Mills, Aetna and even Goldman Sachs offer programs that cultivate mindfulness through meditation and yoga, as Gelles writes … The trend has taken off thanks to a growing body of clinical research showing that mindfulness can essentially rewire the brain, leading to health benefits like stress reduction, weight loss and pain relief." [HuffPost]
ON THE BLOG
THE 'ANGELINA' EFFECT "Here at Ovarian Cancer Action we applaud Angelina Jolie's decision to announce that she has had her ovaries removed and are anticipating another wave of the 'Angelina Effect', which saw a dramatic increase in the number of women referred for genetic testing after Angelina announced that she had undergone a double mastectomy in 2013." [HuffPost]
BEFORE YOU GO
~ Good luck to Jon Hamm as he completes his rehab stint.
~ Meet T-Swift's doppelganger.
~ When you timelapse a volcano erupting.
~ The wedding night, in one photo.
~ Showtime ordered that Andrew Ross Sorkin Wall Street drama to series.
~ The girl from "The Ring" is all grown up.
~ Every rap song that mentions Monica Lewinsky.
~ We finally have a full "Entourage" trailer.
~ Stop putting your coffee in the freezer.
~ These crossfit engagement photos will make you feel a teensy bit inadequate.
~ The best-selling throwback jerseys by state.
Send tips/quips/quotes/stories/photos/events/scoops to Lauren Weber at lauren.weber@huffingtonpost.com. Follow us on Twitter @LaurenWeberHP. And like what you're reading? Sign up here to get The Morning Email delivered to you.