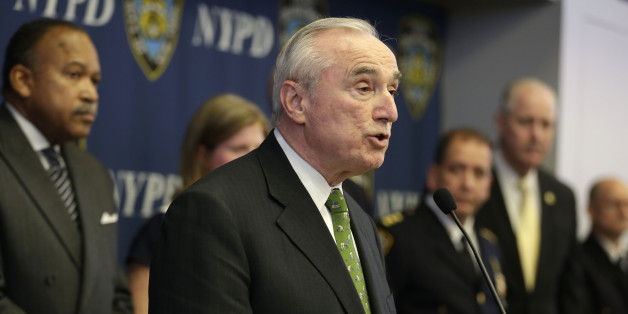 New York City police Commissioner William Bratton has a message for privacy advocates concerned over the NYPD's new ShotSpotter program: "Get a life."
Bratton and Mayor Bill de Blasio announced the launch of ShotSpotter last week. The $1.5 million program, which has been implemented in other cities, consists of a series of publicly mounted microphones intended to capture the sounds of gunfire and send data to police in real time about where the shooting is happening.
At a press conference announcing the launch, de Blasio said that the technology "increases the chances of catching the shooter. It increases the chances of recovering the weapon. It increases the chances of stopping further crime."
But it can also, on occasion, increase the chances of authorities listening in on people's conversations. Conversations recorded by ShotSpotter have been used to convict people in murder trials in Oakland, California, and New Bedford, Connecticut, raising concerns among civil liberties advocates.
Pressed about those concerns earlier this week by Rita Cosby on her Sunday WABC show, Bratton said "the advocates have to get a life."
"We're not out there eavesdropping," he said. "That's not what the system does. That's not what it's designed to do. That's not what it's capable of. So get a life. Move on to some other issue. We're not out there eavesdropping on public conversations. I got enough to do without doing that."
Still, privacy advocates could be forgiven for being wary of the NYPD.
In recent years, the department has spied on Muslim communities and protesters, stopped and frisked hundreds of thousands of people illegally and maintained a camera surveillance program called the Domain Awareness System, which watches over much of Manhattan.
The New York Civil Liberties Union has not made any public comment about ShotSpotter. A spokesperson told The Huffington Post Wednesday that the organization is still studying the technology.
Previously, Jay Stanley, a senior policy analyst at the American Civil Liberties Union, told the digital media company Take Part that "we are always concerned about secondary uses of technology that is sold to us for some unobjectionable purpose and is then used for other purposes."
"If [ShotSpotter] is recording voices out in public, it needs to be shut down," he said.
In 2013, according to an investigation by WNYC, 75 percent of "gunshots" detected by the ShotSpotter system in Newark, New Jersey, turned out to be false alarms.
ShotSpotter -- a private, California-based company on whose board Bratton sat before he was sworn in as New York's police commissioner in 2014 -- says on its website that its microphones "do not have the ability to overhear normal speech or conversations on public streets," and that the technology does not permit police to listen to any sort of live audio.
"Unless someone is yelling loudly enough to be heard in public, and also doing so within two seconds before or four seconds after a loud, explosive acoustic incident, the audio will be flushed from the sensor's buffer and overwritten," the site says. "The simple fact is that there has never been a case of a private conversation overheard or monitored by any ShotSpotter sensor anywhere at any time. Period."
Bratton has said Shotspotter is important because in other cities, 75 percent of shootings go unreported.
There are currently 300 ShotSpotter sensors in place in New York, primarily in Brooklyn and the Bronx, that are able to detect 15 square miles of the city.
New York City public advocate Letitia James has introduced a bill that would require the NYPD to issue quarterly reports on the data collected by ShotSpotter.

BEFORE YOU GO
PHOTO GALLERY
Mayors Of America's Largest Cities