A white man allegedly punched former St. Louis Cardinal Curt Ford in the St. Louis area recently and then told him to "go back to Ferguson, you [unknown racial slur here, but you can probably guess]," according to the St. Louis Post-Dispatch.
Ford, who played 276 games for the Cardinals between 1985 and 1988, told the Post-Dispatch that he was considering moving out of the area as a result.
"I've had enough of St. Louis," Ford, 54, told the outlet. "You hear about this kind of stuff happening, and I always knew it existed because of my previous experience working here in St. Louis, but you try to keep away from it and there is just no way you can do that unless you stay inside like a hermit."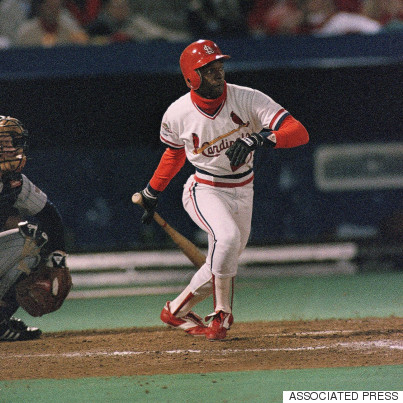 Curt Ford watches his sixth inning hit, Thursday, Oct. 23, 1987 in St. Louis, against the Minnesota Twins. The Cards won a 4-2 victory to go one game up in the World Series. Ford's hit scored two runs and he collected an extra base on a throw.
(AP Photo/Rob Kozloff)
Racial tension in the area has been in the national spotlight in the aftermath of the death of Michael Brown, the 18-year-old shot and killed by Darren Wilson last August.
The findings of an investigation by the Justice Department into police practices in Ferguson, released earlier this month, found that black people were disproportionately affected by "nearly every aspect of Ferguson's law enforcement system," including arrests, issuing of tickets and use of force.
The reason was not high rates of black crime, the report stated, but "unlawful bias."
There have been more tangible signs of tension in the area too. In October, protesters and Cardinals fans exchanged tense chants outside Busch Stadium:
Cardinals fans countered chants of "Justice for Mike Brown" with "Let's go Darren." When protesters began chanting "U.S.A.! U.S.A.!" someone yelled "Africa! Africa!" One fan called a protestor a "crackhead" and told him to visit a dentist, while another later said "remove your hat" and "pull up your pants."
The St. Louis area is still grappling with a large racial unemployment gap and high levels of income inequality as well.