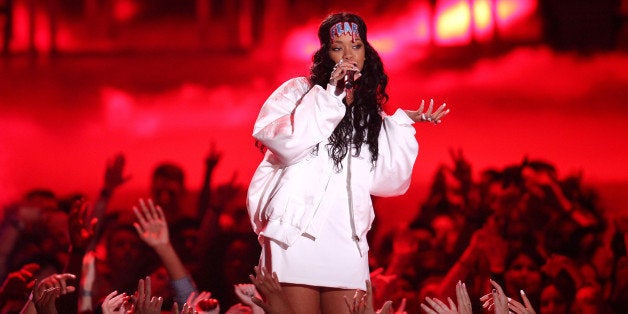 UPDATE: It's arrived, people. Stop downloading lip-syncing apps and listen to the new song right here:
EARLIER: Rihanna caught our attention on Wednesday night after posting what appeared to be artwork for her new single on Instagram and teasing a March 26 release date with the hashtags #R8 -- the moniker she has used to describe her much-anticipated eighth album -- and #BBHMM. That latter tag represents the title of Rihanna's new track, "Bitch Better Have My Money," 10-second snippets of which are now available on Dubsmash, the smartphone app where users can upload videos of themselves lip-syncing.
The new single, referred to on Dubsmash as "BBHMM," presumably hails from her first album since 2012's "Unapologetic." Its release follows months of restlessness from the Rihanna Navy. Fans have been tracking a slew of tidbits regarding the singer's next album, initially hoping for a 2014 release. Even without the full song, rest assured that we can all shine bright like diamonds knowing it's on its way.
#BBHMM corresponds to the Braille on the left side of the artwork Rihanna posted, which, according to Complex, translates to "Bitch Better Have My Money" -- also a 1991 album and song by rapper AMG.
"R8," if that is indeed the album's title, still has no target date, though many fans hoped the March 26 tease would result in its full release. Kanye West is its executive producer, while DJ Mustard, Ty Dolla $ign, Natalia Kills, Florence Welch and Ne-Yo have also been touted as collaborators.
We'll update this post when the full song becomes available.
BEFORE YOU GO
PHOTO GALLERY
Rihanna's Best Moments Of 2014