I love sheet facial masks so much so that I'll try any one that doesn't look like it will burn my face off.
Sheet facial masks are treatments that come on a piece of cloth or paper. They are individually packaged (compared to other masks that are jarred or in tubes), and they usually target a specific problem such as dryness, oily skin or irritation.
Few things feel better than laying on my bed with a sheet mask stuck to my skin, a cool glass of water in one hand and my phone in the other. I always feel good about using the treatment every once in a while, because it's like giving my skin the relaxing vacation it deserves.
So when the team over at Glow Recipe handed me a sea kelp sheet mask, I immediately thought, "I have to try this."
What Is It?
Whamisa Organic Sea Kelp Facial Sheet Mask ($14, GlowRecipe.com) is pretty much what it sounds like: a mask made from 100 percent sea kelp. Unlike other skincare treatments, this product is free of parabens, silicones and synthetic fragrances. Its ultimate goal is to make faces glow.
The layers of kelp are submerged in a gel-like formula that includes niacinamide, a chemical that is made up of vitamin B3. Niacinamide can treat skin conditions such as bullous pemhigode, which causes severe blistering, and granuloma annulare, a ring-shaped cluster of small bumps. The chemical can also possibly treat acne.
While the Whamisa mask markets itself for all skin types, it's best for skin that needs hydration and a short-term appearance boost for 72 hours. If you have allergies, be sure to consult a physician before use, as niacinamide contains histamine, which could worsen your seasonal symptoms.
How I Used It
I decided to try this out on a Monday night after my skin looked dull from a long day and a hard Zumba class. I expected the mask to smell odd, but it smelled nicely of tea. I was careful in removing the mask, since the sheet is very delicate and it's split up into two halves. As the directions instructed, I applied the bottom half first, followed by the top.
Although the gel formula is slimy and slippery, I was surprised to find that the mask stuck to my face so I could relax. I peeled the mask off 20 minutes later.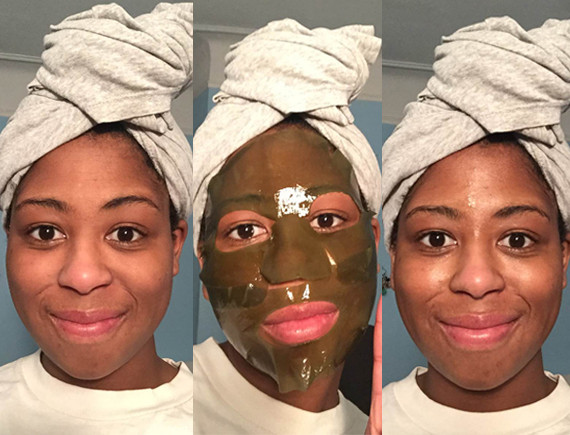 Hi, I'm here to haunt your dreams.
The product promises to keep my skin glowing for about 72 hours, so I took a selfie every morning for the next 3 days to see how it held up.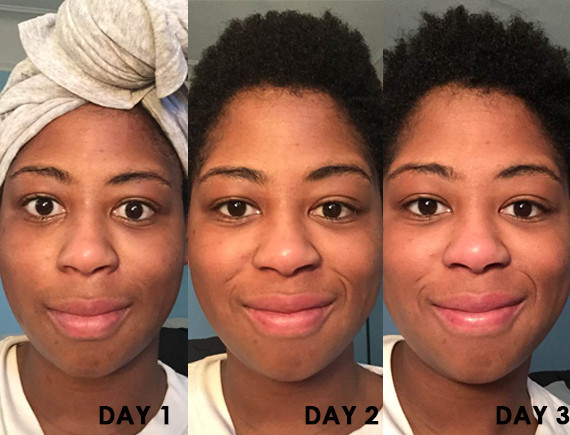 I indeed, #wokeuplikethis.
Rating: 4 out of 5. People complimented my skin and I loved the experience of having kelp on my face. Though my face wasn't particularly hydrated for three days straight, my skin held on to a nice brightness throughout.
Glow Recipe provided a sample of Whamisa's mask for review.
BEFORE YOU GO
PHOTO GALLERY
WTF Is That??