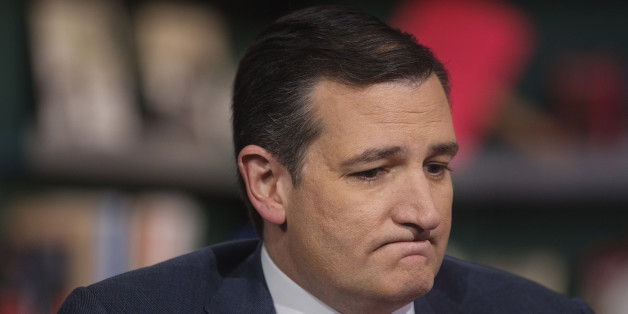 WASHINGTON -- Just days after announcing his presidential bid, Sen. Ted Cruz (R-Texas) is pushing legislation that would wildly escalate the Republican Party's deregulatory fervor. On Wednesday, Cruz filed a simple but sweeping budget amendment that would "eliminate all criminal penalties for offenses established by agency regulations" -- a clause that covers everything from environmental rules to sanctions against Iran.
The amendment would eliminate a tremendous amount of corporate crime -- not by getting rid of the wrongdoing itself, but by simply reclassifying the violations as strictly civil, rather than criminal. Many regulations carry only civil penalties, but others carry criminal penalties as well, allowing the Department of Justice to prosecute companies and individuals for those violations. Regulatory agencies write rules to implement laws passed by Congress.
The GOP has been pursuing a broad and aggressive deregulation agenda for several years. A host of Republicans have introduced bills designed to hamstring regulators with additional red tape when issuing rules, and to make it harder for agencies to impose costs on companies in the pursuit of the public good.
Cruz's legislation goes much further, and would have effects far beyond the typical GOP targets of Obamacare, the 2010 Dodd-Frank financial reform law and the Environmental Protection Agency's coal standards.
The U.S. Treasury Department's Office of Foreign Assets Control, for instance, is the agency responsible for administering sanctions against Iran. Those sanctions generally bar U.S. companies or individuals from doing business with Iranian firms or Iranian officials. Violating the sanctions can be either a civil or a criminal offense, with criminal penalties including a fine of up to $1 million and 20 years in prison. If Cruz's budget plan were implemented, it would eliminate those criminal penalties, weakening the sanctions regime.
In a Monday speech announcing his presidential run, Cruz billed himself as a hard-liner on Iran. He was also one of the 47 Republican senators who signed a controversial letter to Iranian leaders organized by Sen. Tom Cotton (R-Ark.) earlier this month.
Cruz's office declined to comment for this article, but the senator probably doesn't actually want to see weaker penalties for sanctions violations. And in all likelihood, the Cruz amendment won't ever be implemented. It's a nonbinding budget resolution, rather than a final appropriations decree, and it may not even receive a vote on the Senate floor. If a measure to defund the criminal enforcement of regulatory standards ever did become part of a final appropriations bill, President Barack Obama would likely kill it with a veto.
Nevertheless, it's a pretty wild way for Cruz to follow up on his official entrance to the 2016 field.
BEFORE YOU GO