"Keep your eyes on the road, kids." It's hardly a new warning, but according to a new study conducted by the AAA Foundation for Traffic Safety, distracted driving is a much more serious problem among teens than previously thought.
The group says it analyzed nearly 1,700 dashcam videos capturing the actions of teen drivers in the moments before an accident. Alarmingly, distracted driving was found to be a factor in 58 percent, or nearly 6 out of 10, moderate to severe crashes. The most common distractions were interacting with other passengers (found in 15 percent of crashes caused by distracted driving) and cellphone use (12 percent), AAA said.
The infographic below is said to show the most common distractions involved in cases where distracted driving was a factor in a teen crash:
(Story continues below)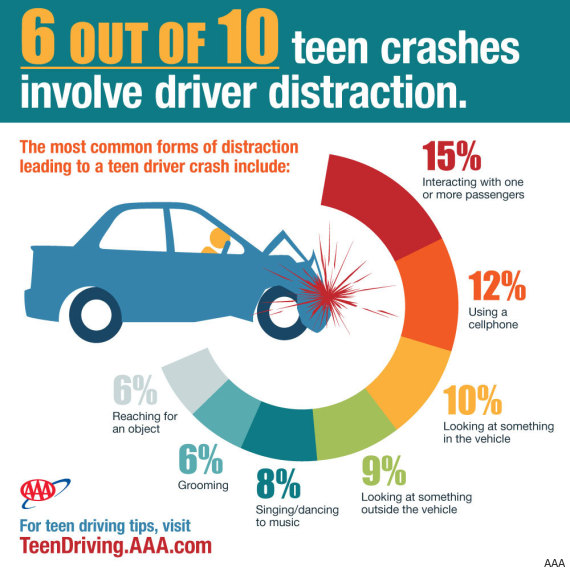 As the Los Angeles Times notes, the 58 percent figure in the study is significantly larger than earlier findings by the National Highway Traffic Safety Administration, which has said previously that distraction is a factor in just 14 percent of all teen driver crashes. The federal agency says it's "looking at the report," the Times writes.
"Access to crash videos has allowed us to better understand the moments leading up to a vehicle impact in a way that was previously impossible," said Peter Kissinger, president and CEO of the AAA Foundation, per a news release.
The crash videos, some of which can be viewed above, were provided to AAA by Lytx, a company that offers programs which use video and other data to train drivers about safety and collision reduction.
By analyzing these videos, AAA said that teens using cellphones while driving were found to have their eyes off the road for an average of 4.1 seconds out of the final 6 seconds leading up to a crash. The group said that teen drivers using a cell phones also "failed to react more than half of the time before the impact, meaning they crashed without braking or steering."
"The findings of the AAA Report confirm what safety groups have suspected for a long time -- distraction is more severe and more common in teen driver crashes than previously found in government data," Jackie Gillan, president of Advocates for Highway and Auto Safety, told the Associated Press.
According to AAA, teen drivers have the highest crash rate of any age group in the U.S. "About 963,000 drivers age 16-19 were involved in police-reported crashes in 2013, which is the most recent year of available data. These crashes resulted in 383,000 injuries and 2,865 deaths," the group said in the release.
"It is our hope that these findings serve to remind drivers of all ages that distracted driving is dangerous and sometimes deadly," Brandon Nixon, CEO of Lytx, told the Times. "Practicing safer skills behind the wheel can save lives."
BEFORE YOU GO
PHOTO GALLERY
LOOK: Common Distracted Driving Violations