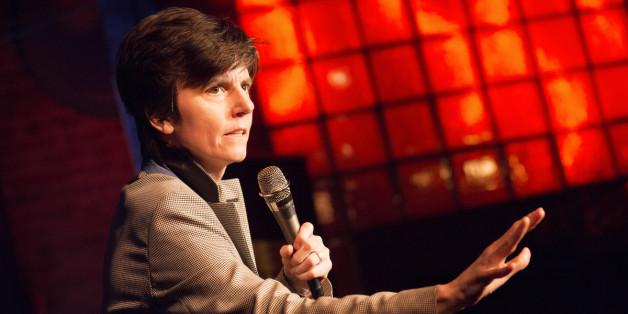 Tig Notaro is one of the most revealing comedians working today, weaving deeply personal details about her life into hilarious and conversational bits about the everyday. But you know what else she's great at? Bird watching.
In an alternate universe, Notaro could be a happy pizza delivery driver, a stay-at-home child/bird watcher or the unhappy wife of a wealthy man, but luckily for us, she chose comedy. She recently premiered her first documentary special, "Knock Knock, It's Tig Notaro," at Austin's SXSW festival, which follows Notaro as she performs intimate and/or awkward sets in fans' homes, backyards and basements. The special will air on Showtime April 17.
Notaro spoke to The Huffington Post over the phone on Tuesday and reflected on her life and career ... and birds. She also left us with a pretty masterful round of "Two Truths and a Lie," but if you know Notaro at all, you won't have a hard time figuring out which one is the lie.
How are you doing today?
I'm great. I'm just in the process of turning 44.
Happy Birthday! Sorry you have to work on your birthday.
It's not a problem.
I'm curious, where does your name come from? Is Tig short for something?
My brother made it up when I was two. People think it's my stage name. I guess it is, because I use it on stage as well, but it's just my name.
I saw you perform at SXSW and talk about the temping job you had before you got started in comedy. Did you have any other odd jobs?
Oh yeah, I was a barista at a coffee shop, I babysat, I was a production assistant. I worked for the director Sam Sam Raimi's company for a couple of years. I worked at a grocery store, a lot of things like that.
And do you have any idea what you'd be if you hadn't become a comic?
Oh my God, an utter mess of a human. My girlfriend and I talk all the time about what we would do if we had minimum wage jobs and I always think that I'd want to deliver pizzas. I like that I could just get in my car, get away from everyone and just listen to music. I don't know what I would do. Maybe find a rich man and get married and have kids [laughs]. I think I would have been a very lost human being.
Based on your description of the pizza delivery job, it sounds like you could have been an Uber driver.
No, I wouldn't want to be an Uber driver because then I'd have to talk to people. What I like is that I could get out on the open road -- with my car smelling like pizza -- and just listen to music.
That does kind of sound like a dream job.
Yeah, I don't know why anyone wouldn't want that for themselves.
I love the name of your special, "Knock Knock, It's Tig Notaro." Do you have a favorite knock knock joke?

I can't help but smirk every time someone does the "Orange you glad" joke.
After your album, film and TV special, do you have any personal comedy milestones you hope to reach?
I have an HBO special coming out next year , which is an hour of stand-up. I really don't have much beyond that. My girlfriend and I really amuse each other and we have a fantasy about writing and making something together, but sometimes a part of me just wants to be at my house and feed birds and have children ... Wait, did I say feed or have children?
Well, you could do both.
Yeah I'm not up to that, but I'd like to just stay at my house all the time, feed the birds, hang out with Stephanie [Allynne] and have children. And then, you know, pop out new stand-up shows here and there. That's kind of my dream.
You could probably make that dream a reality.
I'm kind of on the teetering point of that being my life. I've been developing a top-secret TV show so that might appear if it gets picked up, but if not, I'll probably just be here with the birds.
Sounds pretty relaxing.
Yeah, I have bird feeders hanging all over the property. I have a lot of birds' nests too. I'm sure that's not what you were trying to get to the bottom of.
[laughs] It's okay I have other questions.
Are they about birds?
Performing wise, do you prefer New York, LA or being out on the road?

I recently performed in Cleveland and I had always wanted to go there. I'm a big fan of the band The Pretenders and Chrissie Hynde is from Akron, Ohio, so on this tour I drove out of my way to drive to Akron and make my dreams come true. I'm realizing in this interview I sound like I don't have big dreams for myself, between the birds and Akron, Ohio. But, in Cleveland, the audience was just so into it, I ended up doing almost two hours. So the New York and LA audiences are really awesome and great and all that stuff, but Middle America is dynamite, as well. All the fly-over states. I just really love performing.
What's your favorite place to write jokes?
Well, I do all my writing on stage. I'll have an idea or a word or a concept that I think about, but it's not until I'm on stage that I start working it out. I can guarantee that I live with my girlfriend and she's never seen me sit down and write jokes. I'll record audio to remember what I said on stage. But, I don't know, I like that kind of risky feeling I guess on stage.
Do you think the stigma surrounding women doing comedy will ever fully go away?
I hope so. It hasn't ever really reared its head in my life. I just don't even think about it. I just think about doing the best shows I can do and always being the funniest I can be, and then I call it a day. I really think everyone should do that too.
Tell us two truths and a lie.
Okay, one: I use to water ski in swamps as a kid. Two: I played with barbies through middle school. And three ... Umm, I have nipples?
Tickets and tour dates for Tig Notaro can be found on her website.
BEFORE YOU GO
PHOTO GALLERY
Funny Women We Love