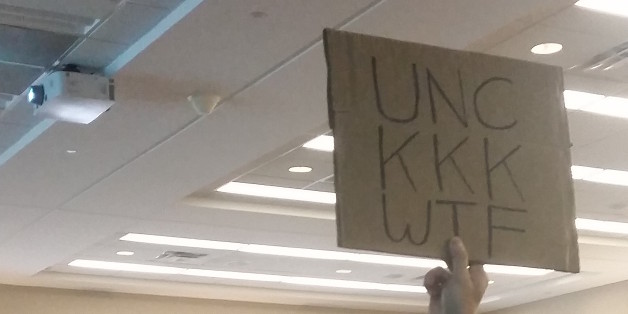 Students at the University of North Carolina at Chapel Hill are renewing a push for the school to change the name of a building named after a 19th-century Ku Klux Klan leader.
Saunders Hall is named after William Saunders, a Confederate colonel who later became a chief organizer for the KKK in North Carolina. UNC named the building, which originally housed the history department, in 1922 to honor Saunders' work compiling Colonial records.
Students have been pushing the school to rename the building for years. This year, student activists are asking the university to rename it for Zora Neale Hurston -- who, prior to integration, was the school's first black student -- and to require that each student take a campus tour explaining the racial history of the university. They're also asking for the school to put up a plaque providing historical context to the "Silent Sam" Confederate soldier monument on campus: At the statue's 1913 unveiling, a tobacco manufacturer bragged about whipping a "Negro wench" for insulting a Southern lady and credited the Confederacy with protecting the "Anglo-Saxon race."
The UNC board of trustees introduced a website Wednesday where community members can weigh in on whether the building should be renamed. The university said it has already conducted more than 200 one-on-one meetings with members of the UNC community about this issue, and established a committee in 2012 to explore a review of campus memorials, including Silent Sam and Saunders Hall. The committee made several recommendations -- including establishing educational materials about on-campus memorials and their connection to the history of race relations on campus -- but the school's previous chancellor did not act on them.
"For a very, very long time, students were not responded to by the administration but I think that's because they were trying to figure out how to navigate 'touchy' subjects," said Omolulu Babatunde, a student activist at UNC.
A group that calls itself the Real Silent Sam Coalition, named for the Silent Sam memorial, organized protests leading up to this week's board of trustees meeting. Students said that at one demonstration in February, they gathered outside Saunders Hall wearing nooses and holding signs saying: "This is what Saunders would do to me."
The students say they want to explain the deeper impact UNC's connections to racist individuals has on people of color -- that every day, students in class in Saunders Hall are reminded their ancestors were attacked because of their skin.
"The critique isn't necessarily about the building name or about UNC in general," Babatunde, an organizer of the Real Silent Sam Coalition, said. "It's about what is a student of color's place on campus."
Real Silent Sam Coalition member Tasia Harris said that people tend to blame "random, racist people" for such things as the racist song that was sung at a University of Oklahoma fraternity event, the racist pledge book used by a North Carolina State University fraternity and the racist remarks made by some members of the Ferguson, Missouri, police department.
"No, these are people taking actions on the foundation set by Saunders," said Harris, who's also a part of the group Students for Education Reform.
The university did not have a comment, except to note it is soliciting input from the community until April 25. Some trustees said during Wednesday's meeting that they were open to changing the building's name.
"This is the time to face the issues of race and place," UNC Trustees Vice Chair Alston Gardner said at the meeting, going on to mock Starbucks' "Race Together" campaign. "We embrace the discussion and we believe the university is a fantastic venue for that -- much better than Starbucks and a 45-second conversation with your barista."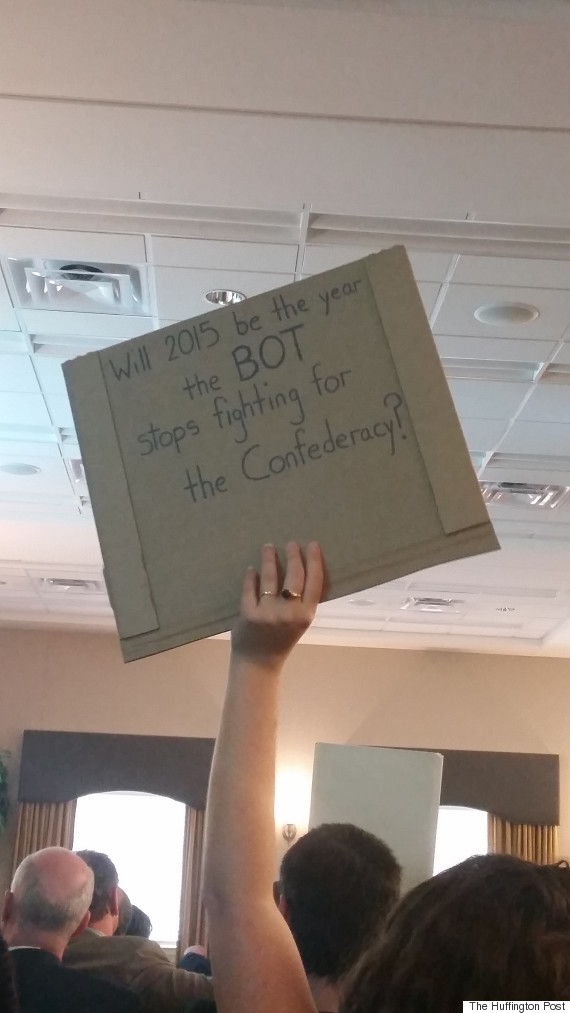 Photo by Tasia Harris
CORRECTION: An earlier version of this article said Saunders Hall currently houses the history department. It did, in the 1920's, as the UNC website explains, but today houses the geography and religious studies departments.