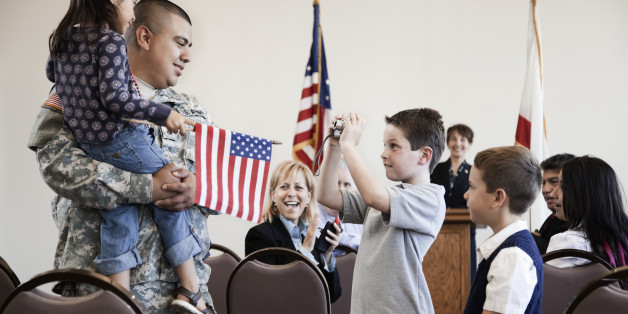 More and more Americans who've served in the armed forces are going back to work.
The veteran unemployment rate dropped to 5.3 percent last year -- the lowest level since 2008 -- according to data from the Bureau of Labor Statistics (BLS) released on Monday, The Washington Post reported. The figure marks the fourth consecutive year of decline.
More specifically, prospects improved for veterans who've served in the military after September 2001 -- a group disproportionately affected by joblessness. Within that group, the unemployment rate fell to 7.2 percent last year -- a significant drop from 12.1 percent in 2011.
An Obama administration-backed initiative is in part to credit. The president signed an executive order in 2009 requiring federal agencies "enhance recruitment of and promote employment opportunities for veterans."
Each year since the order, vets have comprised a larger percentage of new hires by the federal government, according to The President's Council on Veterans Employment. About one-third of all new hires in fiscal year 2014 were veterans -- an all time-high.
"We know that veterans possess character, team-building skills and discipline," Secretary of Veterans Affairs Robert McDonald said in a statement by the council released on Monday. "Those traits don't stop when we take off the uniform. They transfer into the workplace and help their businesses grow and succeed."
To support veterans through Team Red, White and Blue, check out the Crowdrise widget below.
BEFORE YOU GO
PHOTO GALLERY
Veterans Vision Project