Amid the chaos of a fire that rattled lower Manhattan on Thursday, there were countless acts of altruism from neighbors and business owners showing support.
The 7-alarm fire destroyed two structures in the city's East Village neighborhood after an explosion erupted in the basement of 121 Second Ave. at about 3:20 p.m. The incident injured 19 people, affected four buildings and called for more than 250 firefighters to report to the scene, The Huffington Post reported.
At a press conference, Mayor Bill de Blasio said "preliminary evidence suggests a gas-related explosion" caused the fire.
Misfortune, however, can bring out the best in people. Here are some inspiring acts of kindness that prove humanity was alive and well in New York on Thursday.
Aid Group Jumped In To Provide Crucial Assistance To Victims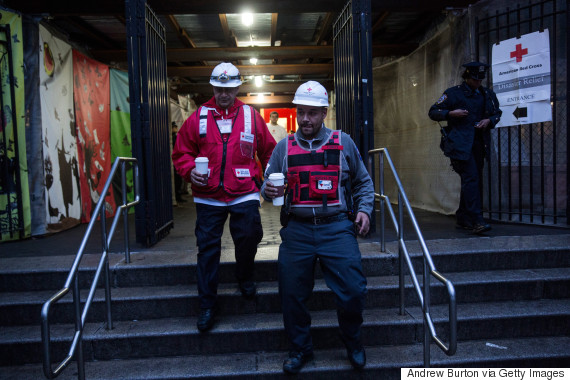 The American Red Cross responded to the explosion and ensuing fire by aiding those in need at nearby school P.S. 63.
The regional CEO for the group's New York chapter told ABC 7 News that the Red Cross provided temporary housing and brought in food to those affected by the tragedy Thursday night.
Red Cross Spokesperson Abigail Adams told HuffPost that 79 adults and one child who were affected by the fire reached out to the organization for help overnight. Adams expects that number will grow.
To learn more or to make a donation to the Red Cross, click here.
Restaurants Opened Hearts, Kitchen To Those Affected
Restaurants stepped in to offer those in need a warm meal.
Frank Prisinzano, who owns Supper Restaurant, Lil Frankie's Pizzeria and Frank Restaurant -- all located near to where the explosion occurred -- said on Instagram that his East Village businesses would provide free meals to anyone "who lost their home or were injured in this disaster."
"We just want to provide a place for people to come in, have a meal on us and relax, and to get some semblance of reality," Prisinzano told HuffPost.
Hotel Offered Rooms To Those Who Lost A Home
Our hearts go out to those affected by the fire. If you live btwn 119-125 2nd Ave, swing by w/ proof of address & your 3 nt stay is on us.

— The Standard (@standardEV) March 26, 2015
Located less than a quarter-mile from the incident, The Standard Hotel East Village announced on Twitter that it would be offering free three-night stays for victims who live in the affected area and can show proof of address.
Kenan Jones, manager of the hotel, was at the American Red Cross on Friday, figuring out if there were more ways The Standard could help victims aside from offering them a place to stay, a hotel employee told HuffPost by phone.
Bystanders Made Sure Their Fellow New Yorkers Were Safe
A few people who witnessed the explosion jumped in to help victims of the fire.
Austin Branda, who lives in an apartment across from the affected building, rushed over to the scene after seeing a woman struggling to climb down the fire escape, according to CBS New York. Branda hopped on a chair next to the building and climbed up the escape, as the woman lowered herself down into his arms. The two made it down not long before the building erupted in flames.
A man, who witnesses said was an off-duty firefighter, ran up a fire escape to check for any victims of the blast who might have been trapped inside the building. Branda, who interacted with the man, told the New York Daily News that the individual was determined to make sure everyone was out of the building.
"He said to me, 'I have to get up there, I have to look for other people,'" Branda told the outlet.
Film director Blake Farber felt the blast while walking down the street, and headed in the direction of the explosion, according to the New York Times. He, along with four others, helped a restaurant worker whose face was covered in blood out from a metal trapdoor.
New Yorkers Came Out To Support The Rescue Teams In Any Way They Could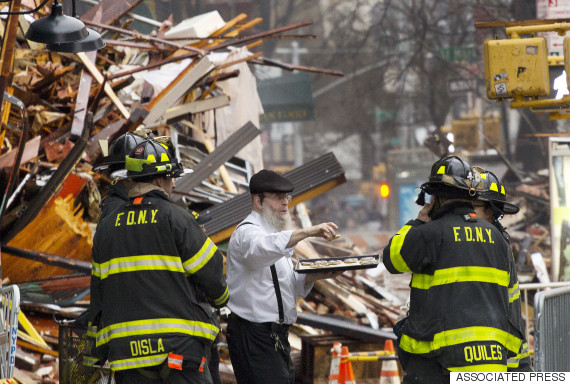 From the AP: A man distributes pastries to weary firefighters at the site of an explosion and fire in the East Village neighborhood of New York, Friday, March 27, 2015.
Car Service Company Offered Free Rides In Times Of Need
All rides from East Village/2nd Ave area are free. Allow extra time for your driver to navigate, as roads may be closed. Stay safe.

— Uber NYC (@Uber_NYC) March 26, 2015
Car-hailing service Uber responded to the incident by offering complementary lifts. It used Twitter to get the word out at about 5 p.m. on Thursday, noting rides from the affected area would be free.
The company did not respond to a request for comment on Friday morning.
People Took To Social Media To Show Their Love And Support For NYC
Heart goes out to my East Village neighboors...so tragic. #EastVillageFire #EastVillage … http://t.co/2HsEFEWJ6k pic.twitter.com/Zef875yyae

— Evil Genius Vic (@EvilGeniusVic) March 27, 2015
Learn more, see photos and watch video from the incident here.
BEFORE YOU GO
PHOTO GALLERY
Fire at 2nd Avenue and 7th Street