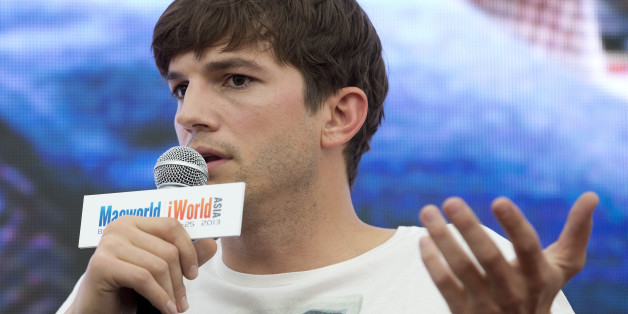 A chorus of voices from Hollywood has denounced Indiana's newly passed anti-LGBT law, which would make businesses and individuals immune from lawsuits so long as they are motivated by religious belief. Spurred by the recent raft of lawsuits against wedding vendors who have refused services to gay couples, the law is written so broadly that critics warn it would sanction business owners to refuse service to LGBT people and racial minorities.
The growing list of celebrities who've spoken out against the law includes Ashton Kutcher, Dustin Lance Black, Miley Cyrus, and Andy Cohen. Cyrus had particularly strong words for Indiana Gov. Mike Pence (R):
James Van Der Beek, Ashton Kutcher, Dustin Lance Black, and George Takei chimed in on Twitter:
Given what happened in Indiana, it's time for this #ThrowbackThursday, along with what I tweeted about 4 years ago... pic.twitter.com/BI8CB60bVn

— James Van Der Beek (@vanderjames) March 27, 2015
Indiana are you also going to allow Christian establishments to ban Jews from coming in? Or Vice Versa? Religious freedom??? #OUTRAGE

— ashton kutcher (@aplusk) March 27, 2015
A sad day for all in #INDIANA. Gov.Pence, you did not lead today. You were not courageous. You took the path of... http://t.co/meHBLHIf78

— Dustin Lance Black (@DLanceBlack) March 26, 2015
Outraged over Indiana Freedom to Discriminate law, signed today. LGBTs aren't 2nd class citizens. #BoycottIndiana #Pence

— George Takei (@GeorgeTakei) March 26, 2015
The Indiana law is modeled after the 1993 federal Religious Freedom Restoration Act, but unlike the federal law, which only bars the government from placing a substantial burden on the free exercise of religion, Indiana's version applies to businesses and private individuals as well. In the wake of dozens of court decisions legalizing same-sex marriage across the country and with the Supreme Court scheduled to rule on the issue in June, such measures have cropped up in dozens of states. Arizona Gov. Jan Brewer vetoed a similar measure last year.
In a report, LGBT-rights group Human Rights Campaign outlined the danger posed by these "super RFRAs": "These bills are often incredibly vague and light on details -- usually intentionally," the report reads. "In practice, most of these bills could empower any individual to sue the government to attempt to end enforcement of a non-discrimination law."
Pence, on the other hand, maintains that the bill would not sanction discrimination. "This bill is not about discrimination, and if I thought it legalized discrimination in any way in Indiana, I would have vetoed it," the governor said in a statement.
Keep up with Gabriel!