What a team effort!
Sarah Kardonsky, of Division Avenue High School in Levittown, New York, enlisted the New York Jets to help her ask team fan Michael Pagano to the prom.
Kardonsky reached out to the players through social media, and they responded with their individual pleas for Pagano, who has high-functioning autism, to go with the teen to the dance, the Associated Press reported.
Kardonsky spliced their clips together for one unforgettable promposal (watch above). At the end she asks the question herself, just to make it official.
Pagano, wearing the jersey of the Jets' reacquired cornerback Darrelle Revis, said yes.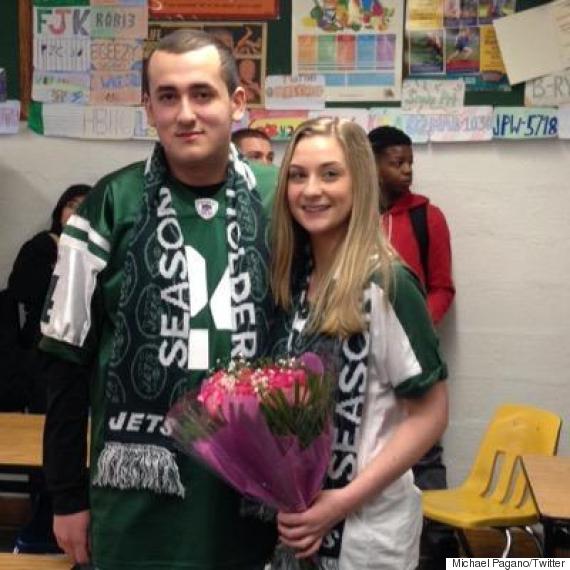 Pagano originally asked Kardonsky to the prom, but she already had a date, ABC reported. However, an inspired Kardonsky made special arrangements to go with Pagano instead.
"I talked to my other date who was okay with me doing this and I wanted to make it special for [Pagano]!" she told NJ.com
Pagano took to Twitter to give a shoutout to Kardonsky and the Jets.
I like to thank @sahdonsky and all the @nyjets players that made this possible. I can't tell you how blessed I am.

— Michael Pagano (@michaelpagano_) March 25, 2015
Incidentally, the two will be traveling in style to the prom. Kardonsky noted on Facebook Thursday that a limousine company is providing free transportation.
A winning move, for sure. Here's video of Pagano's reaction:
What a great way to ask someone to prom @CRO31 thanks for your help !!! @michaelpagano_ #Jets #Jetup @michaelpagano_ pic.twitter.com/Ud3eYdNY4b

— Farrell (@JVFarrell) March 25, 2015
Have an awesome time!
H/T Seventeen
BEFORE YOU GO
PHOTO GALLERY
Ultimate Promposals 2013