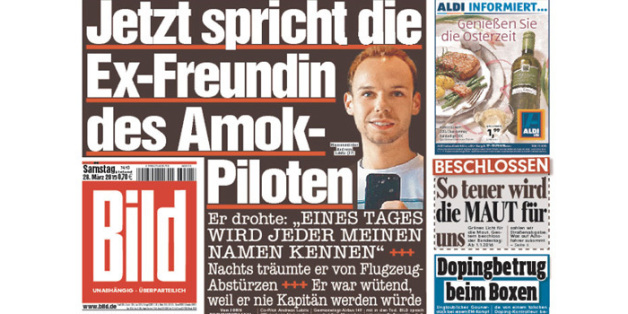 In the face of mounting evidence that Germanwings co-pilot Andreas Lubitz may have intentionally crashed Flight 9525 into the French Alps on Tuesday, every detail of the 27-year-old's life is being scrutinized. There's a lot of information being reported right now, but only some of it is official and only some of it appears to have immediate bearing on Tuesday's tragedy. In an effort to cut through the rampant speculation, here's a breakdown of all the information about Lubitz that has emerged so far:
What We Officially Know
* Lubitz appears to have programmed the plane's descent into the mountain.
Swedish flight tracking service FlightRadar24 detected through satellite data that the plane's autopilot was manually switched to a cruising altitude of 100 feet, the lowest possible setting.
The change happened after the pilot left the cockpit, Marseille prosecutor Brice Robin said Thursday.
"The interpretation we can give at this time is that the co-pilot, through a deliberate act, refused to open the door of the cockpit to the commander, and activated the button that commands the loss of altitude," Robin said.
* Lubitz locked the cockpit door and didn't respond to the pilot's calls to be let back in.
The flight voice recorder captured the pilot repeatedly asking to be let back into the cockpit. "You can hear the commanding pilot ask for access to the cockpit several times," Robin said. "He identifies himself, but the co-pilot does not provide any answer."
* On the cockpit voice recording, Lubitz can be heard breathing normally up until the moment of impact.
This suggests that he was conscious and hadn't suffered a medical emergency, Robin said Thursday.
* Lubitz took a break from his training six years ago, according to Germanwings CEO Carsten Spohr.
Spohr said Thursday that German privacy regulations don't allow him to elaborate on the reasons for the interruption in Lubitz's training.
* Lubitz passed all medical and training exams, Spohr said.
* Several doctor's notes were found in Lubitz's apartment, including one that was torn up, suggesting that he was ill and he concealed this information from his employer.
"The fact that [documents] were found, including sickness notes that were torn up, still valid, and that covered the day of the act, supports... the assumption that the deceased had concealed his condition from his employer and colleagues," Duesseldorf prosecutors said Friday.
We don't know what kind of health issues Lubitz did or did not have, and doctor's notes are given in Germany for all kinds of illnesses, including minor ones, Reuters reports.
* No suicide note was found in Lubitz's apartment.
* Lubitz had visited Duesseldorf University Hospital twice in the past two months.
The hospital denied reports that Lubitz was seeking treatment for depression.
What's Been Reported Based On Anonymous Sources Close To The Investigation
* Lubitz was reportedly seeking treatment for vision problems, and didn't tell his employer.
That's what official sources with knowledge of the investigation told The New York Times.
The Times also notes that "one person with knowledge of the investigation said the authorities had not ruled out the possibility that the vision problem could have been psychosomatic."
* Numerous psychiatric medications were reportedly found in Lubitz's apartment.
That's what an anonymous "high-level investigator" told the German newspaper Die Welt Am Sonntag. The investigator also said that Lubitz had seen several neurologists and psychologists.
* Lubitz had a note from a psychiatrist excusing him from work during a period that included the day of the crash.
That's what an anonymous source close to the investigation told The Wall Street Journal.
What's Been Widely Reported Yet May Or May Not Actually Be Meaningful
* Lubitz was reportedly unhappy about his working conditions.
German tabloid newspaper BILD spoke to a woman who says she once dated Lubitz. She says she met Lubitz while working as a stewardess on flights with him, and that he was upset about his working conditions.
"We always talked a lot about work, and at that point he'd become another person, he'd get very worked up about our working conditions," she told BILD. "Too little money, anxiety about the contract, too much pressure."
* He reportedly used to yell at his girlfriend, and once shut himself inside the bathroom during a fight.
* He reportedly once told his girlfriend, "One day I'll do something that will change the whole system, and everyone will know my name and remember it."
It's unclear from his ex-girlfriend's remarks to BILD whether Lubitz was talking about the airline system, or something broader.
"I never knew what he meant by that, but now it takes on a new meaning," she said.
* He piloted gliders at a flying club near the crash site when he was 14.
Lubitz traveled to the French town of Sisteron, about 30 miles away from the crash site, regularly between 1996 and 2003, a member of the flying club told the French digital TV station i-Télé.