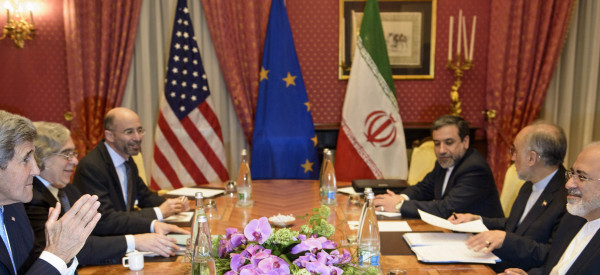 TOP STORIES
To get The Morning Email, HuffPost's daily roundup of the news, in your inbox, sign up here.
IRAN BACKS AWAY FROM KEY COMPONENT OF NUCLEAR DEAL AHEAD OF DEADLINE "Iranian officials on Sunday backed away from a critical element of a proposed nuclear agreement, saying they are no longer willing to ship their atomic fuel out of the country. For months, Iran tentatively agreed that it would send a large portion of its stockpile of uranium to Russia, where it would not be accessible for use in any future weapons program. But on Sunday Iran's deputy foreign minister made a surprise comment to Iranian reporters, ruling out an agreement that involved giving up a stockpile that Iran has spent years and billions of dollars to amass." Tuesday is the deadline for an agreement. [NYT]
DETAILS EMERGE ABOUT GERMANWINGS CO-PILOT, ALONG WITH FLIGHT TRANSCRIPT Here's everything we know about Andreas Lubitz, the co-pilot believed to have deliberately crashed the Germanwings flight, killing 149 people and himself. Lubitz was reportedly suffering from serious mental health issues -- which were also affecting his vision -- that he hid from his employer. According to the reported transcript, obtained by the German paper "Bild," Lubitz repeatedly encourages the pilot of the plane to use the restroom. Passenger screams can be heard for the final five minutes of the flight. [Branden Goyette, HuffPost]
ARAB LEADERS ANNOUNCE JOINT TASK FORCE FOR 'ARMED INSURGENCIES' "Arab leaders ­announced Sunday that they would form a joint military force to intervene in neighboring states grappling with armed insurgencies. It is a dramatic step to quell the unrest that has broken out in the wake of the region's uprisings, but some analysts warned it could exacerbate the conflicts that have polarized countries and left hundreds of thousands dead." [WaPo]
TIM COOK: 'PRO-DISCRIMINATION RELIGIOUS FREEDOM LAWS ARE DANGEROUS' "These bills rationalize injustice by pretending to defend something many of us hold dear. They go against the very principles our nation was founded on, and they have the potential to undo decades of progress toward greater equality." [WaPo]
IT COSTS WAY TOO MUCH TO MAKE A PHONE CALL FROM JAIL Fees can drive the price as high as $1.22-per-minute, as opposed to the commercial rate of 4 cents-per-minute. [NYT]
THE HEPATITIS C DRUG COSTING MEDICAID A FORTUNE "Medicare spent $4.5 billion last year on new, pricey medications that cure the liver disease hepatitis C -- more than 15 times what it spent the year before on older treatments for the disease, previously undisclosed federal data shows." [WaPo]
DRIVERLESS CARS THROW REGULATORS FOR A LOOP "Tesla Motors' plan to roll out a self-driving feature on some cars this summer has regulators, especially in its home state of California, scrambling to write new rules. Current California law allows automakers to operate autonomous vehicles -- but not regular drivers." [Alexander Kaufman, HuffPost]
20 INJURED WHEN AIR CANADA PLANE SLIDES OFF RUNWAY The plane slid off the runway in Halifax while landing. None of the injuries are life-threatening. [Reuters]
TRAIL TO THE CHIEF: ALL THE MATERIALISTIC REASONS TO RUN FOR PRESIDENT We promise we're not cynics. [Howard Fineman, Jason Linkins and Lauren Weber, HuffPost]
WHAT'S BREWING
FINAL FOUR SET Wisconsin, Kentucky, Duke and Michigan State will face off for the chance to cut down the nets. Fivethirtyeight thinks Kentucky has over a 50% chance of winning it all. [ESPN]
IS THIS THE NEW FACE OF 'THE DAILY SHOW?' Trevor Noah, a new correspondent for "The Daily Show," is allegedly Comedy Central's pick for the job. [Deadline]
FIRST 'SPECTRE' TRAILER RELEASED Featuring the requisite brooding Bond, a darkened glimpse of the baddie and a closing reminder that the 007 theme song cannot be beat. [HuffPost]
HOW YOUR BRAIN HELPS YOU COPE AFTER A BREAKUP Good news: we're actually wired to get better. [Daily Beast]
DESTINY'S CHILD REUNITED FOR A SURPRISE PERFORMANCE We couldn't believe it happened, either. [HuffPost]
HOW FACEBOOK WANTS TO BECOME 'THE MATRIX' "In 10 years, Facebook would like anyone, anywhere, to be able to strap on a virtual reality headset and share moments with friends and family across the world. It's the vision of a digital utopia that Facebook reps shared onstage during the annual F8 conference." [Fast Company]
IT'S TIME FOR A SPRING CLEANING For your fridge and your diet. [HuffPost]
WHAT'S WORKING
HOW GIVING HOMES TO THE HOMELESSNESS REDUCES HOMELESSNESS "The basic idea is simple. Chronically homeless individuals may require treatment for alcohol or substance abuse, or need mental health care. But maintaining a healthy lifestyle is extremely difficult without the stability of a home. So housing first programs hand over the keys to an apartment first, and then focus on treatment." [HuffPost]
ON THE BLOG
CONFESSIONS OF A FORMER CUTTER "It's been more years than I can even remember since the last time I cut, and that is an amazing accomplishment for me. I struggled with using it as a coping mechanism for years but finally figured out the right balance of therapy and medication. And once I found out I was not the only person who felt the way I did, I was so relieved." [HuffPost]
BEFORE YOU GO
~ Sorry, "Game of Thrones" fans: George R. R. Martin won't be writing an episode for this season or the next one.
~ The seven questions you should ask yourself at the end of every day.
~ Carrie Underwood's baby could not be cuter.
~ Taylor Swift won best artist at the iHeartRadio Music Awards last night, and more importantly clarified that it's not "Starbucks lovers."
~ There are some rather serious allegations in the Scientology expose documentary, "Going Clear."
~ The history of caffeine.
~ We have the first teaser of the "The Walking Dead's" spinoff, "Fear the Walking Dead," and let's just say it ain't looking good for LA in the zombie apocolypse.
~ This Teletubbies mash-up makes those mutant creatures scarier than ever.
~ "Post-wedding blues" is a thing.
~ What it looks like when a drone herds sheep.
~ All the harmless things that could kill you.
~ And so we don't end on a downer note, here's a monkey with puppies.
Send tips/quips/quotes/stories/photos/events/scoops to Lauren Weber at lauren.weber@huffingtonpost.com. Follow us on Twitter @LaurenWeberHP. And like what you're reading? Sign up here to get The Morning Email delivered to you.