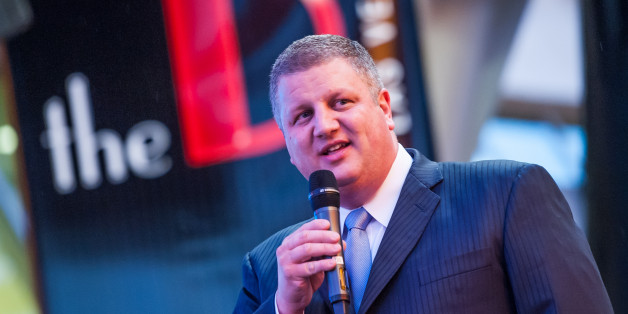 By now, most people's hopes for a big March Madness payoff have run dry. But for one man in Nevada, a bet he made four months ago on Michigan State winning it all is painfully close to putting $1 million in his pocket.
ESPN reported Tuesday that Derek Stevens placed a $20,000 bet on the Spartans on Dec. 5 at The Golden Nugget, a Las Vegas hotel and casino where he regularly places bets. Stevens posted a photo of the ticket to Twitter on Monday:
I'll be @theDlasvegas #LONGBAR to #SpartyOn THX @GoldenNuggetLV & @Gollumlv for giving me the shot @darrenrovell pic.twitter.com/GjK1ueQfin

— Derek Stevens (@DerekJStevens) March 31, 2015
"In my nine years at this sportsbook, I never accepted a bet that could result in us paying $1 million," Tony Miller, the casino's sportsbook director, told ESPN.
But it helped that at the time, Michigan State's odds to win the NCAA Tournament were 50-1 and their record stood at just 5-3, according to ESPN.
Fast forward four months and the No. 7 Spartans are headed to Indianapolis for their Final Four game against No. 1 Duke, just two games away from earning Stevens (a Michigan graduate, but Spartans supporter) a massive payout.
Stevens, who owns a number of properties in Las Vegas, hasn't decided whether he'll hedge his bet, but he does know what he'll do with the money should we win: give his employees a bonus. He said he'll also donate some to a basketball academy and reinvest a little as well.
Guess we'll find out in a few days whether it pays to take big, risky bets.