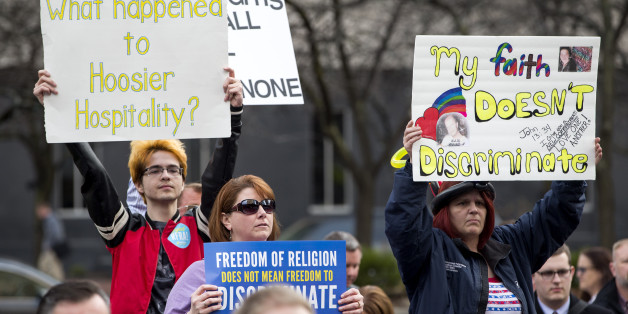 As journalists, we dutifully report on what's going wrong, from scandals and corruption to natural disasters and social problems. But far too often the media fails to show the whole picture, neglecting to tell the stories of what is working. From scientific breakthroughs to successful crime-reduction initiatives, the What's Working Honor Roll highlights some of the best reporting and analysis, from a range of media outlets, on all the ways people are working toward solutions to some of our greatest challenges.
The Indianapolis Star Condemns Gov. Mike Pence Over 'Religious Freedom' Law With Powerful Front Page
It's this important. Tuesday's front page. #rfra pic.twitter.com/jem4Cf5BWg"

— Karen Ferguson (@karenferguson33) March 31, 2015
The Indianapolis Star blasted Gov. Mike Pence (R) with its front page Tuesday morning along with an editorial denouncing the state's new "religious freedom" law. Pence signed the Religious Freedom Restoration Act last week, which allows individuals and corporations to cite their religious beliefs as a defense in a lawsuit. Since then, celebrities, lawmakers, national organizations, CEOs and several major companies have spoken out against the law as they fear it may promote discrimination against the LGBT community.
Tuesday morning, the Indy Star made sure its voice was heard.
The paper's editorial board slammed the law for doing "enormous harm" to Indiana. The Star demanded that "bold action" be taken to prevent any more damage from occurring, and called for a new state human rights law that would prevent discrimination.
"Governor, Indiana is in a state of crisis. It is worse than you seem to understand," the editorial board wrote. "You must act with courage and wisdom. You must lead us forward now. You must ensure that all Hoosiers have strong protections against discrimination."
Read more on responses to the Indiana law here: Your guide to all the people and businesses protesting Indiana's 'religious freedom' law, NCAA, CEOs, Unions Deeply Concerned Over Indiana Religious Freedom Law, Seth Meyers takes on Gov. Pence's Religious Freedom' Law, 9 Ind. CEOs call for changes to 'religious freedom' law, Hollywood Stars Protest Pence's Religious Freedom Law
MORE:
The Guardian: Equality groups ready for counterattack against wave of anti-gay bills across US
Mashable: Transparent bracelets honor 220 journalists imprisoned around the world
Capital New York: Advocates praise energy provisions for the poor
New York Times: Baseball Working to Help Spanish-Speaking Players Express Themselves
If you know a story you think should be on our Honor Roll, please send an email to our editor Catherine Taibi via catherine.taibi@huffingtonpost.com with the subject line "WHAT'S WORKING."