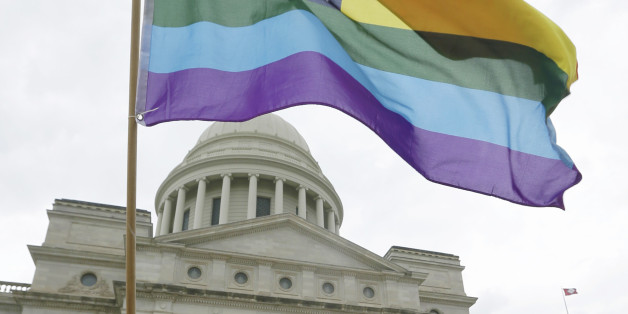 Arkansas legislators offered amendments to the state's Religious Freedom Restoration Act on Wednesday, revising the controversial legislation to resemble the federal RFRA.
The state senate passed an amended version of the bill hours after Arkansas Gov. Asa Hutchinson (R) refused to sign the existing legislation over concerns that the bill could be used as legal justification for discrimination against LGBT individuals. A similar bill in Indiana, signed into law by Gov. Mike Pence (R) last week, has sparked enormous backlash nationwide.
The Huffington Post's Dana Liebelson reported:
Hutchinson said at a press conference that he was seeking changes to make Arkansas' legislation mirror the federal Religious Freedom Restoration Act signed by former President Bill Clinton in 1993. Hutchinson previously had promised to sign the legislation. The surprising announcement came a day after Indiana Gov. Mike Pence (R) was forced to defend a similar law in his state. After facing a national firestorm, Pence called on Tuesday for new legislation that would clarify that his law does not grant businesses the right to deny services to anyone.

The Arkansas RFRA that passed through the legislature yesterday has broad language that is not contained in the federal RFRA. The Arkansas legislation currently extends the definition of "person" to include corporations, granting for-profit businesses a right to religious exercise. The legislation also allows any "person" to cite religion rights as a defense or claim in a private lawsuit.
During his announcement, Hutchinson cited his son's opposition to the bill.
"My son Seth signed the petition asking me, Dad, the governor, to veto this bill," he said. "And he gave me permission to make that reference, and it shows that families -- and there's a generational difference of opinion on these issues."
The governor also faced pressure from Walmart, which is the world's largest retailer and is headquartered in Arkansas. CEO Doug McMillon urged Hutchinson to veto the bill, warning that opening the door to LGBT discrimination "threatens to undermine the spirit of inclusion."
The amended version now heads to the House.
Read more on the Arkansas bill here.
This story has been updated to reflect that the state Senate passed the amended version of the bill.
BEFORE YOU GO
PHOTO GALLERY
Reactions To Indiana's 'Religious Freedom' Law