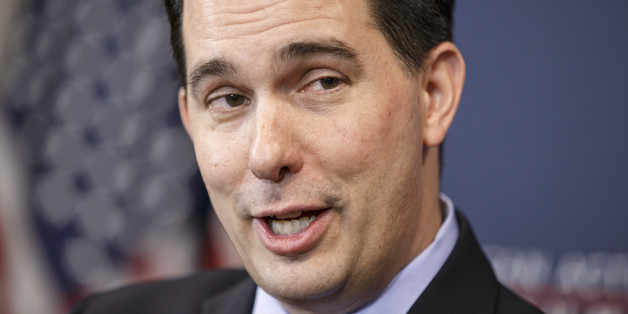 April Fools' Day is awful. Even more awful, however, are politicians' lame attempts at humor. Here are some of the best (or worst) examples of April Fools' mischief carried out by the comedians in Washington, D.C., and on the 2016 presidential campaign trail:
Wisconsin Gov. Scott Walker (R) alerted his supporters to tune in to a "big announcement" Wednesday morning. Was it an official announcement about his bid for the White House? No, it was his shocking endorsement of the Wisconsin men's basketball team in the NCAA tournament, which, for some reason, was marked by the hashtag #AprilFools.
America needs big, bold leadership & that's why I'm supporting Coach Ryan & the @BadgerMBB Saturday.- SKW #AprilFools pic.twitter.com/1PwSaZtjab

— Scott Walker (@ScottWalker) April 1, 2015
No one saw that one coming, Scott!
The National Republican Congressional Committee mocked Democrats for believing they could retake the House of Representatives in 2016 with this hilariously boring "Top Ten" list.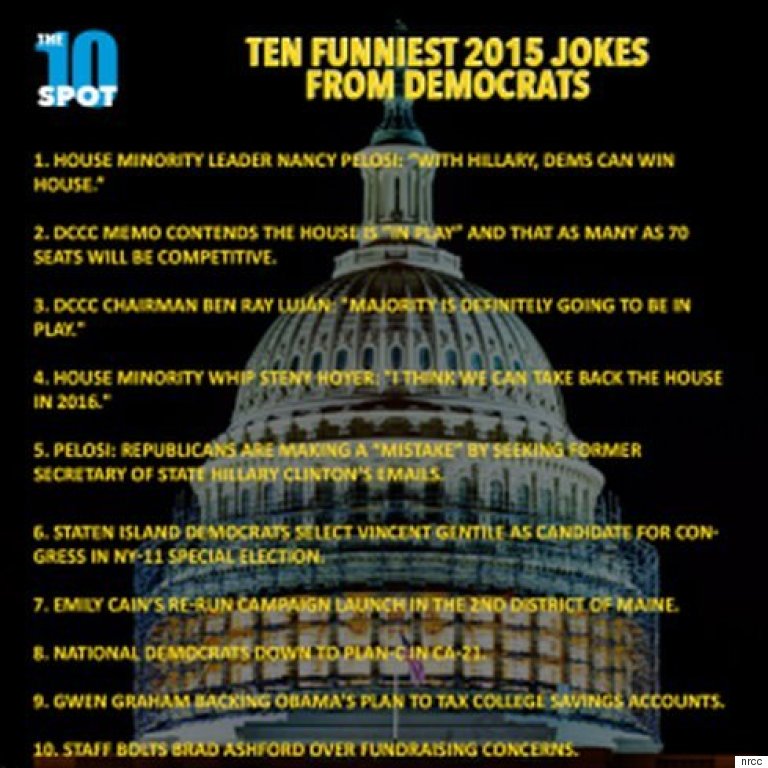 Billionaire environmentalist Tom Steyer and his organization NextGen Climate, which acts on climate issues, emailed its supporters early Wednesday about new "proof" showing that "97% of scientists tricked the world into believing the 'Global Warming Hoax.'"
The email was accompanied by a siren made famous by the popular conservative website The Drudge Report, and called out Sen. Ted Cruz (R-Texas), a presidential candidate, and one of his likely rivals for the nomination, Sen. Marco Rubio (R-Fla.)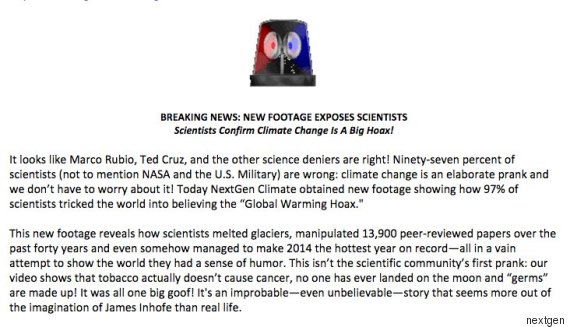 Another progressive group, Americans United for Change, hit a similar theme, by issuing an "apology" to members of Congress who denied man-made climate change.
"There haven't been many times in my political career where I've had to apologize, or even felt the need to, for that matter," said Brad Woodhouse, the group's president. "But recent revelations have put myself, and many of my colleagues, in a position where anything short of a full-throated apology would be both ignorant and irresponsible."
Former Speaker of the House Newt Gingrich got in on the action by endorsing President Barack Obama's foreign policy.
After a lot of thought i have changed my mind. President Obama has a strong, solid, thoughtful foreign policy we should all support.

— Newt Gingrich (@newtgingrich) April 1, 2015
Only a minute later, in case anyone was actually fooled, Gingrich tweeted that it was all a big joke.
The previous tweet about President Obama's foreign policy is a sign it is April Fool's day.

— Newt Gingrich (@newtgingrich) April 1, 2015
The Republican National Committee used the opportunity to troll Hillary Clinton (basically its only job for the next two years), over reports that her foundation took foreign donations.
"I want to applaud the Clinton Foundation for adhering to the letter and spirit of their ethics agreement with the Obama Administration. Given the Clintons' long history of scandal and shady dealings, one might have expected them to try to keep foreign donations secret -- or to accept donations from countries with human rights violations. Instead they went above and beyond, immediately disclosing all potential conflicts of interest for the American people to see. Now that's what transparency is all about," said Chairman Reince Priebus.
Maryland Gov. Larry Hogan (R) announced his candidacy for the Republican presidential nomination, making him the 47th Republican (give or take) to do so.
In a bid for most original April Fools' joke, the Chamber of Commerce went with the bold, "BREAKING: Obama Administration Approves Keystone XL Pipeline."
Shock!
#BREAKING: President Obama finally approves #KeystoneXL Pipeline --> http://t.co/IzeNXG78e6 <-- #TimeToBuild pic.twitter.com/a4X2A4MkL4

— U.S. Chamber Action (@USChamberAction) April 1, 2015
"Unfortunately, the President vetoed legislation earlier this year to approve the pipeline and the project remains mired in bureaucratic red tape. It's been over six years and counting," the Chamber said in a statement.
In one lone, bright spot of actual comedy, Rep. Mike Honda (D-Calif.) introduced the Accountability and Congressional Responsibility On Naming Your Motions (ACRONYM) Act -- legislation that would prohibit the addition of words to the title of a bill just to create an acronym (e.g., the JOBS Act, the DISCLOSE Act, etc.).
Well played, sir.

BEFORE YOU GO
PHOTO GALLERY
U.S. Capitol Photos