A Utah man is accused of damaging approximately 30 headstones so that he could help the dead be "resurrected," police said.
Spencer Robinson, 36, was arrested after he allegedly knocked over the headstones at Payson City Cemetery Monday night, Fox 13 reports.
"He felt like he was doing them a favor helping them to have an easier time to be resurrected," Payson Police Lt. Bill Wright said, according to KSL TV.
Robinson was booked in jail while police investigated him for felony criminal mischief. His family says he has a history of mental illness.
More from KSL TV:
Robinson's father, Jack Robinson, said his son has been dealing with mental illness for 18 years. He says Spencer Robinson has bipolar schizoaffective disorder.

"He has had some sort of fixation on people that have passed on and somehow feels that he needs to free them from capture in the ground," Jack Robinson said.
Police said they found pieces of gravestones across the street from the cemetery, in neighbors' yards and under trees, according to Good4Utah. The damage was estimated at approximately $50,000.
Authorities charged Robinson with felony criminal mischief, trespassing and resisting arrest.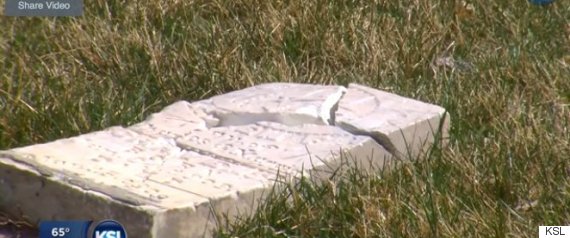 A damaged gravestone at Payson City Cemetery.
Like Us On Facebook |

Follow Us On Twitter |

Contact The Author