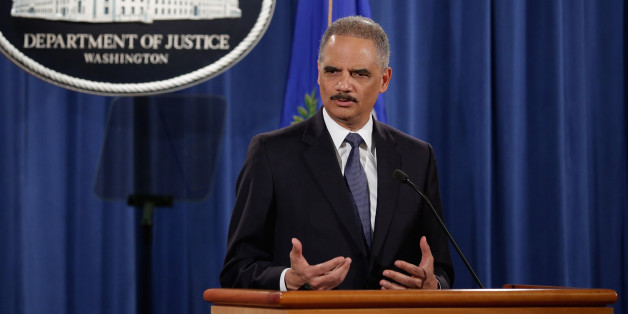 WASHINGTON -- The Department of Justice is investigating whether truancy courts in Dallas County, Texas, deny due process to juveniles charged with failing to attend school by preventing access to lawyers and imposing large fines. Texas is one of two states where truancy is prosecuted as a crime in adult courts.
"The Constitution's guarantee of due process applies to every individual, regardless of age or disability," Attorney General Eric Holder said in a statement Tuesday, announcing the probe into Truancy Court and Juvenile District Court in Dallas County. "This investigation continues the Justice Department's focus on identifying and eliminating entryways to the school-to-prison pipeline, and illustrates the potential of federal civil rights law to protect the rights of vulnerable children facing life-altering circumstances."
Under Texas law, individuals charged with Class C misdemeanors, such as truancy, are not provided access to a lawyer. As a result, the vast majority of students charged with the crime of "failure to attend school" either plead guilty or no contest in court. Once convicted, they can be fined up to $500 per offense, plus additional court costs. Those who fail to pay can be arrested when they turn 17 years old.
In 2013, more than 115,000 Texas students were charged with truancy in adult courts -- more than double the total number of truancy cases adjudicated in all other states combined, according to the nonprofit advocacy group Texas Appleseed.
Data show that the fines and penalties imposed by Texas truancy courts disproportionately affect poor and minority students, as well as students with disabilities. In 2013, Texas Appleseed filed a formal complaint with the Justice Department that raised many of the issues that Holder said would be addressed in the investigation launched this week.
"We're glad to see that the Department of Justice shares the concerns we have with Texas truancy courts, and that it believes the issues raised in our compliant merit a closer look," Deborah Fowler, executive director of Texas Appleseed, said in an interview with The Huffington Post. "We look forward to working with the Justice Department and the county to find a resolution that better protects students' constitutional rights and helps prevent court involvement in situations where it is clearly inappropriate."
The federal probe is designed to address what's known as the school-to-prison pipeline. In 2013, schools in Meridian, Mississippi, agreed to settle a Justice Department lawsuit alleging that school discipline practices discriminated against black students. The settlement came a month after the Justice Departmentannounced a settlement with Palm Beach County, Florida, over similar complaints.
The announcement of the Texas investigation came the same day the Texas State Senate held a hearing on a bill that would decriminalize truancy. Senators hotly debated the legislation, with supporters arguing truancy courts needlessly turn juveniles into criminals, and opponents claiming the stiff penalties are needed to keep kids in school.
Wyoming also prosecutes truancy charges in adult court.
BEFORE YOU GO
PHOTO GALLERY
Politicians React to Eric Holder's Resignation