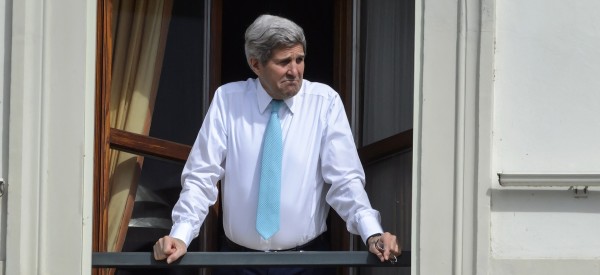 TOP STORIES
To get The Morning Email, HuffPost's daily roundup of the news, in your inbox, sign up here.
IRAN NUCLEAR DEAL DEADLINE EXTENDED "Iran nuclear negotiators resumed talks here Wednesday, just hours after abandoning a March 31 deadline to reach the outline of a deal and agreeing to press on. However, as the discussions dragged on, three of the six foreign ministers involved left the talks, and prospects for agreement remained uncertain." Negotiators hope to start drafting a resolution today. [AP]

ARKANSAS LEGISLATURE PASSES RELIGIOUS FREEDOM ACT SIMILAR TO INDIANA'S Walmart, which is based in Arkansas, has asked the governor to reconsider signing the bill. [Jennifer Bendery and Dana Liebelson, HuffPost]
OBAMA COMMUTES 22 DRUG OFFENDERS' SENTENCES Doubling the number of sentences he has commuted in his six years in office. [Ryan Reilly and Sam Stein, HuffPost]
LUFTHANSA KNEW OF GERMANWINGS' CO-PILOT'S PRIOR DEPRESSIVE EPISODE The company announced it had found emails from Andreas Lubitz, the co-pilot who deliberately crashed his plane into the French Alps last week, discussing his "severe depression" in 2009. [AP]
PAKISTAN'S ARMY: THE KEY TO WINNING AFGHANISTAN? "As the U.S. prepares to end its longest-ever overseas war, the Obama administration faces a question that could pit America's historic values against its security interests: Is it willing to trust Pakistan's army -- and to compromise democratic civilian rule in Islamabad -- in exchange for a secure Afghanistan?" [Akbar Ahmed and Ali Watkins, HuffPost]
MEET NIGERIA'S NEXT PRESIDENT The former military general Muhammadu Buhari defeated incumbent President Goodluck Jonathan, "marking the first democratic change in power in modern Nigeria." [Charlotte Alfred, HuffPost]
GETTY OIL FORTUNE HEIR FOUND DEAD "Authorities investigating the death of Andrew Getty, an heir to the Getty oil fortune, said a preliminary investigation suggests foul play was not involved. The death appeared to be natural or an accident, said Ed Winter, a spokesman for the Los Angeles County coroner's office. Investigators have not determined a time of death, Winter said." [LA Times]
WHAT'S BREWING
DON'T FORGET IT IS APRIL FOOL'S DAY You've been warned -- be on the lookout! [HuffPost]
YOU CAN PLAY PACMAN ON GOOGLE MAPS You're welcome. [Google]
AMAZON'S DASH BUTTON PRODUCT ISN'T A JOKE You really can push a button and have all your household items delivered. [HuffPost]
MARK WAHLBERG TO PRODUCE MOVIE ABOUT BOSTON BOMBING Called "Patriots' Day," the film will focus on the bombing and five-day manhunt for the Tsarnaev brothers. [Entertainment Weekly]
THAT DIDN'T TAKE LONG Zayn Malik released his first post-One Direction single. [HuffPost]
THE DANGER OF ZOMBIE APOCALYPSE LOGIC "A number of critics ... argue that the worldview promoted by the zombie apocalypse is hopeless and nihilistic, and that its sweeping popularity may actually erode trust in our institutions and fellow humans. This end times ethos might ultimately prove counterproductive to any community aiming to address its real, non-apocalyptic problems -- oh, and it's seriously unsupported by the actual social science that examines how people behave in the midst of disaster." [Motherboard]
THE SECRET TO PALEO WEIGHT LOSS Hint: you can't actually eat as much bacon as you want. [HuffPost]
WHAT'S WORKING
THE GOOD THINGS HAPPENING IN INDIANA IN THE WAKE OF THE RELIGIOUS FREEDOM RESTORATION ACT "Even as gay rights supporters reel from the passage of an Indiana law that critics argue will allow businesses to discriminate against lesbian, gay, bisexual and transgender people, the resulting outrage offers what might be considered a silver lining. 'I've honestly never seen anything like it in Indiana. It's been just awesome,' Katie Blair, campaign manager for Freedom Indiana, told The Huffington Post." [HuffPost]
ON THE BLOG
THE HUBBLE TELESCOPE TURNS 25! Looking back at the great scientific discoveries it's made possible. [HuffPost]
BEFORE YOU GO
~ Folk legend Joni Mitchell has been hospitalized.
~ This guy escaped a tow truck by driving off of it.
~ How to reject a college rejection letter.
~ Meet this adorable quadruple amputee dog with four prosthetic limbs.
~ How to tell if you're doing ok.
~ All the horrible things famous authors have said about each other.
~ The FBI followed Russell Crowe around for two years.
~ Could this be the Tang comeback?
~ HBO's scientology documentary was the channel's most-watched documentary in nine years.
~ The one place Google Glass isn't dead.
Send tips/quips/quotes/stories/photos/events/scoops to Lauren Weber at lauren.weber@huffingtonpost.com. Follow us on Twitter @LaurenWeberHP. And like what you're reading? Sign up here to get The Morning Email delivered to you.