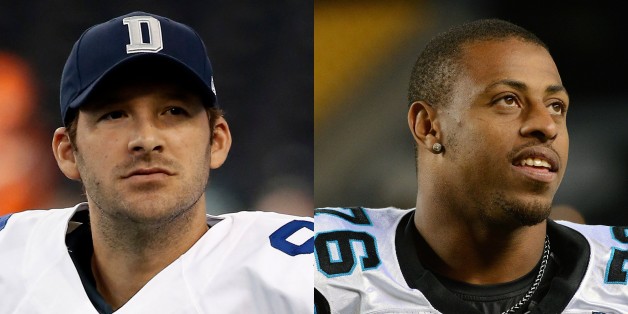 Dallas Cowboys quarterback Tony Romo weighed in Thursday on the controversial signing of Greg Hardy during an appearance on ESPN Radio's "The Herd With Colin Cowherd," saying, hey, everyone makes mistakes.
When asked about Hardy and the headlines surrounding him, Romo said everyone has "skeletons" and that players like Hardy and Ray Rice deserve second chances.
Now, the thing with Greg [Hardy], I do believe everyone deserves a second chance. And I when I say that, I mean in life, if we all had all of our skeletons pulled up over our head, everyone would hate everybody. I think we all would be disgusted at each other. I think that we're in a position where we can obviously bring in a player who is dynamic and a great pass rusher and he probably wouldn't be here, to be honest with you, if he wasn't. And that's probably the truth. I do think that Ray Rice and people like that, they deserve another chance just because that's the way we should be as organizations and people. I think so far from what I've seen with Greg, he works very hard and he'll fit in with that regard.
Hardy, who signed a one-year $11.3 million contract with the Cowboys last month, had been facing charges of assault and threatening communications. Although Hardy was convicted last July, he appealed for a trial jury and charges were eventually dropped in February after Hardy's accuser would not testify.
Hardy had played for the Carolina Panthers at the time, who removed him from the active roster. He is still under investigation by the NFL and could face a suspension.