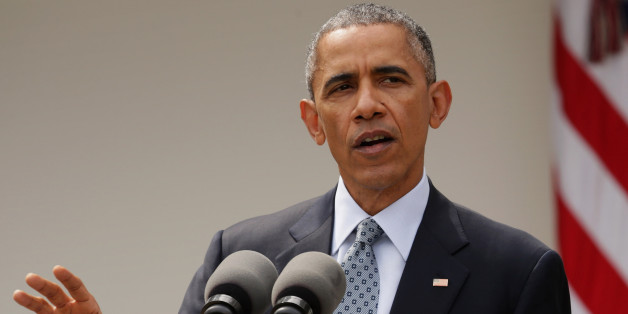 Recent polls show support for an Iran nuclear deal, but with wide variation. Early interest in the presidential campaign is down compared to 2007. And Clinton looks better compared to other candidates than when rated alone. This is HuffPollster for Friday, April 3, 2015.
SUPPORT FOR PROSPECTIVE IRAN DEAL VARIES - Pollsters have not yet measured reactions to the preliminary nuclear deal announced on Thursday between Iran and the major powers, but they have been measuring support for talks and a prospective deal in recent weeks. All have found more support than opposition to the notion of negotiations or a deal to limit Iran's nuclear program, but the level of support they measured has varied widely.
Results varied because relatively few Americans have been paying close attention to the ongoing negotiations between the U.S. and Iran. In late March, just 27 percent told the Pew Research Center they had heard "a lot" about the negotiations, as opposed to "a little" (48 percent) or "nothing at all" (28 percent). So, as is typical with opinion polling, results about a deal or negotiations vary widely depending on question wording, since many respondents form their opinions on the spot.
Although the details of the ongoing negotiations may be fuzzy, surveys do show evidence of some important pre-existing attitudes. First, most Americans dislike and distrust Iran. Eighty-four percent gave the country an unfavorable rating in a March Gallup poll, and just 16 percent of U.S. voters told Fox News the U.S. can trust some or all of what Iran says (55 percent said the U.S. "can't trust anything" said by Iran.
Second, after the Iraq and Afghanistan wars, Americans are not eager for American troops to participate in another armed conflict. A YouGov survey in early March, for example, found just 22 percent of Americans saying the U.S. should "go to war with Iran if that country refuses to negotiate an end to its nuclear weapons development program," while 43 percent said the U.S. should not go to war and 36 percent were unsure.
Of five national polls that were asked in recent weeks, all found more support than opposition for negotiations or a deal to limit Iran's nuclear program, but the results varied to the degree that stressed negotiations or concessions to Iran. For example, a CNN question that emphasized "diplomatic negotiations" aimed at "prevent[ing] Iran from developing nuclear weapons" finds 68 percent support and just 29 percent opposition. At the other extreme, a Fox News question about an "agreement" limited to just ten years that would involve "easing sanctions" on Iran found less support (49 percent) and more opposition (44 percent). The Fox News question also immediately followed the probe of whether the U.S. could trust Iran.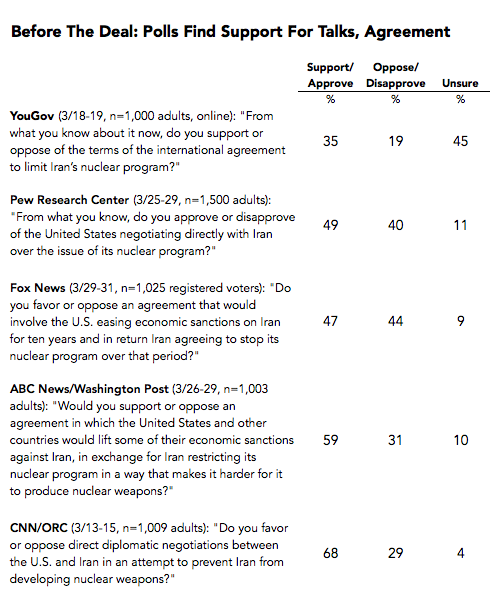 And while all questions found more support for a deal or negotiations than opposition, live telephone surveys effectively pushed respondents harder for an opinion, because their interviewers do not offer "don't know" as an explicit choice. The online YouGov question found nearly half who indicated they "didn't know enough to say" (35 percent) or were completely unsure (10 percent).
As Americans learn more about the negotiated framework for a deal, there is ample room for a different set of reactions to emerge.
2016 CAMPAIGN OFF TO 'SLOW START WITH VOTERS' - Pew Research Center: "A majority of registered voters (58%) say they have given at least some thought to candidates who may run for president in 2016, but that [interest] is 10 points lower than at a comparable point in the 2008 campaign – the last time both parties had contested nominations. Among the potential set of Democratic candidates, Hillary Clinton has a wide lead over other possible contenders, with fully 59% of Democratic and Democratic-leaning registered voters saying there is a good chance they would vote for her (86% say there is at least some chance they would). By contrast, no Republican stands out among the party's crowded field: Of 10 possible GOP contenders asked about in the current survey, no candidate garners solid support from more than a quarter of Republican and Republican-leaning registered voters… Overall, there is less interest in the campaign today than there was in March 2007 (when 68% had given the candidates at least some thought). At that stage of the 2008 election, all of the major candidates from both parties had formally announced their candidacies. As of today, just one 2016 candidate—Ted Cruz—has formally declared an intention to run." [Pew]
FOX POLL: WALKER TAKES GOP LEAD - Dana Blanton: "Wisconsin Gov. Scott Walker is the new frontrunner for the GOP presidential nomination, while former Sec. of State Hillary Clinton easily maintains her lead among Democrats. And despite the personal email scandal, Clinton's personal favorable number is still higher than the rest of the pack, according to the latest Fox News poll. Walker tops the field for the Republican nomination with 15 percent among self-identified GOP primary/caucus voters. He's followed by former Florida Gov. Jeb Bush who receives 12 percent, retired neurosurgeon Ben Carson at 11 percent and Texas Sen. Ted Cruz and former Arkansas Gov. Mike Huckabee each at 10 percent... Support for Walker is up six percentage points over the nine percent he received from self-identified Republicans two months ago (when Mitt Romney's name is removed from the January poll for an apples-to-apples comparison)... Meanwhile, on the favorability ratings included for several of the potential 2016 candidates, it's striking how negatively most voters perceive the current crop of aspirants. Carson, Walker and Rubio stand out because, even though they are still mostly unknown, they are the only ones -- Democrat or Republican -- who have net positive ratings." [Fox]
'Frontrunner' with 15 percent? - In case you missed it, HuffPost's Natalie Jackson says "no." [HuffPost]
CLINTON LOOKS BETTER ALONGSIDE OTHER CANDIDATES THAN ALONE - Kathy Frankovic: "Americans are more likely to say they have a "very" favorable opinion of Clinton when she is asked about alongside other politicians… Since she left her position as Secretary of State, her ratings have dropped – mostly due to the changing way Republicans view her. As Secretary of State, she was not always a politician (and as many as a third of Republicans rated her favorably), but since she left that office, she has been increasing perceived as a partisan figure (in the most recent poll, just 20% of Republicans have a favorable view of her). Meanwhile, Democrats have retained their overwhelmingly favorable opinion of Clinton (83% this week), and she leads the other Democrats who have said they are thinking of running by a wide margin. But there seems to be something else driving opinions about Clinton. When the public is asked about Clinton on her own, without mention of any other possible candidate in vision, her "very favorable" rating is lower than it is when she is asked with a group of possible candidates. That is true when the candidates are Democrats only or both Republicans and Democrats. When Clinton is asked alone, usually as part of a series of questions about her, "very favorable" ratings drop (they are the orange dots in the graphs). When she is included in a list of possible candidates (randomized) her "very favorable" ratings are much higher. Those are indicated in green." [YouGov]
AMERICANS SAY INDIANA RELIGIOUS FREEDOM LAW WENT TOO FAR - HuffPollster: "Indiana amended its controversial new religious freedom law on Thursday to clarify that it does not specifically allow businesses to turn away lesbian, gay, bisexual and transgender customers, nudging the state back in line with Americans' increasingly accepting view of gay rights. Many Americans are sympathetic to the need for laws protecting religious convictions, and a recent Pew poll that asked about wedding-related businesses found people evenly split on the issue of whether these companies should be allowed to refuse to work with same-sex couples. But a new HuffPost/YouGov poll finds that a clear majority of Americans do not think that all businesses should be allowed to refuse customers because of their sexual orientation, and many people said they would be less inclined to patronize businesses that do so. The HuffPost/YouGov poll found a nearly equal divide when it comes to concern over religious protections and discrimination, with 36 percent more concerned about people being forced by law to violate their own religious beliefs, and 39 percent more worried about people citing their religion as a way to discriminate. Similarly, 35 percent are more concerned that they'd personally be discriminated against, while 37 percent fear being forced to act against their own beliefs. However, most people agreed that the Indiana law went too far. Taken before legislators voted to amend the law, the poll found that 55 percent of people think businesses should be required to provide the same services to LGBT customers, while 31 percent said businesses should be allowed to refuse on religious grounds. The remaining 15 percent were undecided." [HuffPost]
HUFFPOLLSTER VIA EMAIL! - You can receive this daily update every weekday morning via email! Just click here, enter your email address, and click "sign up." That's all there is to it (and you can unsubscribe anytime).
FRIDAY'S 'OUTLIERS' - Links to the best of news at the intersection of polling, politics and political data:
-Ron Brownstein says the problems facing Indiana Gov. Mike Pence are a preview of the challenges Republicans will face in recapturing the White House. [National Journal]
-Tony Fabrizio (R) to poll for Rand Paul's campaign. [Politico]
-Elizabeth Wilner wonders if enhanced voter targeting by campaigns might spark a privacy backlash. [Cook Political]
-Muslims will be as numerous as Christians worldwide by 2015. [Pew]
-Four in ten Americans look forward to checking the mail. [Gallup]