Earlier this week, Memories Pizza in Walkerton, Indiana, shut down after receiving backlash over anti-gay comments.
The pizzeria is co-owned by Kevin O'Connor and his daughter, Crystal O'Connor. And although they've said they "don't have a problem with gay people," catering gay weddings goes against their beliefs. "If a gay couple came in and wanted us to provide pizzas for their wedding, we would have to say no," Crystal told local news station ABC 57. "We are a Christian establishment."
Angry Yelp reviews and threatening messages started pouring in, and the O'Connors closed the pizzeria down. But a "Support Memories Pizza" GoFundMe campaign was created shortly afterward to keep the establishment open, and raised more than $500,000 in 48 hours.
As of Saturday morning, "Support Memories Pizza" had raised over $800,000. In an interview with Fox News Business' Neil Cavuto, Crystal said that although she's not quite ready to open the pizzeria again, she believes God is responsible for the support that's poured in.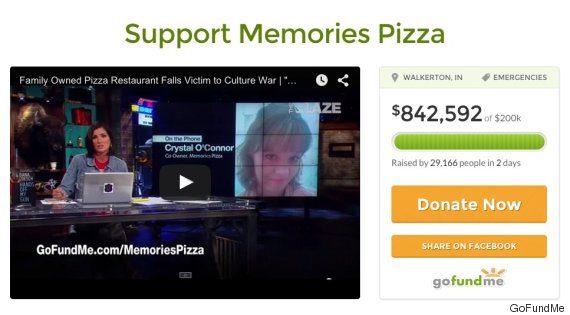 "God has blessed us for standing up for what we believe, and not denying him," Crystal told Cavuto.
Additionally, a local choir called Ripple Effect set up camp across the street from Memories in an attempt to bring the community together again.
"We're not here to condemn or condone the owners of the establishment. We're here to show them and the community that we can show love to people in spite of our differences," choir direct Sherry Klinedinst told Indiana news station WSBT 22.
Support may be pouring in on a local level, but on a larger scale there's still quite a bit of outrage over the O'Connors' statements. On Sirius XM, Rosie O'Donnell, a former co-host on "The View," joked that pizza joints aren't often called upon to cater gay weddings anyway.
"Remember that they were saying that, the pizza lady, that gays were going to cater their weddings with pizza," she said. "Not even lesbians would do that. We might do a potluck. We might make some chili, you know, if situations are tough."
BEFORE YOU GO
PHOTO GALLERY
Anti-Gay Celebrity Statements