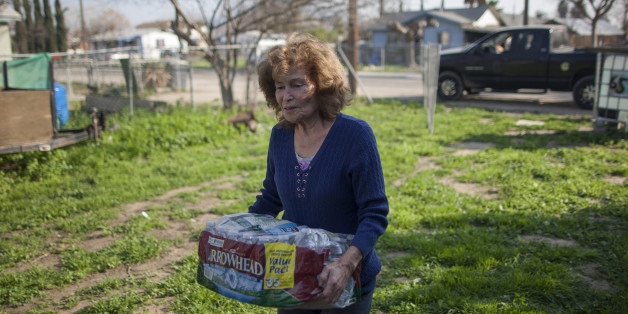 More than 1 million Californians don't have access to clean drinking water and it has nothing to do with the historic drought that's been ravaging the state.
California's severe drought, which entered its fourth year in October, has left communities distraught over cracked lakes and unusable houseboats. But in rural areas, more than 1 million residents have long been struggling to just get access to potable water due to inadequate infrastructure and contaminated water sources, according to nonprofit group Agua4All.
The situation is so grave that many low-income families have no choice but to spend upwards of 10 percent of their incomes on bottled water, because drinking from a contaminated source can lead to cancer, thyroid problems and other serious health issues. Others resort to imbibing sweetened beverages, which are safe for consumption, but are loaded with sugar, which is of particular concern in California where the diabetes rate has increased by 35 percent in the last decade.
The water is usually so contaminated that residents can't even cook or wash with it, according to the California Endowment.
The high-profile water shortage, however, has prompted lawmakers and advocacy groups to finally make supporting these strapped communities a priority.
The state's first-of-its-kind Office of Sustainable Water Solutions, for example, will dedicate a portion of its staff to tackling the water crisis in underserved communities.
The unit will help them apply for state and federal funds to clean up their drinking water and provide improved access to treatment technologies, according to a statement released by Senator Kevin de Leon (D-Calif.).
The group will also help these communities better allocate funds for water systems upgrades and prevent local rate increases.
A number of nonprofit groups are working to provide immediate on-the-ground solutions.
Agua4All, which launched in conjunction with a number of nonprofit groups, including Rural Community Assistance Corporation, is one such organization that's bringing clean water systems to these struggling areas.
It kicked off in January by committing to bringing 120 water tap stations to parks, schools and health clinics in South Kern and Eastern Coachella, according to the California Endowment.
Residents can take a drink at these stations or fill up their bottles with perfectly safe drinking water. Each tap includes a certified filter that treats contaminated water.
While residents are relieved to finally see improvements after years of struggling, they say they're surprised it took this long for it to happen.
"Ninety-nine percent of the population in Arvin buys bottled water," Salvador Partida, president of the Committee for a Better Arvin, told Al Jazeera. "I'm amazed nobody was doing anything about it until now. A lot of people need to wake up."
Find out more about Aqua4All here and donate to the organization through the widget below.
BEFORE YOU GO
PHOTO GALLERY
California Drought