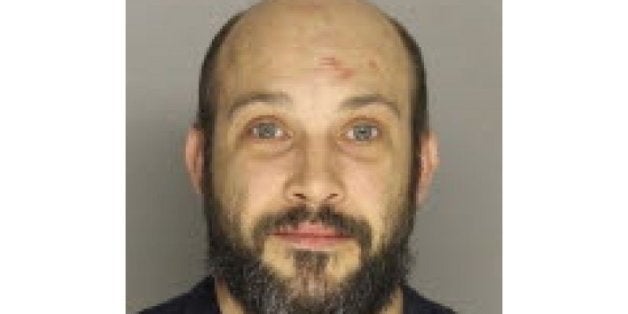 A man arrested over a domestic disturbance call smeared feces all over his cell, leading to new charges, police in Pennsylvania say.
Robert Worthington, 39, of Lansdale, is accused of covering the walls, ceiling and a security camera in his cell with fecal matter, according to Patch. Officers at the Lansdale Police Department first noticed the smell at 8:30 a.m. on March 29 when they approached Worthington's cell to transfer him to the Towamencin Township Police Department.
Further review of security cameras revealed that Worthington allegedly banged on the security camera before sticking his hands in the toilet.
When asked what happened, according to court documents, Worthington claimed he had "spilled some feces on the floor" when he tried to splash his face and found the water had been shut off -- police said the water to his cell had been shut off around 2 a.m. because he was repeatedly flushing the toilet in an attempt to flood the cell.

After Worthington was transported to his arraignment, police inspected the cell and found feces all over the place, then watched recorded video footage that showed Worthington yelling, climbing the bars and hitting the camera, sticking his hands in the toilet and, for about half an hour starting at 3 a.m., placing his excrement all over the cell and the camera and clogging the sink with it.
Worthington will likely have to pay $100 for the cleanup, and faces a new charge of institutional vandalism.
His erratic behavior is consistent with his initial crime, in which he allegedly endangered his wife and three children. Police were dispatched to his house twice, earlier on March 29. His wife said he was tearing the house apart and slamming his head into doors.
When cops first arrived, the woman said he had calmed down -- but he didn't. They responded again after Worthington allegedly hit his 8-year-old child with a door and attacked his wife. He also allegedly trashed furniture, dishes and glass, and threw trash all over the house, according to The Reporter.
He's due in Lansdale district court on April 16 for misdemeanor counts of endangering the welfare of children, marijuana and drug paraphernalia possession.
BEFORE YOU GO
PHOTO GALLERY
Drugs Hidden In The Darndest Places