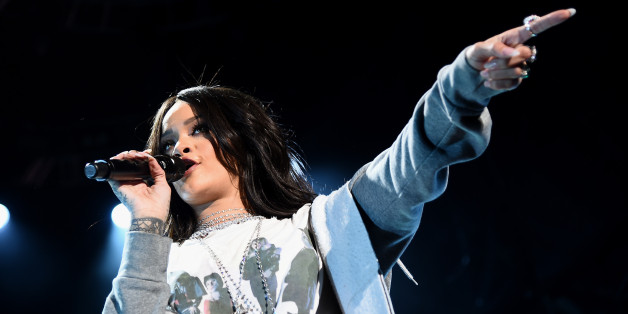 "F*** that s***."
Rihanna is not a fan of Indiana's Religious Freedom Restoration Act, and she let the crowd know Saturday night at the NCAA March Madness Music Festival at White River State Park in Indianapolis. The singer shared her feelings about the anti-gay laws -- in terms you wouldn't use in front of your grandmother -- before singing T.I.'s "Live Your Life."
"Who's feeling these new bullshit laws they're trying to pass over here? I said, 'Fuck that shit,'" Rihanna yelled, before getting the crowd involved. "I wanna hear you say, 'Fuck that shit.' 'Cause we're just living our motherfucking lives. Indiana!"
A concertgoer got the whole thing on video.
rih on the religious freedom bill pic.twitter.com/cOhGZ9TMKq

— Mikela (@innerwildflower) April 5, 2015
Jack Antonoff also made a pro-LGBT statement while performing at the festival with his band, Bleachers. The frontman wore a shirt with the words "Protect LGBTQ Hoosiers" and then shared a personal message on Instagram.
The act, which signed into law by Indian Governor Mike Pence (R), allows business owners to defend themselves by citing their religious beliefs if sued for discriminating against groups including lesbian, gay, bisexual and transgender individuals.
After a wave of criticism, the law was revised to clarify that it does not allow businesses to deny goods or services to LGBT customers, though LGBT discrimination is still legal in Indiana.
BEFORE YOU GO
PHOTO GALLERY
Anti-Gay Celebrity Statements