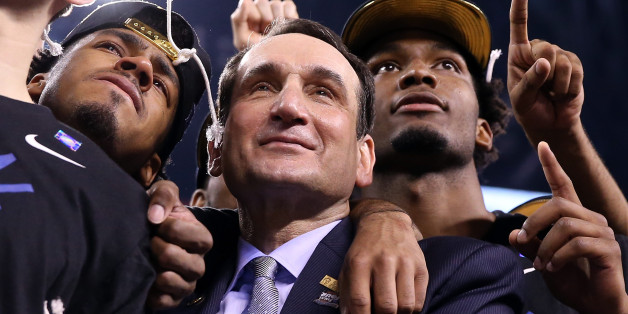 After winning his fifth national title on Monday against Wisconsin, Duke basketball coach Mike Krzyzewski is already back on offense, dismissing criticism Tuesday morning of Duke basketball as a "one-and-done" program.
"Duke doesn't rent a player," Krzyzewski said on "CBS This Morning." The coach added that it's not just student-athletes who leave college early for one reason or another and that he supports any student's decision to do so.
He also pushed back against claims that players are simply recruited for a year before they turn pro.
"All these kids ... my guys are great," Krzyzewski said. "They go to school, they love Duke, they live with the other students, and the rent-a-thing is kind of harsh."
Krzyzewski's comments follow those of Wisconsin coach Bo Ryan, who took a thinly veiled shot in a press conference following last night's game. (Krzyzewski had a court stacked with powerful freshman this season, including Tyus Jones, Justise Winslow and Jahlil Okafor, who is widely expected to be one of the top picks in this year's NBA draft.)
"We don't do a rent-a-player. You know what I mean?" Ryan said, when asked about his departing senior players. "Try to take a fifth-year guy. That's okay. If other people do that, that's okay. I like trying to build from within. It's just the way I am."
Missouri Sen. Claire McCaskill (D) also weighed in in a series of tweets on Monday.
Congrats to Duke,but I was rooting for team who had stars that are actually going to college & not just doing semester tryout for NBA.

— Claire McCaskill (@clairecmc) April 7, 2015
I see I have stirred things up. Sorry, but I'm sad about the one & done thing.I understand why it's happening,but I don't have to like it.

— Claire McCaskill (@clairecmc) April 7, 2015
To be clear folks, this isn't about the kids,this is about the system.This is about the NCAA/NBA.I don't blame the very talented athletes.

— Claire McCaskill (@clairecmc) April 7, 2015
For its own part, the NCAA has tried to defend against "one-and-done" perceptions in men's basketball. It argued that on average only eight college freshmen have been drafted into the NBA ever year since high school players were made ineligible in 2006.
There has been debate regarding the age minimum for entering the NBA draft, which currently stands at 19 and requires anyone entering to be at least one year out of high school. NBA Commissioner Adam Silver has said he wants to further raise the age limit to 20, but has faced fierce pushback from the National Basketball Players Association.
Coach K echoed that criticism, saying he would allow players to be eligible for the draft straight out of high school. However, he added if a player does go to school, "I would like to see them there for two years, so they'd be halfway towards a degree, probably more than halfway with summer school."
"In today's world you have to adapt to what's happening," he said. "If the opportunity arises for a youngster to leave early from school, whether he's an athlete or she's an athlete or not, it's their opportunity to pursue it. So I think we're living in the dark ages when we say that it should only be done one way."