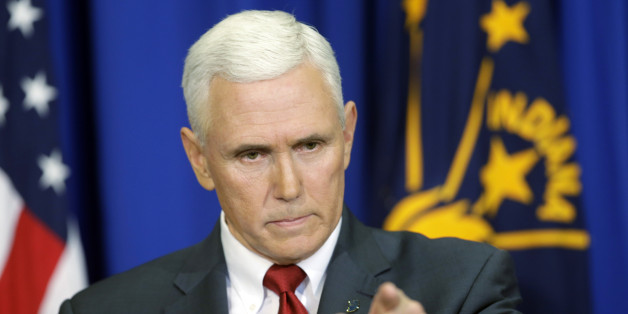 WASHINGTON -- Reproductive rights advocates and opponents are both sounding a cautionary note about how religious freedom laws likes the ones signed by Indiana Gov. Mike Pence (R) and Arkansas Gov. Asa Hutchinson (R) could affect reproductive health care access.
Indiana and Arkansas' Religious Freedom Restoration Acts originally would have allowed individuals or companies to cite religious beliefs as a defense when sued by a private party for discrimination. But, following a national backlash over the legislation, Pence supported an amendment clarifying that the the law does not allow businesses to deny goods or services on the bases of race, color, religion, ancestry, age, national origin, disability, sex, sexual orientation, gender identity or United States military service. Arkansas' law did not include such civil rights protections, but was revised to mirror the 1993 federal Religious Freedom Restoration Act.
The Indiana amendment, which was meant to alleviate concerns the law could justify discrimination against LGBT individuals, didn't satisfy either side of the reproductive rights spectrum, which both feel their interests have now been endangered.
"Indiana Right to Life opposes the proposed changes to Indiana's new RFRA law since they dismantle much of the protections in the law designed to protect pro-life persons, businesses and ministries from being forced to support abortion under government order," Mike Fichter, the president and CEO of Indiana Right to Life, wrote in a statement. The group had supported the law before the changes were made.
Fichter did not respond to a request for comment from The Huffington Post about specific examples of how he could foresee individuals and businesses "being forced to support abortion." In a statement before Pence signed the modified legislation, Marjorie Dannenfelser, the president of the anti-abortion Susan B. Anthony List, said the law "gives pro-life Hoosiers the opportunity to hold on to and defend their values in the public square. This could include, for example, an employer or organization objecting to coverage for abortifacient drugs and devices, or employees who do not want to be forced to participate in abortions."
And yet, health care plans offered through Indiana's Affordable Care Act exchange can only cover abortion in cases when the patient's life is endangered or in cases of rape or incest. Indiana-based medical providers and institutions are already allowed to cite their religious beliefs in opting out of providing abortion services, but, as MSNBC has pointed out, there is no law that says they can refuse to fill a birth control prescription. The state's new religious freedom law could hypothetically provide a legal justification for such a refusal on the part of the pharmacist. Such pharmacy refusals, as the National Women's Law Center has chronicled, are common across the country.
Reproductive rights advocates say that even with the amendment Pence signed, they must pay close attention to how the new state laws are interpreted in the courts.
The Supreme Court's Hobby Lobby decision last year allowed religious for-profit employers to refuse to cover contraceptive coverage in their employees' health care plans despite the Affordable Care Act's preventive coverage mandate. Given that decision, and the increasing number of religious freedom laws introduced across the country, organizations which support reproductive health care access aren't as confident as could be assumed from articles suggesting Republicans have lost the religious freedom debate.
"My guess is in the immediate future it doesn't change anything, but it does open the door for groups to push the envelope on what could be denied or refused," Elizabeth Nash of the Guttmacher Institute told HuffPost. "What we're thinking about is that the new law really opens the door to allow organizations that claim a religious belief to take steps that impact access to reproductive health."
Louise Melling, a deputy legal director at the American Civil Liberties Union, told HuffPost that "there's a host of different contexts" in which state and federal religious freedom laws have impacted litigation and public policy related to reproductive health. The Illinois state appellate court, for example, ruled in 2012 that the state cannot force pharmacists to fill prescriptions for emergency contraceptives, like Plan B, if they have religious objections to such drugs, citing the state's religious freedom law.
Federally, a fight is brewing over whether religious organizations that receive federal funds for contract work, like the United States Council of Catholic Bishops, can be required to provide victims of sexual abuse with reproductive health care services under a Prison Rape Elimination Act regulation from the Department of Health and Human Services Office of Refugee Resettlement. The rule includes a clause allowing organizations to offer referrals rather than directly providing options like emergency contraception, but the groups say the measure would substantially burden them under the federal religious freedom legislation.
The University of Notre Dame is similarly arguing, in a case that the Supreme Court asked the Seventh U.S. Circuit Court of Appeals to reconsider, that a compromise backed by the Obama administration would violate the school's religious values. The university objects to an arrangement in which an employer with a religious objection to contraception can state its conflict so the insurance plan administrator would provide the coverage. The university has said that it should not have to facilitate access to contraception even if insurers pick up the tab, because it would still be symbolically authorizing contraceptive coverage.
BEFORE YOU GO
PHOTO GALLERY
Supreme Court Hobby Lobby Decision