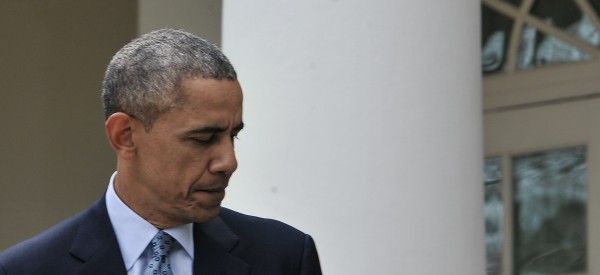 TOP STORIES
To get The Morning Email, HuffPost's daily roundup of the news, in your inbox, sign up here.
OBAMA GOES FOR THE HARD SELL FOR NUCLEAR FRAMEWORK "Facing deep skepticism on multiple fronts, President Barack Obama ramped up lobbying Monday for a framework nuclear deal with Iran, one of the toughest sells of his presidency. Yet critics from Jerusalem to Washington warned they won't sit idly by while Obama and world leaders pursue a final accord that would leave much of Iran's nuclear infrastructure intact." In an interview with NPR, Obama stressed that Iran would be sanctioned again if they violated their terms of the framework. Israel has refused to rule out military action against Iran in light of the agreement. [AP]

DUKE TRIUMPHS OVER WISCONSIN FOR NATIONAL CHAMPIONSHIP The Blue Devils managed to pull away in the final minutes to win 68-63. The win gives Coach Mike Krzyzewski his fifth national championship. [Lucy McCalmont, HuffPost]
UVA FRATERNITY TO PURSUE LEGAL ACTION AGAINST ROLLING STONE "Stephen Scipione, president of the Virginia Alpha chapter of Phi Kappa Psi, said in a statement Monday that the Columbia report 'demonstrates the reckless nature in which Rolling Stone researched and failed to verify facts in its article that erroneously accused Phi Kappa Psi of crimes its members did not commit.'" And questions remain about why Rolling Stone has refused to fire anyone in the aftermath of the piece. [Michael Calderone, HuffPost]
INTRODUCING 'WHAT IT MEANS TO BE MUSLIM IN AMERICA' "The diversity of Muslims in the United States is vast, and so is the breadth of the Muslim American experience. The following animated videos depict the experiences of nine Muslim Americans from across the country who differ in heritage, age, gender and occupation. Relaying short anecdotes representative of their everyday lives, these Muslim Americans demonstrate both the adversities and blessings of Muslim American life." [HuffPost]
RUTGERS BANS ON-CAMPUS FRATERNITY PARTIES The move comes after a student's binge-drinking death, along with several other alcohol-related incidents. [AP]
KILLING ON A 'SHOESTRING' BUDGET "They have lost their leader, their ports, their checkpoints and their territory. They have lost thousands of men and much of their money. They have no fleet of armored personnel carriers like Boko Haram's. Or poppy fields like the Taliban's. Or oil fields like the Islamic State's. In the pecking order of the world's leading terrorist groups, the Shabab militants, based in Somalia, operate on a shoestring budget. But as the attack on a Kenyan university last week showed, they have become proficient in something terrible: mass murder on the cheap." [NYT]
POOR FDA FUNDING UNDERCUTS FOOD SAFETY MANDATE "An estimated 48 million Americans have food-borne illnesses each year, and agency officials say the funding shortfall could undermine Congress's intent to make the most significant improvements to the food safety system in more than 70 years." [NYT]
TRAIL TO THE CHIEF: STATE OF THE 2016 RACE EDITION Can anyone dethrone Hillary? [Howard Fineman, Jason Linkins and Lauren Weber, HuffPost]
WHAT'S BREWING
TIP FOR DRUG DEALERS Maybe don't use Venmo's public payment feature for all your clients to get you your cash. [Quartz]
HOW TO GET FREE FOOD FROM YOUR FAVORITE CHAINS It pays to write nice letters to your favorite companies. [Thrillist]
TWITTER FINALLY FIXED THE QUOTE TWEET BUTTON So.many.more.characters.available. [The Next Web]
WHAT SUMMER MOVIES YOU SHOULD SEE, STREAM OR SKIP Clearly we're seeing "Magic Mike XXL." [Vulture]
YOUR BRAIN ON SUGAR Put down the Easter candy. [HuffPost]
WHAT'S WORKING
THE FIGHT AGAINST GUN VIOLENCE "Richard Martinez's right wrist bulges with rubber bracelets, each one inscribed with a name and given to him by a grieving family shattered by an act of gun violence. Around his left wrist is the watch his son, Christopher, was wearing when he was killed. Martinez was given the watch when he went to the morgue to identify his 20-year-old son's body. 'It was the hardest thing I've ever had to do,' he said." [HuffPost]
ON THE BLOG
CAN WOMEN WEAR THE SAME THING EVERY DAY? "Yet last year when one of the most most powerful women in the world, Federal Reserve Chairwoman Janet Yellen, wore the same suit a couple of times, she was called out. 'Somebody spot Janet Yellen some new threads,' was the actual title of Roll Call's piece on Ms. Yellen's 'mistake.'" [HuffPost]
BEFORE YOU GO
~ Vanity Fair takes a look at the fall of NBC News.
~ Music to our ears: Miguel might star in a movie produced by John Legend and directed by Kanye West and Frank Ocean.
~ Just days after becoming the world's oldest documented person, Gertrude Weaver has died. She was 116.
~ Domino's: the "e-commerce company that sells pizza?"
~ The Sesame Street "Game of Thrones" parody, "Game of Chairs," is too good.
~ Michelle Obama's Easter Egg roll outfit was on fleek, per usual.
~ The future of fantasy teams.
~ How to make a ton of money with a parody Twitter account.
~ The great salt debate.
~ This celebrity blue hair trend is starting to catch on.
~ Sorry, "Vampire Diaries" fans: Nina Dobrev is leaving the show.
~ Even NYC Mayor Bill de Blasio is facing the college tuition squeeze.
~ This dog can play ping pong better than you.
~ Will someone buy us a giant rabbit?
~ Or score us an invite to Leonardo DiCaprio's new private island resort?
Send tips/quips/quotes/stories/photos/events/scoops to Lauren Weber at lauren.weber@huffingtonpost.com. Follow us on Twitter @LaurenWeberHP. And like what you're reading? Sign up here to get The Morning Email delivered to you.