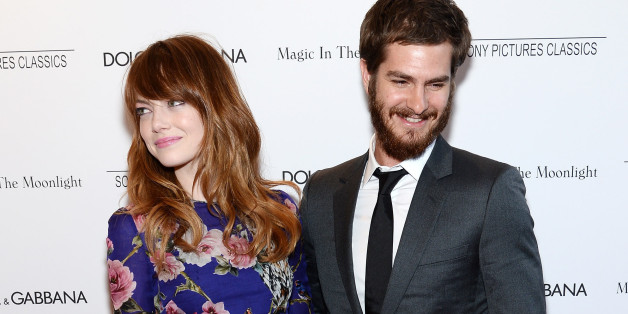 Say it ain't so!
The latest celebrity split rumor is about none other than Hollywood golden couple, Emma Stone and Andrew Garfield. According to a People magazine source, the split stems from long distance. Garfield is focusing on his role in Martin Scorsese's new film, "Silence," in Taiwan, while Stone is in Los Angeles after recently wrappeing performances in "Cabaret" in New York.
"Emma understands his work anxieties -- it's why she originally pulled out of 'Cabaret' last year and only did it this year -- but they're taking a break from seeing each other," the unnamed source said. "They're both a slave to their schedules. This time last year they were privately discussing marriage."
More anonymous sources supposedly confirmed the breakup news to Us Weekly and Gossip Cop gave the rumor an eight out of 10 rating on the truth scale. Representatives for the two stars could not be reached for further comment when contacted by The Huffington Post.
Do you hear that? It's the sound of our hearts breaking.
BEFORE YOU GO
PHOTO GALLERY
Celebrity Splits