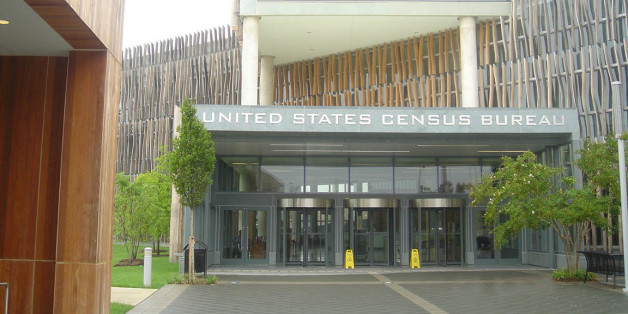 A man who allegedly kidnapped a woman and then shot a guard at the U.S. Census Bureau in Suitland, Maryland, was arrested after leading police on a wild chase through the streets of Washington D.C. on Thursday night.
The guard, identified as Lawrence Buckner, later died, Prince George's Hospital Center spokeswoman Erika Murray told The Associated Press.
At least one police officer was also injured during the pursuit of the suspect.
Breaking: Shots fired inside US Census Bureau in Suitland. 1 person hospitalized @fox5newsdc pic.twitter.com/HqLG7gSYPA

— Rick Boone (@RickBooneFOX5DC) April 9, 2015
Buckner was shot in the upper body shortly after 6 p.m. local time, Prince George's County fire department spokesman Mark Brady said. He died at the hospital less than two hours later.
So...apparently that WASN'T hammering I was hearing. Apparently a shooting situation inside Census Bureau gate? pic.twitter.com/6unWAvWGvY

— Right Up Your Ali (@mstharrington) April 9, 2015
The string of incidents is believed to have begun when the armed suspect kidnapped a woman around 5:30 p.m. in the area of 3rd and T Street NE, D.C. Police Chief Cathy Lanier and Mayor Muriel Bowser said at a briefing. The suspect then drove with the victim to the Census Bureau, WUSA reported. The guard was shot as he approached a vehicle with two people fighting inside, CNN's Steve Brusk said.
BREAKING: Shots heard in parking garage at Census Bureau after guard shot. More @WNEW & http://t.co/9CdYaXzbCA pic.twitter.com/vL1lfzjly0

— Bill Rehkopf (@BillRehkopfWNEW) April 10, 2015
Law enforcement swarmed the facility and locked down all entrances as they conducted their investigation, WUSA reported. A witness reported hearing "at least 10" shots in during the incident. Loud blasts could be heard on the campus as police continued their search, WNEW's Bill Rehkopf reported. The suspect fled the scene in the vehicle.
I'm standing at U.S. Census Bureau Headquarters. Police are all over the property.
@nbcwashington is 1st on scene pic.twitter.com/yhnvd96Re4

— Shomari Stone (@shomaristone) April 9, 2015
Sharpshooters now in position outside Suitland. Media being moved way back pic.twitter.com/g4APFnMRJF

— Garrett Haake (@GarrettHaake) April 9, 2015
The scene at the U.S. Census building after a guard was reported shot this evening. More LIVE at 7:30 @WNEW pic.twitter.com/WDUE1TWtYk

— Bill Rehkopf (@BillRehkopfWNEW) April 9, 2015
There are still police cars rushing inside the Census Bureau gates. I count at least 15 cars now. pic.twitter.com/WEag7cTxH7

— Right Up Your Ali (@mstharrington) April 9, 2015
Police spotted the suspect's vehicle approximately 10 miles away in Washington D.C., and gave chase after gunshots were exchanged, WNEW reported.
Chaos on H St. Huge number of police were chasing a suspect, possibly from Census Bureau shooting pic.twitter.com/hAxyeWO3CJ

— Tom Roussey (@tomrousseyABC7) April 10, 2015
The suspect allegedly fired on law enforcement multiple times before crashing the car into police cruisers, CNN reported.
.@PoPville view from inside Copy Cat on H street. No one allowed to leave. pic.twitter.com/kZQo8AIiUf

— Dena (@D_dot_com) April 10, 2015
The chase ended when the gunman was shot at 11th and H Streets, officials said. A Metropolitan police officer was also shot, and others possibly injured during the chase.
Lanier said the suspect was conscious and breathing. The nature of the officer's injuries were not known, but D.C Council member Charles Allen said the officer was expected to be "ok." Officials said that the situation had ended by 9 p.m., and that it was not believed to be connected to terrorism.
Video immediately following the shooting on 11th and #HStreetNE pic.twitter.com/SRJYG5KxCi

— Mike Clarke (@MediaMikeDC) April 10, 2015