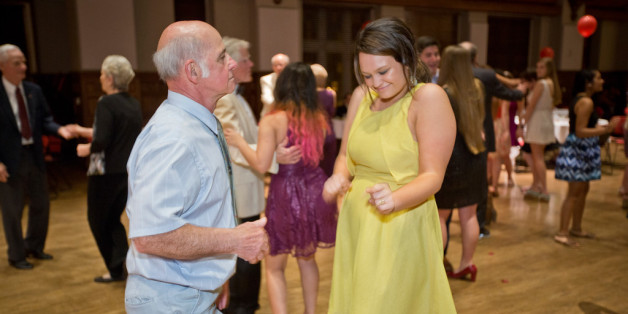 Proving again that you are never too old to cut a rug, members of the J.K. Lewis Senior Center and students from Rhodes College, both in Memphis, held a shared "prom," where everyone got dressed up to the nines and danced the night away -- OK, they danced until 8:30 p.m. -- but as these photos suggest, a great time was had by all.
This is the second annual prom night between the college and the senior center, which is located about two miles from the college. Sophomore Rahul Peravali borrowed the idea of a senior prom from his high school in Germantown, TN. The high schoolers, he recalled, went to a senior center down the street. "Everybody really had fun," he said.
And so he brought the idea to college with him. More than 100 students and about 70 seniors attended Tuesday evening's prom. "It was great," Peravali said. "There was one older man who never sat down. He danced with student after student -- having the time of his life." The students also sang and performed dance routines. The Rhodes Jazz Band performed, the Flying V's played rock music, and the D.J. spun classic dance tunes.
Apparently, Rhodes College isn't the only school that's hosted a prom for senior citizens. High schools and community centers across the country have adopted the new trend in recent years. The response? The senior citizens -- and the students -- love it.
Well done, Rhodes College.
PHOTO GALLERY
Senior Prom
BEFORE YOU GO
PHOTO GALLERY
Sweet Reddit Grandparent Stories