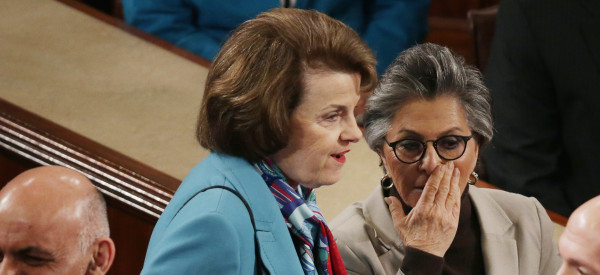 TOP STORIES
To get The Morning Email, HuffPost's daily roundup of the news, in your inbox, sign up here.
SENATE SHOWDOWN OVER IRAN DEAL "Sen. Barbara Boxer (D-Calif.) on Wednesday evening asked Senate Foreign Relations Chairman Bob Corker (R-Tenn.) to postpone markup of his controversial Iran legislation until the U.S. and its five negotiating partners reach a final nuclear agreement with Iran. 'To force Congress to weigh in now on the Iran nuclear talks before a final deal has been completed would be a reckless rush to judgment,' Boxer wrote in a letter to Corker." Democrats are trying to change the legislation "to assauge President Barack Obama's concerns." And everyone's waiting to see where Chuck Schumer comes down on the framework. [Jessica Schulberg, HuffPost]

BOSTON BOMBER GUILTY ON ALL COUNTS "Dzhokhar Tsarnaev, the 21-year-old who admitted he and his brother bombed the 2013 Boston Marathon, has been found guilty on all 30 counts against him, including conspiracy to use a weapon of mass destruction and bombing of a public place." Tsarnaev's lawyers are now trying to save him from death row. [Michael McLaughlin, HuffPost]
WITNESS OF SOUTH CAROLINA POLICE SHOOTING SPEAKS OUT "The bystander who recorded a South Carolina officer fatally shooting an unarmed black man eight times said the cop had control of the situation before he pulled out his gun, and that he had not heard the officer give a warning before he fired." The video has reinvigorated the ongoing debate on police force, and here's the news report you'd be reading if the video hadn't been released. [Andy Campbell, HuffPost]
JUDGE KILLED IN MILAN COURTHOUSE SHOOTING "A gunman opened fire in a Milan courtroom on Thursday, killing a judge and as many as two other people before being captured as he tried to flee on a motorbike ..." [AP]
WHITE HOUSE CALLS FOR END TO LGBT CONVERSION THERAPY The president came out against the "psychiatric therapies that seek to change the sexual orientation of gay, lesbian and transgender youth." [Reuters]
M&A ACTIVITY ON TRACK FOR SECOND-LARGEST YEAR EVER With over $3.7 trillion in total activity projected for this year, mergers-and-acquisitions are making a comeback in a big way. [WSJ]
ONE YEAR LATER, VA WAIT TIMES REMAIN UNCHANGED "Since the summer, the number of medical appointments delayed 30 to 90 days has largely stayed flat. The number of appointments that take longer than 90 days to complete has nearly doubled." [AP]
SABRA RECALLS 30,000 CASES OF HUMMUS For potential listeria concerns. [Reuters]
AT&T TO PAY $25 MILLION FINE FOR DATA BREACHES Over 280,000 social security numbers were exposed in the 2013 and 2014 breaches. [Reuters]
WHAT'S BREWING
MEET THE NFL'S FIRST FEMALE REFEREE "Sarah Thomas grew up with two brothers, both of whom are also officials at the college level. A softball and basketball player (she earned a scholarship for the latter), Thomas said her background as an athlete eventually spurred her determination to continue advancing her officiating career. 'The competitive side of me -- I didn't just want to stop there,' Thomas said of her journey, which began in Mississippi varsity games in the 1990s before she was hired in 2007 by Conference USA to officiate on the college level." [HuffPost]
BOB SCHIEFFER TO RETIRE FROM 'FACE THE NATION' THIS SUMMER After 46 years at CBS and 24 years on hosting the show. [HuffPost]
ADNAN SYED IS GETTING ANOTHER PODCAST "A second podcast, 'Undisclosed: The State v. Adnan Syed,' will dive even deeper into the case from 'an investigatory perspective instead of a narrative one,' according to the official website ... [Sarah] Koenig, however, has no involvement in 'Undisclosed.'" [HuffPost]
THE ORIGINAL GERBER BABY IS 88 YEARS OLD Feel old. [HuffPost]
THE APPLE WATCH REVIEW ROUND-UP What all the critics are saying. [HuffPost]
MEET THE HACKERS TAKING ON THE KREMLIN "In the past two years, [Anonymous International, better known as Shaltai Boltai (Humpty Dumpty in Russian),] gained access to documents detailing the Russian state's game plan for a supposedly "grassroots" demonstration in Moscow in support of its actions in Crimea; details about how the Kremlin prepared Crimea's secessionist referendum; and private emails allegedly belonging to Igor Strelkov, who claims he played a key role in organising the pro-Russian insurgency in Donetsk, Ukraine." [The Guardian]
THE MISTAKES YOU'RE MAKING WHEN WASHING YOUR SHEETS Turns out washing them with your towels is a bad idea. [HuffPost]
WHAT'S WORKING
THIS SCHOOL DISTRICT FOCUSES ON STUDENTS' PERSONAL STRENGTHS "For nearly two years, this elementary school in the Howard County Public School System has been participating in a district wide initiative designed to highlight the personality strengths of students and teachers. The initiative is part of a partnership with Gallup that began in 2013 to boost student and teacher strengths and engagement. Preliminary results show the approach seems to be working so far." [HuffPost]
ON THE BLOG
TOM STEYER: I CHALLENGE THE KOCH BROTHERS TO A DEBATE "The integrity of American democracy is at stake -- and there's nearly a billion dollars standing between a solution to climate change and the future of our children. Last year, I challenged the Koch brothers to meet me for a debate so that we could have an open, transparent exchange of ideas. Unfortunately, they refused, so I'm about to give them another chance. I am formally inviting the Kochs -- again -- to participate in a public debate. To stand up, be counted, and publicly justify themselves to the American people who are about to be overwhelmed by their electoral buying power." [HuffPost]
BEFORE YOU GO
~ If you eat grilled cheese, you statistically are more likely to live a more generous life.
~ Is anyone else tired of all these surprise album drops?
~ Let us "Drake" that for you.
~ Kate Middleton plans on taking a longer maternity leave this go-round.
~ Watch the trailer for the movie that everyone was raving about at Sundance.
~ If your friends haven't updated their iOS, they're going to get a strange version of the new emoji emoticons.
~ Nineties fans rejoice: "She's All That" is getting a remake.
~ Jack Nicklaus can still hit a hole-in-one like a boss.
~ Sofia Vergara rocks her Vanity Fair cover.
~ Font nerds, check out the reborn redesign of Helvetica.
~ The day of the week you're most likely to get a job.
~ Amy Poehler is a redhead now!
~ The best place to see the stars.
~ And meet the baby orangutans who are best friends.
Send tips/quips/quotes/stories/photos/events/scoops to Lauren Weber at lauren.weber@huffingtonpost.com. Follow us on Twitter @LaurenWeberHP. And like what you're reading? Sign up here to get The Morning Email delivered to you.