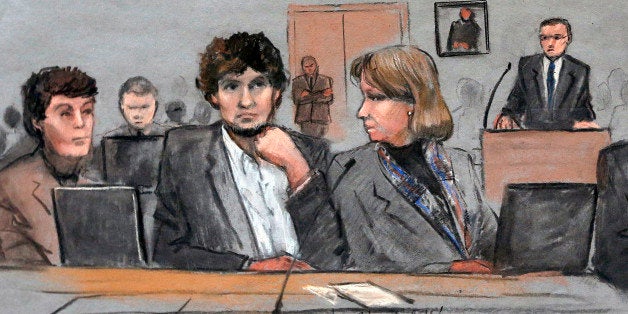 Fifty-four percent said that Tsarnaev should receive the death penalty, while 32 percent would rather see him sentenced to life in prison without the possibility of parole.
Another survey, conducted by SurveyMonkey for NBC News before the verdict was announced, found a closer margin, with 47 percent favoring execution and 42 percent favoring life imprisonment.
The HuffPost/YouGov results suggest that the horror of the 2013 marathon bombing continues to resonate with many Americans. Forty-seven percent said they've been following the trial somewhat or very closely, and 44 percent said they worry somewhat or a great deal that an act of terrorism could happen in their community.
But the community most affected by the tragedy is far less likely than the nation as a whole to support the death penalty. A MassINC/WBUR poll, also conducted before the verdict was announced, found that just 27 percent of Boston voters, and 38 percent of voters in the greater Boston area, thought Tsarnaev should be put to death.
Part of the difference may be due to partisanship: Democrats are less likely than Republicans to support the death penalty, and Boston is significantly more Democratic than the U.S. as a whole. But the MassINC/WBUR poll found that Democratic voters in Boston were 23 percentage points more likely to say Tsarnaev should face life in prison than receive the death penalty, while the gap was just 6 points among Democrats nationwide. Similarly, Republican voters in Boston supported the death penalty option by a 21 point margin, while Republicans nationally supported it by a 45 point margin.
"Generally speaking, you'd expect the city of Boston to be anti-death penalty, but this took place in Boston and everybody in Boston was affected in some way," MassINC's Steve Koczela told WBUR. "To see such a strong preference in Boston for life in prison was not necessarily guaranteed or expected."
The penalty phase of Tsarnaev's trial, which will determine his sentence, begins on April 21.
The HuffPost/YouGov poll consisted of 1,000 completed interviews conducted April 9-10 among U.S. adults using a sample selected from YouGov's opt-in online panel to match the demographics and other characteristics of the adult U.S. population.
The Huffington Post has teamed up with YouGov to conduct daily opinion polls. You can learn more about this project and take part in YouGov's nationally representative opinion polling. Data from all HuffPost/YouGov polls can be found here. More details on the poll's methodology are available here.
Most surveys report a margin of error that represents some, but not all, potential survey errors. YouGov's reports include a model-based margin of error, which rests on a specific set of statistical assumptions about the selected sample, rather than the standard methodology for random probability sampling. If these assumptions are wrong, the model-based margin of error may also be inaccurate. Click here for a more detailed explanation of the model-based margin of error.