Ramone Dickerson and Corey Simmons of OWN's "2 Fat 2 Fly" may be known for making stuffed chicken wings, but even these fun-loving Southern guys know the importance of having a great cocktail recipe on hand. For Ramone, simplicity is key, so he enjoys making an easy French 75, a sophisticated drink made with champagne and gin.
French 75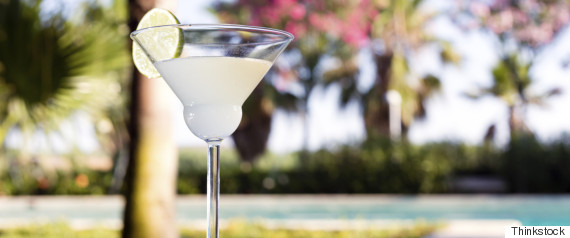 Serves 2
Ingredients
1.5 oz. gin
3/4 oz. simple syrup
1 oz. lemon juice
Champagne (3 to 4 oz.)
Ice cubes
Directions
Pour the gin, simple syrup and lemon juice into a cocktail shaker filled with ice. Shake well to chill.
Place a cocktail strainer over a champagne flute and slowly pour half of the mixture into the first flute. Repeat with the second flute.
Top off each flute with champagne.
Optional finish: Cut a thin, one- to two-inch slice of skin off a lemon. Using a match, flame the lemon slice on the yellow exterior -- "We're going to get some of these oils out," Ramone explains as he demonstrates in the above video -- and then rub the exterior of the slice along the rim of each flute.
"2 Fat 2 Fly," airs Saturdays at 9 p.m. ET on OWN.
BEFORE YOU GO
PHOTO GALLERY
15 Twists On Classic Cocktails