Today's installment in the Huffington Post Gay Voices RaiseAChild.US "Let Love Define Family™" series introduces you to an amazing couple dedicated to doing incredible work in South Florida. RaiseAChild.US contributing writer Eric Criswell shares their story.
Mandi and Aspen are a queer couple living in Ft. Lauderdale and changing the world by fostering kids who have been displaced by their families and sometimes overlooked by society. Mom and Pops, as they are affectionately called by their children, have fostered eight kids in the past two years, most identifying as LGBTQI youth.
"We really just wanted to offer support. To be there at the end of the day, whether good or bad, and be someone they can talk to about what is going on in their world," explained Aspen. "Our goals to help them along the way and develop a better way of life and help them work through their trauma."
It all started with Jessica, a 17-year-old who previously lived with various unsupportive family members and entered the foster care system at the age of 13. When Mandi and Aspen first met Jessica there was an immediate bond: "We just clicked." Because of Jessica, the couple decided to become foster parents.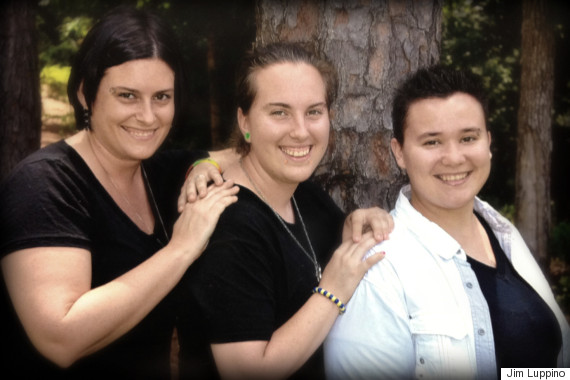 "We were originally contacted to mentor Jessica, because she identified as a lesbian and they thought we would be good role models. We saw right away that she was willing to do a lot of hard work because of her desire to know what a loving family looks like, what it feels like, and we decided to foster her," Mandi stated.
Initially, taking a teenager into the house was a scary proposition for the couple but they made it through the innumerable meetings, classes and home visits and learned to become an advocate for the children in their care. Mandi said, "For me, I knew I wasn't straight at a young age. But I forced myself to be in straight relationships for years, even getting married and divorced. After that I made the choice to become a champion for LGBTQ kids so they don't have to go through that themselves. I wanted them to know they don't have to be alone and that it is OK to be themselves."
Because of the transformation they saw in Jessica, the couple decided to foster other youth. During the past two years, they have fostered eight children ranging in age from 7 to 17. Not all have identified as LGBT, but all needed love -- and that was in big supply with Mandi and Aspen.
They encourage others to believe that teens aren't too old to have a family; you have to invest the time to build trust, and sometimes it takes awhile, but in the end it's worth it. These are children who have been let down by everyone, and it's hard to recover when you've had that in your life. But Mandi and Aspen are proof that it is worth the investment.
Unlike most teens who are embarrassed or hide from their parents while in public, Mandi loves to tell the stories of how her kids seek them out at the mall so they can introduce their friends to "Mom & Pops"!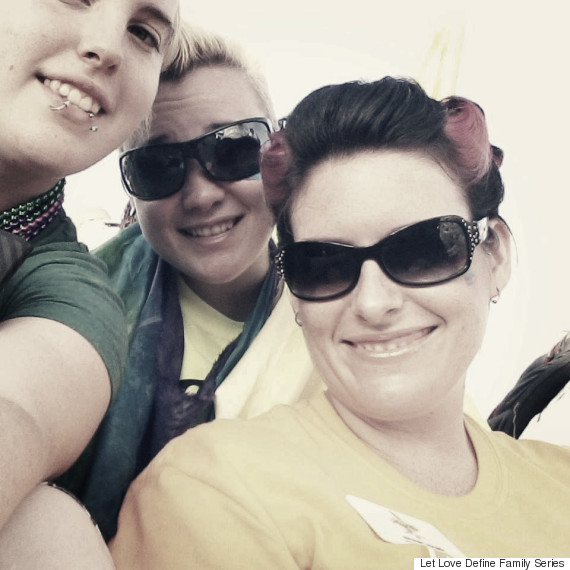 Not a weekend goes by when there isn't a family activity, but the favorite times are on "game night." Friends gather at the house for hours of fun and mayhem, whether it is board games and popcorn or the kids challenging the adults to a dance-off.
"The greatest thing we discovered through this process is the power of family. We began by trying to heal these kids, but they have also healed us. We've grown in ways we never anticipated and probably never would've discovered without them in our lives."
As for Jessica, she knows her life would have been very different if it wasn't for Mandi and Aspen. "She was very vocal about wanting to be a part of the family and would tell everyone that would listen that she had found her family and didn't need to look anymore. According to Aspen, "we finally made the decision to adopt her because we knew she wasn't going to stop being a part of our lives. She was persistent and continues to help push our other foster kids to live up to their full potential."
Adoption had its obstacles, so Mandi and Aspen traveled to California to be married so they could legally adopt, and Jessica officially became their daughter shortly before her 18th birthday.
Jessica currently attends a community college and plans on pursuing her degree at a university. Although she isn't sure exactly what she wants to do, she does know it's going to be in the "helping" field. "I know how lucky I've been," explained Jessica. "Now I want to pay it forward."
RaiseAChild.US is a national organization headquartered in Hollywood, California that encourages the LGBT community and all people equally to build families through fostering and adopting to serve the needs of the 400,000 children in the U.S. foster care system. Since 2011, RaiseAChild.US has run media campaigns and events to educate prospective parents and the public, and has engaged more than 2,700 prospective parents. For information about how you can become a foster or fost/adopt parent, visit www.RaiseAChild.US.