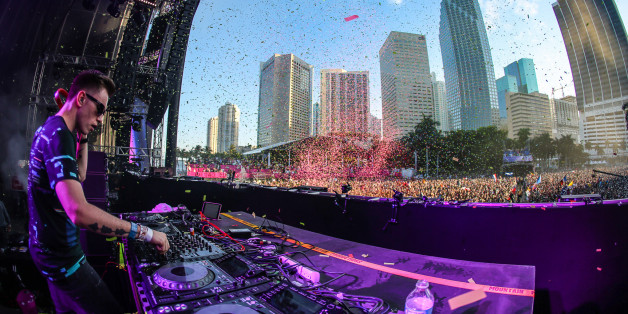 Nick Rotteveel, known to the world as megastar Dutch DJ and producer Nicky Romero, sits at No. 8 on DJ Magazine's annual DJ rankings. Best known for his viral hit music video "Toulouse" and his massive collaboration with Avicii on "I Could Be The One," which topped the U.K. charts, Nicky is a force in the EDM world, smacking fans full in the face with dance energy. Down at Ultra Music Festival 2015 in Miami, Florida, The Huffington Post got the chance to sit down and talk with Nicky Friday afternoon about his musical evolution, Protocol Recordings and his upcoming work before the crazy weekend got going.
What goes into creating a set for Ultra? What's it like for you the day before, the night before?
I don't really have a ritual that I do every time that I prepare a set for Ultra, so mostly I try to relax a little bit. I like to make sure that I have the best possible edits for the set that I want to play. It's always good to prepare, but at the same time I also think it's good to have a little bit of creativity on stage. So I don't want to prepare a set that has song after song. There are DJs that prepare their whole set to the minuscule second of the songs. I am not like that. I sometimes do make mistakes on stage, which is fine with me. Sometimes you know, I think it's worth more to have that feeling when you do something creative than to make sure that your set is polished and everything is down to the last second. So that's the way I approach it.
Is performing at a place like Ultra or a festival of this size a different experience than performing at a smaller, more intimate setting?
No. I don't think the process is different. What is different is the amount of people of course. The plus side of the big festival is that there are many, many people that are jumping along to the music that you play, which is amazing to experience. At the same time, it's good to have the people around you when you're playing because if the stage is that big you don't have any interaction anymore with the people that you're actually performing for. Which means sometimes that doesn't feel as awesome as playing a small place with the people right in front of you. So it's a good balance. A good balance is the best thing to have in my opinion.
You've been doing this for a few years. In 2010, you broke in. What was it like in 2010, 2012, and how did you gain the support of all your contemporaries, from DJs to producers?

The producers that I looked up to, I still have producers I look up to -- being a certain number on that list does not mean you don't have any inspirations anymore so, for example, if I listen to the mixes of Knife Party I'm still jealous how they get that kick bass right. It's unbelievable how they mix. At the same time if I look at Carl Cox as another example to see what he's been doing for the last years, and still is doing, with huge success, I still have a lot to learn! Like this guy just plays six-hour, eight-hour sets. Without a doubt one of the best performances that I've seen is from Carl Cox. So I still have that and the process still goes on. In my opinion there's never a moment that you know everything. In other words, you keep learning everyday.
With that said, are there certain artists that you'd love to collaborate with?
I've been really lucky in my career so far that I've been able to collaborate with many, many great artists. Of course I have a few wishes left. One of the wishes would be Coldplay and The Script. Those are the ones I would love to work with, but EDM-wise, I don't know. I don't have a certain artist in EDM right now who I want to work with more or less than the ones I've already worked with. So I'd love to collaborate with Calvin Harris more, or David [Guetta], or with Fedde [Le Grand] one time. Maybe Martin Garrix would be cool.
How do you see the evolution of your music unfolding? For the last five years it's been building. Where do you see yourself going?
I try to live day by day, so I make the music in the day and I make the music for tomorrow. I can't say what kind of music I'm going to make within two years, but if I look back at the music that I've produced before and to the music that I've produced now, there is a certain progress the whole time. At the same time, there is also, and it's really interesting if you look at it, you're focused all on the small details and sometimes that takes you off the grip. Sometimes you want to stick on the grip by being in the process instead of being focused on all the details. So that's the process I'm really aware of right now because sound evolves so quickly that sometimes you're too engrossed in the details that you lose the focus and the grip on the actual song. So that's something I've learned in the past and in the past I was just focused on wanting to make a good song and not so much in the details. Now it's that I want a good song and I want amazing details. Sometimes you lose sight of the actual goal, which is a good song. So it's a process that's been changing in the last few years and I try to get back on the old process now by just focusing on a good song. It's something that goes with the flow.
Changing gears a little bit to talk about Protocol Recordings: You've taken it as an opportunity to sort of mentor up-and-coming artists. What is it about being in that role? Was there something that you had interacted with that put that on your map?
That's a good question. I've experienced the help of David Guetta and I thought I knew all about producing, which in fact I did, but I didn't know a lot about making songs. I discovered the difference between making a track and making a song. David Guetta really helped me with that process and I felt the difference between someone that's making tracks and someone that's making songs, hit songs. I was lucky to have a mentor in David Guetta, who did an amazing job for me and I would love to do that for the new talented writers now as well. I still have a lot to learn but the knowledge that I have, I want to carry on to the new generation and for me especially the ones that are signed to Protocol.
We've heard the buzz around your new projects, such as your collaborations with Nile Rodgers. What can we expect?
Well, I made a song with Nile Rodgers, which is really cool and coming out this year. I can't say too much about it yet but it's really different. It's 120 bpm. It's really slow, but it's really funky and we do have a great vocalist on that song. A famous one too, [but] I cannot say too much yet, other than it's going to be different and it's going to be cool.
BEFORE YOU GO
PHOTO GALLERY
Ultra Music Festival 2015