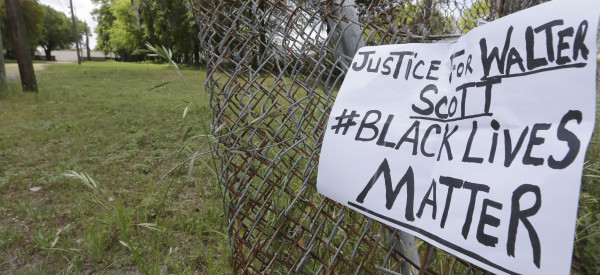 TOP STORIES
To get The Morning Email, HuffPost's daily roundup of the news, in your inbox, sign up here.
DASHCAM VIDEO OF WALTER SCOTT'S FINAL MOMENTS "A dashcam video released by the South Carolina Law Enforcement Agency on Thursday shows the moments before 50-year-old Walter Scott was fatally shot by Officer Michael Slager. The video shows Slager pulling over Scott's car and asking a series of questions before Scott opens his car door and runs away." Slager's mother spoke to the press of her horror at the video of her son killing Scott. [Lilly Workneh, HuffPost]
HISTORIC OBAMA-CASTRO MEETING IN PANAMA The meeting at a summit of Latin America leaders will take place as President Obama considers whether or not to take Cuba off the terror list. [AP]
RAND PAUL IS HAVING A ROUGH KICK-OFF TO HIS PRESIDENTIAL CAMPAIGN Turns out erupting at female reporters is not the way to go. [WaPo]
FLU ATTACKING TURKEY FLOCKS "A virulent, deadly flu virus has hit the nation's turkey flock, forcing culling and quarantines that are disrupting trade with various countries. In the last several weeks, turkey producers in Minnesota, the largest turkey-producing state (46 million annually), have had to euthanize some 525,000 birds, and farms there and in other states affected by the virus are under quarantine in an effort to prevent it from spreading." [NYT]
AMAZON GETS GO-AHEAD TO TEST DRONES Just a month after bemoaning how slow the government was to approve new technology. [Reuters]
TORNADO DESTROYS ILLINOIS TOWN The twister, which left one dead and eleven injured, damaged every building in the town of Fairdale. [Ed Mazza, HuffPost]
GUARD SHOT, KILLED AT CENSUS BUREAU "A man who allegedly kidnapped a woman and then shot a guard at the U.S. Census Bureau in Suitland, Maryland, was arrested after leading police on a wild chase through the streets of Washington D.C. on Thursday night." [Andrew Hart]
HILLARY CLINTON TO ANNOUNCE CANDIDACY THIS WEEKEND Surprise, surprise. [Business Insider]
WHAT'S BREWING
THE LINK BETWEEN DEPRESSION AND CONCUSSIONS "But a new study finds that concussions can affect the mood of the human mind within just a number of days, and they often do. College athletes who have recently suffered a concussion appear remarkably likely to experience a near-immediate rise in depressive thoughts, according to a study published last month in the Journal of Athletic Training." [HuffPost]
TAYLOR SWIFT DISCLOSED HER MOM'S CANCER DIAGNOSIS We wish Andrea and her family the best. [HuffPost]
YOU'RE WELCOME, 'TRUE DETECTIVE' FANS Enjoy the first trailer for season two. [HuffPost]
WHAT HAPPENED TO 'GRACE OF MONACO?' HuffPost's Lauren Duca investigates how the biopic headlined by Nicole Kidman ended up as a Lifetime movie. [HuffPost]
LINKEDIN DROPPED $1.5 BILLION ON THIS WEBSITE Meet Lynda, an online learning company. [The Next Web]
WHEN A DEA AGENT WANTS OUT AFTER 27 YEARS "Confidential informants are the lifeblood of the DEA, and Toro is what agents would characterize as a 'good asset.' He has served the DEA for 27 years … Now 65, he has grown tired of facing down dangerous criminals. He is no longer in good health, too old to square off with would-be assassins or make quick getaways down darkened streets … The DEA, however, has a different idea. For the last five years, the agency has issued Toro a temporary immigration document that requires him to assist in active investigations. If he stops snitching, however, his immigration status will lapse." [HuffPost]
'THE WEST WING' WAS ONTO SOMETHING Walking meetings may lead to more creative thinking. [HuffPost]
WHAT'S WORKING
MEET THE PEOPLE TRYING TO FIX THE CALIFORNIA DROUGHT "Brewing beer takes a lot of water -- beer is mostly water, after all -- and California has 381 craft breweries, more than any other state. Last year, Bear Republic Brewing Company installed a water-recycling, energy-generating system at its facility in Cloverdale, which is one of the communities most vulnerable to running out of water. The system is designed to help supply more than 10 percent of the brewery's water needs and help lower its water-to-beer-produced ratio." [HuffPost]
ON THE BLOG
FACEBOOK UNLEASHES THE GREEN-EYED MONSTERS IN ALL OF US "Facebook regularly turns me into a jealous mess. Everyone in my network seems to have either a book deal, an award or an article in the New Yorker (I currently have none of those things). On Facebook, people seem to have the energy to shotgun beers on Friday night (I mostly shotgun the best seat on the couch). Someone's always staring at a breathtaking view or exercising their way to a 'personal best.'" [HuffPost]
BEFORE YOU GO
~ We finally have an "Orange is the New Black" trailer.
~ All hail the goat that ran wild on ESPN's campus yesterday.
~ Mumford & Sons' new song is "less like Coldplay, more like Foo Fighters."
~ The questions employers are not supposed to ask.
~ There are only five Irrawaddy river dolphins left on the planet.
~ Reports of Jon Hamm's college hazing past surfaced this week.
~ How the moon was formed.
~ Sandra Bullock's 911 call about her home intruder is highly disturbing.
~ These bargain hunters put coupon cutters to shame.
~ The $22 standing desk.
~ More reasons to eat chocolate (like we needed anymore).
~ This mom of six boys was understandably excited when she found out she was pregnant with a girl!
Send tips/quips/quotes/stories/photos/events/scoops to Lauren Weber at lauren.weber@huffingtonpost.com. Follow us on Twitter @LaurenWeberHP. And like what you're reading? Sign up here to get The Morning Email delivered to you.