Mondays aren't always our favorite day of the week. In fact, they're usually met with sighs, grunts and the not-so-subtle moans of "Not again."
But we want to change all that -- and make Mondays a day to look forward to!
Mondays should start off on the bright side. So we've partnered with Target to bring you our favorite recent stories, videos and feel-good campaigns that prove seizing every day, minute and moment truly matters. #MondayMatters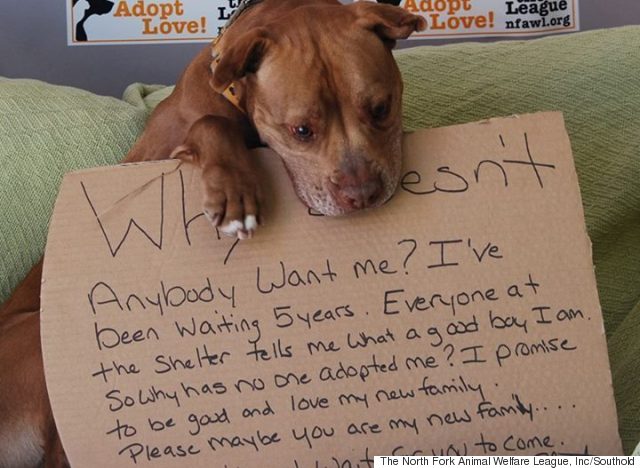 Chester Finds A Home
Everyone on Tinder can sympathize with this guy, who posed for millions on social media holding the sign, "Why doesn't anybody want me?" OK, so this "guy" is an adorable pit bull, and shelter workers put him up to it -- but the tactic worked! Chester, who has been living in a shelter for the past five years, finally found his forever home.
Claim To Name
When your name is Beyoncé, you get used to choruses of "Single Ladies" erupting everywhere you go … and perhaps you're expected to be a "Diva." But one particular Beyoncé loathes attention -- which is why it was heartwarming to see an outpouring of strangers sympathize with her in the comments section of this Humans of New York Facebook post. Katy Perry, Julia Roberts and even Will Smith chimed in to show their support!
Classy Gesture
Teacher appreciation month officially kicks off in May, but Kevin Perz celebrated early this year by sending his former teacher Merilyn Mecham a $10,000 check to say "thanks" -- and to make sure she knew she was the "B-E-S-T teacher EVER!!" It's been decades since Perz graduated high school, but this just goes to show that no display of gratitude is ever too little, too late.
Target believes in better choices for all, whether that's your morning read or what your family is having for breakfast. That's why, together with HuffPost, they're bringing you a roundup of the top feel-good stories. So, not only can you start your Mondays with better stories, but now you can shop better choices with the Made to Matter collection, handpicked by Target.